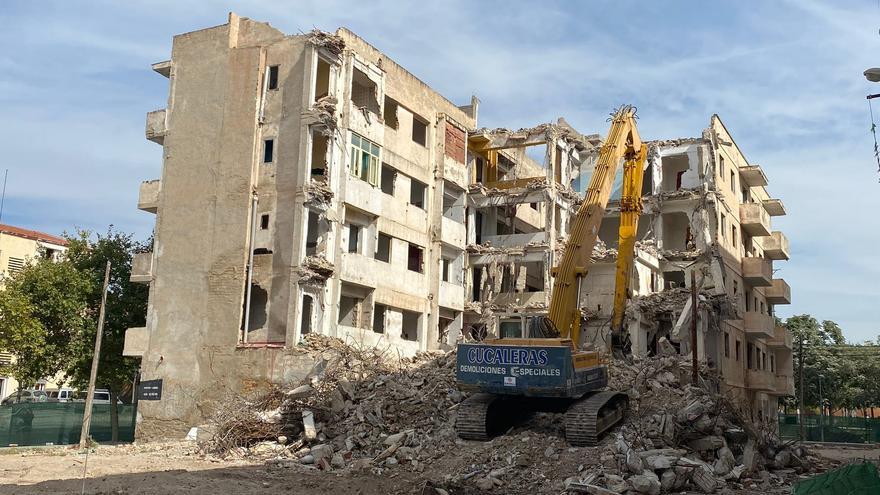 The 32 families who lived in block number 10 on Diputado José Luis Barceló Street, in the Nou Alcolecha neighborhood, were given just 15 days to take out your things of the property since it was going to be demolished by ruin. That was in April 2015. The block has been standing for six more years, becoming, according to the neighbors of the adjoining buildings, nest of rats and specific shelter of squatters, which also took door frames, copper and any material that can be sold. Even the metal in the pipes. The owners who stayed to live in neighboring flats paying a social rent have never understood why the rush to leave the building, which was then justified by the City Council by the crash risk of the stairs.
The José Luis Barceló 18 building, next to the previous one, was demolished in 2014. Two years before, a total of 52 families were evicted. The Alicante City Council then decreed the "imminent and dangerous ruin" of the building Y 156 people they left their home within hours and were placed in the Ciudad Jardín sports center. Other They were rehoused in flats of the Housing Trust-, Y others left with family or friends.
Demolition procedure
The Urban Planning area directed by Adrián Santos Pérez, from Ciudadanos, has chosen the technique of mechanical demolition by hydropneumatic procedures for the structure of the building, "considering this method the most secure, and which consists of exhausting the resistance of the concrete with the use of demolishing jaws equipped with blades that crush the structure, applying a shear stress. This system It has the advantage of being able to cut the elements, such as beams, columns or floors, to release them and lower them to the ground, avoiding in most cases its free fall ".
The demolition will take place from top to bottom, thus avoiding collapses due to thrust or mismatches of parts or pieces of the structure, or overloads due to accumulation of rubble on lower floors, which will be progressively dislodged, municipal sources report.
"In addition to the permanent fencing, a movable fence will be placed for the site of the work, so that the protection perimeters are extended to the maximum possible. Likewise, different water intakes with sufficient flow will be enabled so that the irrigation is continuous and avoid as far as possible the raising of dust ".
Once the structure is demolished and the plant is free of debris, will proceed to the foundation demolition, including in this, the sills and filling elements between footings up to the support level, in addition to the possible retaining walls among others. The procedure to be followed will be the same as that used in the structure, through mechanical demolition by hydropneumatic procedures, added from Urban Planning.

www.informacion.es
Eddie is an Australian news reporter with over 9 years in the industry and has published on Forbes and tech crunch.