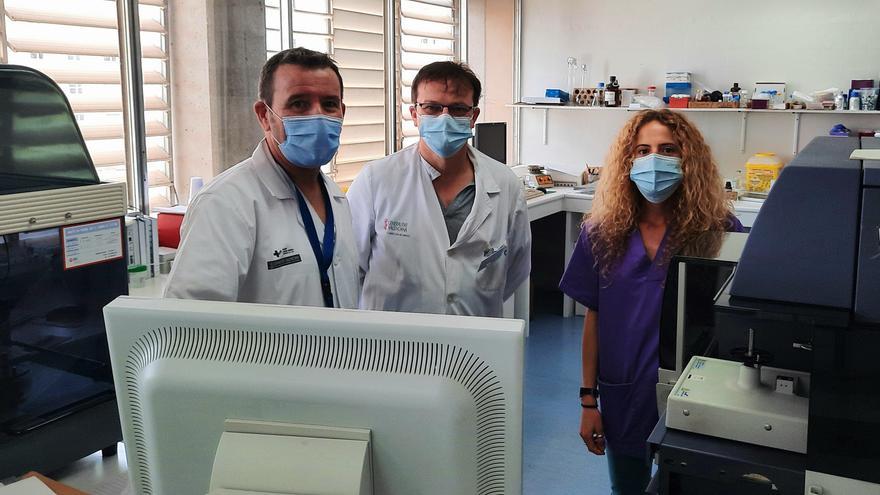 The results of this study have been published in the prestigious journal Scientific Reports and the Diagnostic Hematology Section and the Immunology Section of the General University Hospital of Alicante (HGUA) are involved in it. It has also had the collaboration of the INCLIVA Health Research Institute.
This test "manages to detect the immune response in some patients with antibodies so far undetectable by other techniques ", underlines Dr. Fabián Tarín, head of the Diagnostic Hematology Section of the General Hospital of Alicante and one of the main authors of the article.
"To date we had evidence that a minority percentage of patients with proven infection, especially mild or immunosuppressed patients, did not seem to develop antibodies and remained unprotected against possible reinfection. However, our experience shows that between 30% and 50% of them actually present antibodies that escaped the most widely used detection techniques ", remarks the aforementioned author.
Is investigation It is based on a novel methodology, in addition to the existing ones, offering a high sensitivity to detect immune response in patients who apparently had not developed it.
The technique is carried out by means of a simple fingerstick, with a microliter of blood sample that is analyzed through a technology known as flow cytometry, detecting the signals generated by the antibodies against the coronavirus proteins expressed by the transgenic cells.
Another notable aspect is the ability to identify different types of immunoglobulins, such as IgA antibodies "that remain detectable even up to eight months after infection in the vast majority of patients", highlights Dr. Francisco Marco, associate physician of the Immunology Section of the center.
IgA is a antibody essencel, which represents immunity at the mucosal level and, therefore, constitutes the first barrier against infection. It appears in all secretions, such as saliva or breast milk, and is capable of blocking germs, at the level of the respiratory system, preventing infection.
In this sense, in the most of the cases, the antibodies or immunoglobulins detected by this technique have neutralizing capacity, as the CSIC research team has shown, which means that they can block the interaction of the virus with its receptor on cells. According to Dr. Francisco Marco, "this aspect is very encouraging, since it indicates that it is about antibodies that can protect us adequately. However, the researchers warn that "we must not lower our guard, even if we have antibodies, since there is no evidence that they guarantee indefinite protection and we do not know their importance in neutralizing new variants of the virus."
Also, this technique It is beginning to be explored in vaccinated people and in this regard, "our first results indicate that patients inoculated with the different vaccines develop a vigorous response, both to IgG and IgA, which also occurs in immunosuppressed patients", highlights Dr. Paula Piñero, ISABIAL biologist and project researcher.
Given the extreme sensitivity of the technique, it is planned to carry out an exhaustive follow-up in this group of patients. "It could play an important role in monitoring the immune response in vaccinated people, mainly patients from risk groups, immunosuppressed, hematological and vulnerable patients," says Piñero.
The Sections of Diagnostic Hematology and Immunology They are two units of reference in the province of Alicante in their respective specialties and actively collaborate in ambitious translational research projects linked to the study of immunity in patients with different hematological diseases.

www.informacion.es
Eddie is an Australian news reporter with over 9 years in the industry and has published on Forbes and tech crunch.