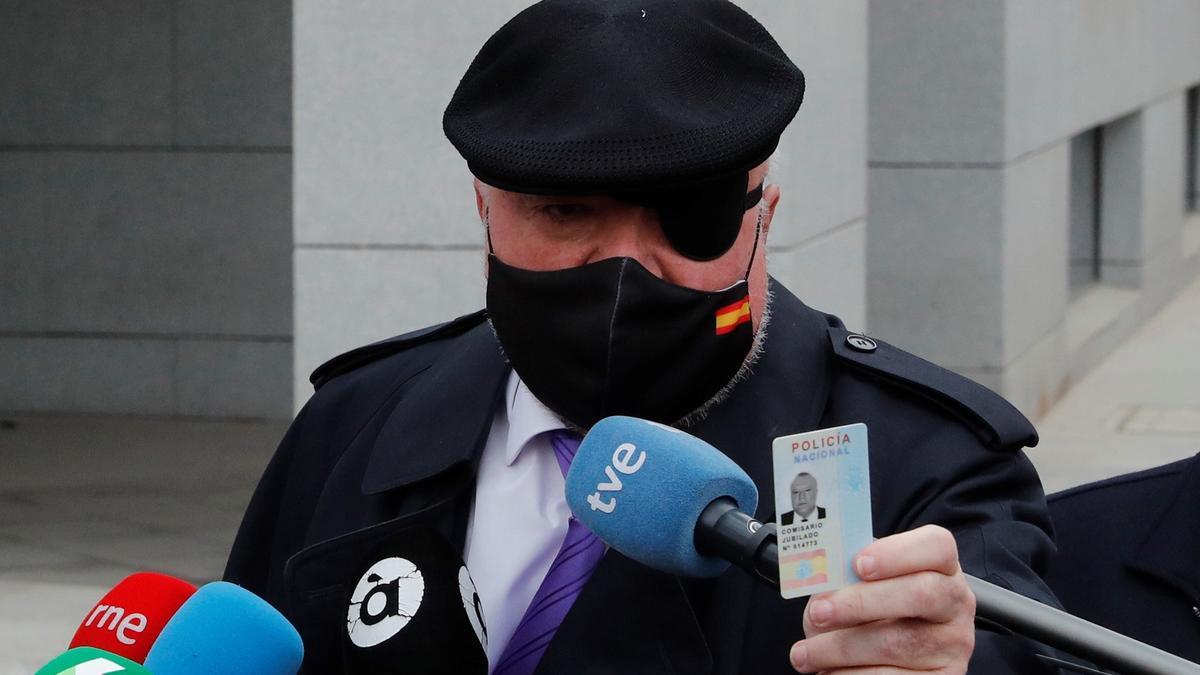 The National Court celebrates this Wednesday the first trial of retired commissioner Jose Manuel Villarejo for three alleged espionage assignments investigated in the macrocause known as Tandem, for which he faces a total request from the Prosecutor's Office for almost 110 years in prison.
Almost four years after being arrested and after more than three in provisional prison, Villarejo will be tried along with more than thirty defendants -between natural and legal persons- by three of the thirty lines of investigation that make up this case.
The fourth section of the Criminal has scheduled for this week two days of trial -Wednesday and Thursday-, focused on the previous questions, so that it will be necessary to wait until November to hear the interrogations of the accused.
These are the main keys to understanding the judgment, which will be held at the court's headquarters in San Fernando de Henares (Madrid):
More than 30 accused and more than 100 years in prison
More than thirty defendants, including some companies, they sit on the bench. In addition to Villarejo, there are other former police officers such as the former head of the Central Deputy Police Operations Unit Enrique García Castaño, known as el Gordo; Inspectors Constancio Riaño and Antonio Bonilla; and Deputy Inspector Javier Fernández.
Also the woman from Villarejo, Gemma Alcalá; his son, José Manuel Villarejo Gil; the lawyer Rafael Rendondo, the businessman Juan Muñoz – husband of the journalist Ana Rosa Quintana – and his brother; or Susana García Cereceda, daughter of the late promoter of the luxury development La Finca, in Madrid.
The highest request of the Prosecutor's Office is for Villarejo, for whom he requests 109 years and 10 months in prison for crimes such as bribery, discovery and disclosure of secrets, influence peddling and falsification of a commercial document.
He is followed by Redondo (102 years old), considered by the accusations one of Villarejo's top collaborators; García Castaño (87) and Gemma Alcalá (86).
The public prosecutor has reached agreements in accordance with some defendants that would significantly reduce their requests for conviction in exchange for acknowledging the facts, as is the case of the Muñoz brothers, legal sources explain to Efe.
Three commissions: Iron, Land and Painter
The trial revolves around three alleged orders made to the Cenyt group, owned by Villarejo and which the Prosecutor's Office refers to as a "criminal organization", in search of sensitive information of people or companies, including call traffic or banking movements, and in which the commissioner allegedly used his police status.
The Iron project was commissioned in 2013 supposedly by the firm Herrero & Asociados, also accused and who would have paid 302,500 euros "in an opaque way" to spy on a rival firm, Balder Ip Law.
Land, for which 340,252 euros was allegedly paid, would have occurred in the framework of a family dispute by the inheritance of the promoter of the La Finca urbanization, Luis García Cereceda.
Procisa, a company owned by Susana García Cereceda (daughter of the businessman), would have hired Cenyt between 2012 and 2014 to obtain "reserved information from third parties" like Jaime Ostos, husband of his sister Yolanda García Cereceda, in order to "be able to pressure him" and for him to withdraw from the "management of the extremely high patrimony" of his wife; or the promoter's widow, Silvia Gómez Cuétara.
In the room Painter would come into play the businessmen Juan and Fernando Muñoz, accused of hiring the former commissioner between 2016 and 2017 -who would already be retired- in search of reserved information to pressure a former partner for a debt and get him and his lawyer, the disqualified judge Javier de Urquía, "to modify their procedural strategy" in a judicial proceeding.
According to the investigation, they would have paid 20,000 euros to Villarejo, who even provided them with a video of Urquía consuming cocaine, although they did not use the information provided to them.
Trial that will run until 2022
After the two sessions this week, the trial will resume at the beginning of November, when three days are scheduled. Then it will be resumed in January 2022, with a fortnight of scheduled sessions.

www.informacion.es
Eddie is an Australian news reporter with over 9 years in the industry and has published on Forbes and tech crunch.