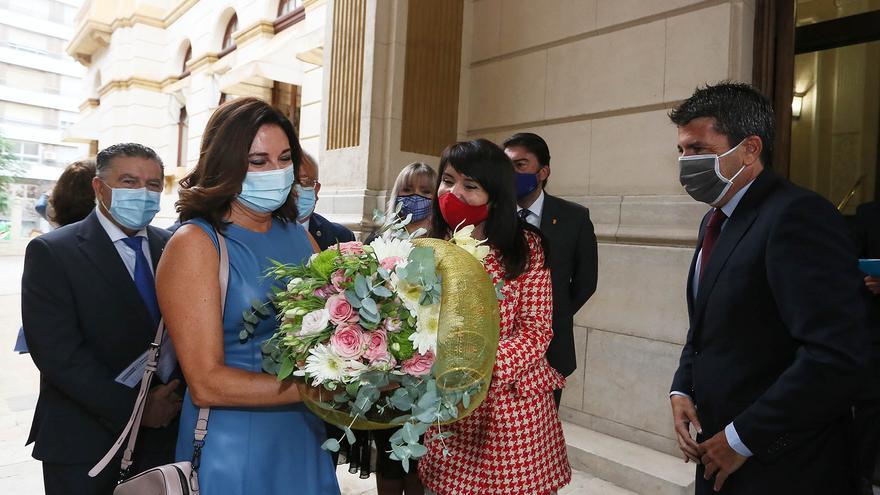 The president of the Provincial Council, Carlos Mazón, in charge of closing the event, has indicated in his speech that when "you love the land you live in, an unbreakable bond is created that prompts us to defend it vehemently, whether or not we were born in she. To always safeguard it, loud and clear, but also to praise it, improve it, enrich it, appreciate it, share it and enjoy it ". The institutional manager has praised this recognition as an "exaltation of equality, solidarity, the integration of customs and traditions of those host citizens, without ceasing to protect and preserve ours", since, as has qualified, "uniting and reinforcing the various pluralities that make up our province we magnify it."
Mazón has highlighted Rosalía Mayor's affection for the province, with which, he has indicated, he has connected and of which he knows its traditions and idiosyncrasies and its particularities, taking advantage of them "not in his favor, but that of all" and putting, as as he has mentioned "the Alicante stamp in each company, job and occupation that he has carried out, which shows how much respect, affection and attachment he is united to this province". He has also defended that the people of Alicante "never put the accent on what separates or divides us, but on the feeling that clings us to the land, to what is and we consider ours, which is nothing material, ideological, or linguistic, nor political, but identity, sentimental and visceral, because we are not a sum of individualities, but a group with the same objective, to improve our quality of life and improve our province, making it more generous, stronger, more ours, more of all " .
The first vice president and deputy for Culture, Julia Parra, in charge of leading the event, has claimed, for her part, "in these times more than ever", the exercise of journalism, the profession of the Alicantina de Adoption, and also the freedom of information "As pillars that support the democratic system, as stated in our Constitution, which in its article 20 establishes as fundamental the right to freely communicate or receive truthful information." In addition, he pointed out that, from his own experience, "I can say that Alicante is a welcoming land, a land of opportunities and a land worthy of admiration for which it is worth working hand in hand, each one from his place, to bring his own good name everywhere ".
The event was also attended by the mayor, the vice mayor and the Alicante Councilor for Culture, Luis Barcala, Mari Carmen Sánchez and Antonio Manresa, respectively, as well as the president of the Federation of Regional Houses of the province of Alicante, an entity that participates in this appointment, Miguel Beano, among other authorities. Likewise, Rosalía Mayor has been supported by friends and family who have wanted to accompany her during this recognition.
After the institutional act, which has had the musical accompaniment of the Drum Group of the Hellineros Association, the Alicante Adoption, the youngest person to receive this recognition to date, has signed in the honor book of the Provincial Council. Rosalía Mayor wanted to thank during her speech for this honorary title that, as she has recognized, "makes me absolutely and honorably happy", while highlighting the beauty of a province "that is not only sun and beach", but also has a surprising environmental heritage. "Alicante is a land of opportunities and enterprising people", he commented.
From Almeria living in Alicante since 1991, Rosalía Mayor is a journalist with a long professional career. After practicing the trade in the United States, he worked in various specialized magazines in Madrid, before settling in Alicante. Her work has allowed her to learn about the traditions, culture, characters and idiosyncrasies of Alicante, especially during her time as director of the publications. The Jump and Chandelier, of the Alicante Institute of Culture Juan Gil-Albert, for almost a decade. In 2019 she became the first president of the Alicante Association of Journalists.

www.informacion.es
Eddie is an Australian news reporter with over 9 years in the industry and has published on Forbes and tech crunch.