Note to readers: EL PAÍS offers the Future Planet section for its daily and global information contribution on the 2030 Agenda. If you want to support our journalism, subscribe here.
"Let's go. I want to show you something, "Rita signaled to me when we were sitting on the bank of a river on the edge of the Piripkura indigenous territory, in the western Brazilian Amazon. We set off: she and her husband, Aripan, four territorial protection agents from the department of indigenous affairs of the Brazilian government, and me. We walk and we walk. We navigate between the roots of the trees, crossing streams and cutting branches to make our way, admiring the lianas and the increasingly dense jungle. A jungle that has witnessed many generations of expert management by its indigenous protectors, as well as the most terrible crimes against those guardians of nature.
Sometimes we move in a zigzag and sometimes in a straight line. Rita knew exactly where she was going. "This is Piripkura land. It is my land, "he said. "My mother, my sister, my father, my mother, my brother and I live here."
Rita asked me if I had seen certain kinds of bark and if I had heard of the bodó fish, which builds its den in holes it digs in the shallow water bed. Her accurate knowledge of what might be unknown to outsiders, despite being so familiar to her, was the result of her departure from the jungle where she was born.
When Rita was born, the Piripkuras were uncontacted Indians. They avoided meeting outsiders and took advantage of everything the jungle offered them: they fished, hunted, gathered fruits and honey, and slept in tapiris, shelters made of vegetable fibers.
Rita ended up having contact with non-indigenous people and was taken to a local ranch where she was forced to work.
But their land had already been invaded for decades: at the end of the 19th century, the region's rubber extractors they hunted the Piripkuras and, starting in the 1940s, loggers and land grabbers began to invade the region. They brought with them, along with their greed for the riches of the jungle, their firearms, forever altering the life of this town to the point of almost exterminating it.
"The loggers came and cut down this forest. My grandmother told me: 'White men are cutting down the trees!' And we stopped hunting there ". For the invaders, the Piripkuras were an inconvenient obstacle. Therefore, they attacked and shot them, constantly being on them. "The whites arrived at dawn," Rita told me, recalling one of the attacks. "They killed nine of my relatives."
To save themselves from these attacks they were forced to live on the run. "My family came here, on the other side of the river. They used a jatobá tree to build a canoe. It was early morning. It was very dark. There were many mosquitoes, a strong wind was blowing, the river was raging ". Rita pointed north, south, east and west, to illustrate the constant movements of her people: their survival strategy.
In this context of invasions in the land of the Piripkuras, Rita ended up having contact with non-indigenous people and was taken to a local ranch where she was forced to work. Years later, after being released, she married her current husband, Aripan, of the Karipuna indigenous people.
She is the only Piripkura who has regular contact with non-indigenous people. Two of his relatives who survived these attacks remain isolated in the jungle: "Now, my brother [Baita] is there [en la selva], and Tamandua, my nephew ". In addition to Baita and Tamandua, there are believed to be more Piripkuras surviving in the territory, refugees deep in the forest.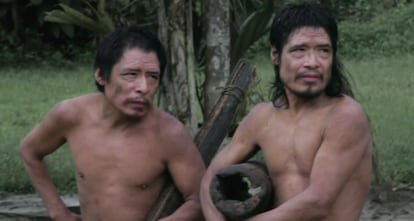 We keep walking until we reach our destination. Then Rita showed us an abandoned tapiri, built by Baita and Tamandua: their temporary home until they went far away to another part of the jungle. She proudly showed us where they would have made a fire to cook and warm themselves at night, and where they would have slept. He wanted us to see this proof of the existence of his relatives, so that we could teach it to people all over the world, to give strength to his call for the survival of his people.
The uncontacted indigenous peoples are the most vulnerable peoples on the planet. When their lands are protected, they thrive, but if their forest is not kept intact, they cannot survive. The Brazilian Constitution and international law stipulate that the lands of uncontacted indigenous people must be officially demarcated and protected, but the demarcation of the Piripkura territory was paralyzed by political pressure in the interests of powerful cattle ranchers.
The uncontacted indigenous peoples are the most vulnerable peoples on the planet. When their lands are protected, they thrive, but if their forest is not kept intact, they cannot survive.
Currently a Territorial Protection Ordinance that legally protects this territory. This ordinance makes the entry of invaders illegal and is a key instrument to safeguard this land and its people until the demarcation process is completed. Without this protection, the Piripkuras could be annihilated.
But this is not enough. The pressure on their territory is increasing: encouraged by the racist rhetoric and genocidal policy of President Bolsonaro to try to open the territories of uncontacted indigenous peoples, loggers are invading them with impunity. Satellite images show that in 2020 the Piripkura forest was deforested more than any other uncontacted indigenous territory in Brazil.
In addition, the Territorial Protection Ordinance expires on September 18. Anti-indigenous politicians and ranchers are exerting pressure not to renew it and to have wide access to the exploitation of the place
Six other indigenous territories are legally protected by similar ordinances, which in total cover one million hectares of the Amazon rainforest. But those that protect the Jacareúba / Katawixis, the Ituna Itatas and the Pirititis will also expire in the coming months.
Rita is well aware of the catastrophic impacts caused by the invasion of uncontacted indigenous peoples' territories. Reflecting on the plight of his relatives with a combination of anguish and an unwavering commitment to helping them survive, he told me: "There are invaders around here. I'm afraid they might kill you. If they do, there will be no one left. "
His pressing words should be heard around the world. International pressure on the Brazilian government to properly protect this rainforest has a great chance of making it work. If nothing is done, countless uncontacted indigenous peoples could be wiped out. Because, I call to join Rita's fight, for the Piripkuras, for the indigenous peoples and for all humanity.
Sarah D. Shenker is a researcher at Survival.
You can follow PLANETA FUTURO in Twitter, Facebook e Instagram, and subscribe here a nuestra 'newsletter'.



elpais.com
Eddie is an Australian news reporter with over 9 years in the industry and has published on Forbes and tech crunch.