A Rome court sentenced two American students to life in prison for the murder of Italian police officer Mario Cerciello Rega.
After nearly 13 hours of deliberation, a jury convicted Finnegan Lee Elder, 21, and Gabriel Natale-Hjorth, 20, of murdering Cerciello Rega, who had just returned to duty after his honeymoon when he was killed. stabbing, 35, on a street in the center of Rome in July 2019.
A state funeral was held for the officer, who according to prosecutor Maria Sabina Calabretta died in a "disproportionate and deadly attack."
Elder looked stunned when the verdict was read Wednesday night.
During a brief court appearance Wednesday, Elder told his attorney "I'm stressed" before kissing a crucifix on a neck chain and pointing it skyward. Elder's parents were at court, as was Natale-Hjorth's uncle.
Cerciello Rega's widow, Rosa Maria Esilio, burst into tears in court after hearing the verdict.
"Although there is a death that deserves all the pity, the fact that two people go to jail is not a cause for joy for anyone," Franco Coppi, Esilio's lawyer, told Rai news. "They are human beings who, although they deserve punishment, also suffer."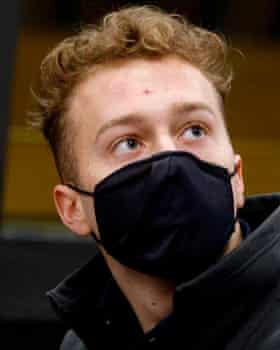 Natale-Hjorth was visiting Italian relatives near Rome when he met Elder, who was traveling in Europe, on July 26, 2019.
Cerciello Rega was stabbed 11 times and his colleague, Andrea Varriale, was injured after officers, in plain clothes and without their duty pistols, confronted Elder and Natale-Hjorth in Rome's Prati district while investigating a bag robbery. .
Elder, who had traveled to Italy with a 7-inch combat knife in his suitcase, and Natale-Hjorth said they mistook the officers for criminals who wanted to catch them and who had acted in self-defense.
Earlier in the evening, the students had contacted a broker to buy cocaine in Trastevere, a popular nightlife area.
The broker took them to a drug dealer, who charged them 80 euros (£ 70) for "cocaine" which was, in fact, aspirin.
In retaliation, they seized the broker's purse, which contained her mobile phone, and fled before allegedly demanding a ransom in cash and cocaine to return the purse.
The intermediary agreed to meet the couple in the Prati district. He had also contacted the police to report the theft and the two officers went to the scene.
The students fled the scene and the next day they were tracked to a hotel, where police found the knife used to kill Cerciello Rega.
Elder admitted to repeatedly stabbing Cerciello Rega, but said he and Natale-Hjorth suddenly confronted the men, who they thought were drug dealers.
Calabretta asked that the couple be sentenced to life in prison. "Life imprisonment is not a trophy to display but a just penalty … in the face of such tragic events, no one wins and no one loses," he said in his rebuttal to the defense arguments at the end of April.
Calabretta dismissed the defense arguments that Elder's constant fear of attack, the result of a history of psychiatric problems, had led him to kill Cerciello Rega after mistaking him and Varriale for criminals.
Varriale stated that the two officers approached the youths on the street from the front and showed them their license plates, although Cerciello Rega's was never found.

www.theguardian.com
George is Digismak's reported cum editor with 13 years of experience in Journalism