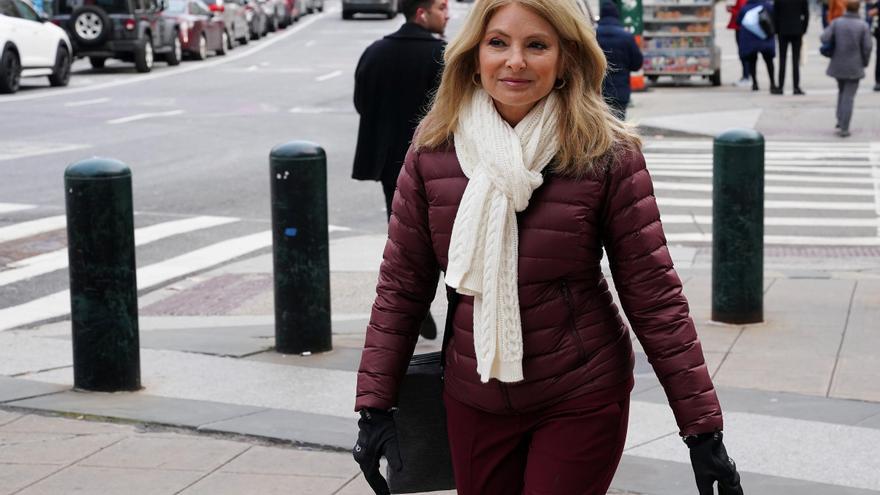 A supposed victim of sexual abuse by tycoon Jeffrey Epstein assured this Tuesday in a New York court that when he was 14 years old Ghislaine Maxwell, Epstein's right arm, was present on at least "two occasions" when the employer abused her.
According to the alleged victim, identified with the pseudonym 'Jane' to preserve her identity, at the time she was between 14 and 16 years old she visited Epstein every one or two weeks at his residence in Palm Beach (Florida), a town where Jane also resided. , and specified that in "almost all the visits" the abuses took place. According to the testimony of 'Jane', who seems to be the main witness for the prosecution in the case against Maxwell for sex trafficking in minors, when she was still a minor girl she had sex not only with Epstein alone, but sometimes he was accompanied by Maxwell or other women.
Asked by the Prosecutor's Office about the number of times Maxwell was present, the witness claimed not to remember it exactly, to later add that they were at least twice.
They met at a summer camp
For two hours, dressed in a gray jacket and black T-shirt, 'Jane' explained how she met Epstein and Maxwell in 1994, when she was 14 years old, during a summer camp in Michigan for children with artistic talents. In a seemingly chance encounter during a break between classes, they both spoke to her and asked for her home phone number. She recalled that it was a very difficult time for her because her father had passed away in late 1993, her family was bankrupt, and her mother was depressed and unable to cope.
A few weeks after that meeting, according to his story, Epstein invited her mother and her to have tea and at that meeting the billionaire assured that he wanted to mentor young artists. From that moment on, the invitations to the magnate's house were only addressed to Jane, who began to go alone to the house, where she was with Epstein and Maxwell. "They made me feel special spending time with me, talking, wondering about family and school, or watching movies, "explained Jane who explained that one day, being alone with Epstein, he interrupted the conversation and led her to a room where he told her to sit on top while he masturbated. A short time later, the situation was repeated but this time with the presence of Maxwell that "he acted casually, like he was very normal, nothing strange." "I was confused, it did not seem normal to me," said the alleged victim who explained that she did not tell anyone about the abuse until years later because she felt "ashamed."
The relationship with Epstein, as he told on the stand, lasted eight years and lasted until 2002, when he traveled to Los Angeles, where he got a job on a television show and met a couple. The 'Maxwell case' has received enormous media attention because several important figures from the world of politics and entertainment have been linked to Epstein, including Prince Andrew of England – currently accused in another case in New York by one of the alleged victims of the businessman-, the ex-presidents Bill Clinton and Donald Trump or the co-founder of Microsoft Bill Gates.
Epstein committed suicide in 2019 in prison cell New Yorker where he had been held in preventive detention, before being able to answer in court for the accusations of abuse and sex trafficking, and the defense of his partner and right hand Maxwell believes that she is serving as a "scapegoat" for the crimes committed by the tycoon. The judge has denied Maxwell provisional release due to the risk of flight, since the defendant, from a wealthy family, has three passports (British, French and American). He faces a sentence of up to eighty years in prison.

www.informacion.es
Eddie is an Australian news reporter with over 9 years in the industry and has published on Forbes and tech crunch.