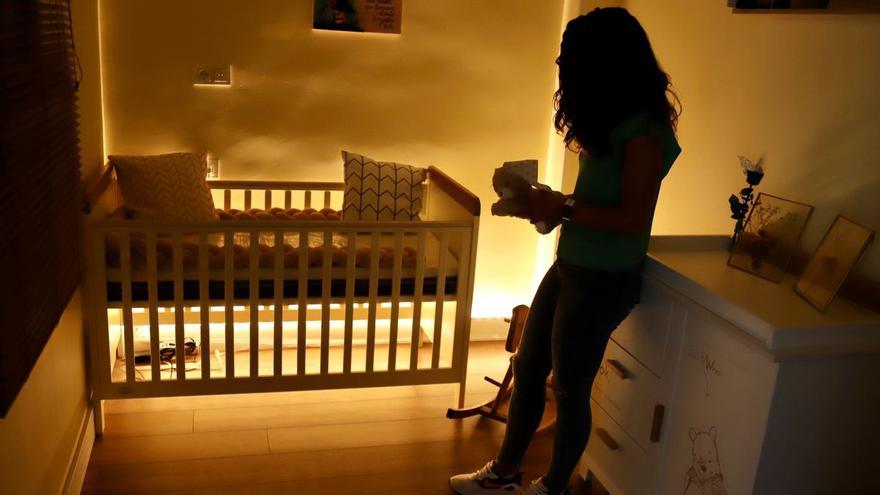 "In March I was 24 weeks pregnant, and from one day to the next I noticed that the baby did not move. I have private insurance, I went to San Carlos, there I had an ultrasound and they told me that the baby had no heartbeat. The doctor gave me a hug, told me that she was very sorry and that she had to go to Arrixaca so that the baby was 'born' lifeless. "This is how the woman from Murcia recalls Nuria, Mateo's motherHow he began his experience in a public hospital where "there are protocols, although it depends on each health worker who follows them or not."
Young Nuria makes it clear that she does not hold grudges and she has good words for those health workers of the Virgen de la Arrixaca who were kind to her and her husband during the hard process that they had to live through. Also for the head of Maternity Hospital, who later received her and her husband. Today, October 15, the International Day of Gestational, Neonatal and Early Childhood Death. Gestational death occurs when the fetus is more than 22 weeks old. In the event that the baby has died between 28 weeks of gestation and the first week of life, there is talk of perinatal death.
"You have to go to work, because there is no sick leave for you: they only offer you a sick leave due to depression"
In the specific case of Nuria, "I arrived at Arrixaca at nine in the morning and until four in the afternoon no one attended to me." "Nobody showed up, nobody explained to me what it was like, they just told you that you are there to interrupt the pregnancy. They told me that they would try to make it fast, but that it would be painful, I asked for the epidural and they denied it", highlights Nuria, to which she adds that" they did not put me in the delivery room, I had to give birth in the room"" I was in labor for about four hours and they came in two or three times to see me, they made comments like 'don't cry, you'll have the strength to push'. I told them that it hurt a lot and they gave me Paracetamol in a dropper at a very low dose, "the woman continues." My son was born because my husband took it out, because I was alone ", sentence.
Nuria, who receives The Opinion of Murcia at his house, where he still has the crib and some toys that they bought for Mateo, he states that "when they heard me scream, they all came running." "Imagine the scenario for my husband, having to remove his dead son," she remembers.
"A midwife was more tactful, she gave us the baby's footprints, weighed him, let us be with Mateo for half an hour"
In Nuria's opinion, "what fails the most is the humane treatment: nobody treats you like a person, nobody came, put his hand on my shoulder and said 'you are not alone'". "Only a nursing assistant was able to pounce on the bed, make a small cross on the child on the forehead and tell me: 'don't worry, he's already baptized' "Remember, excited.
She also appreciates the attitude of "a midwife, who He was more tactful, he gave us the baby's footprints, weighed him, let us be with Mateo for half an hour until I was given a curettage. "Nuria was installed, while she had to stay in Arrixaca," next to another woman who had just had her cesarean section, and who was holding the baby. " Besides, "at nine in the morning the next day they were already kicking me out of the room, they were giving discharge"So" I went home and the really hard started: seeing the assembled crib, the assembled car, the changing table, all her clothes … and you have to go to work, because there is no sick leave for youThey don't offer you more than a depression leave. "
Nuria and her husband were able to meet, some time later, "for almost three hours" with the head of Maternity Hospital, who, she affirms, "was very kind, his face fell with shame, he told me that I wish I could do something".
The Murcian explains that she does not intend to report, but "to help it not happen again with another mother". Now he hopes that they will pay attention to him from Arrixaca, since "they told me that they were going to call me for a few days, they did them and they have passed me by," he laments. He does not want to "screw up" the hospital: he wants that, after his disastrous experience, there will be a awareness by the toilets.
Nuria sends the message that "there is a ray of light" to the women who go through this duel and bets on give it "visibility", since "one in four" women go through such an experience. She got help in Perinatal Psychology Association, which serves about 60 women only in the Region of Murcia. They have a WhatsApp group where they support and understand each other.
A Change.org
Most of the losses happen before 13 weeks of pregnancy, but they are not entitled to maternity leave until six months. For this reason, another mom, called Claudia, who has gone through two losses, has opened a Change.org to Get Gestational Loss Recognized. "Those of us who have gone through this, we know that the pain is no less intense when the abortion occurs earlier. It is urgent that it be regulated without an arbitrary period of time, that physical and mental grief is recognized and includes the partner, which also suffers, "he says.

www.informacion.es
Eddie is an Australian news reporter with over 9 years in the industry and has published on Forbes and tech crunch.