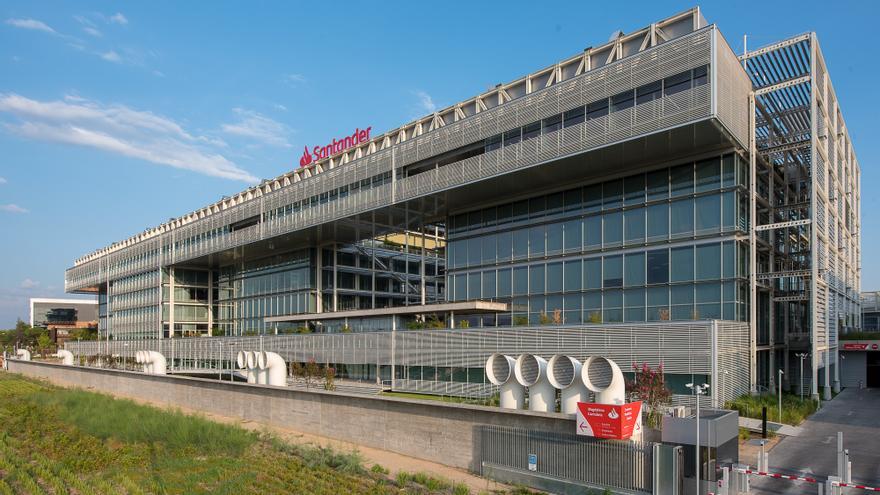 The way out of the crisis is through companies and, above all, through SMEs. Without them there is no way out. This was how forceful Rami Aboukhair, CEO of Santander Spain, was shown last Thursday at the Foro Empresas Santander digital meeting that, organized by the newspaper INFORMACIÓN, served to focus on the trends positive that are looming and that companies must take into account in order to face the future with the best information that allows them to make the right decisions.
Rami Aboukhair intervened in this line, stating that "being aware that we are living through a difficult time, I encourage you to be optimistic, realistic and look at future with trust to reactivate the economy. For this, he stressed that there are positive data that augur a Recovery economical such as the recent announcements of Pfizer and Moderna vaccines which were followed by growth in international stock markets.
To this news Rami Aboukhair also valued the aid policy carried out by the Government of Spain and by the European Union, which have prevented further economic deterioration and social, and which now have to be linked to "projects, reforms and policies aimed at reactivating the economy and employment."
"European funds for reconstruction are an opportunity to modernize our production model"
At the national level, the CEO of Santander Spain highlighted the ICO loans, about which he said that "they have been highly efficient instruments and we have to congratulate ourselves on the new grace period that has been approved and on the extension of the term from amortization of these, which has passed from three to eight years, as well as the application period that has been extended until June 2021 ».
Some initiatives that have been able to reach the social and business fabric thanks to the collaboration of the banks and, more particularly, of Santander. «Our entity is committed to being at the side of companies and their clients, and we have managed 90,000 million euros in financing for companies, SMEs and the self-employed, being market leaders in ICO loans, with a 27% share of the total . We are the leaders and we are very proud of all the work done to help reactivate the economyto. In addition, we have helped 200,000 families with deferral of payments and advances ".
Therefore, he considered that it is essential «encourage public-private collaboration to turn around the economic situation "and defended the obligation to channel reconstruction funds from the European Union in the appropriate way because" they will be a great opportunity for our country and our companies to be more sustainable, digital e international». To achieve this effectively, he once again claimed the role of banks as a channel: "We have experience, knowledge and the necessary tools to breathe that oxygen into our companies," he said.
"Banco Santander has led ICOs with solidity and solvency, giving 29% of loans in the province"
Thus, he predicted that the future passes through win competitiveness through the digitization of SMEs, by improving training and employability in future capacities, while defending that these funds should help Spain achieve a greater presence in strategic sectors through "the modernization of key traditional sectors such as agriculture or tourism, one of the jewels of the province of Alicante and of our country ».
Precisely, internationalization, digitization and sustainability environmental were the axes on which the different interventions of the Santander Business Forum. Ana Rivero Fernández, Head of Market Strategy in Europe at Santander Asset Management, offered a vision of the macroeconomic environment, highlighting that the estimates of GDP growth in Spain indicate that "we are going to have an absolute recovery at the end of next year."
"Industrial production in Spain has recovered in a clearer way than in other countries"
Likewise, it also valued the data that shows that, from the beginning of the de-escalation, the production industrial «It has recovered in a clearer way than in other countries and, although Spain is an eminently services country, this trend indicates that industry entrepreneurs see that right now it is worth doing investments in their companies.
In addition, he recalled that Spain has reduced its level of risk and emphasized that the ECB is going to buy this year over 70% of the debt issued by Spain and that "the Spanish Treasury has already issued more than 90% of the targets in long-term bonds and more than 80% of the target in Treasury Bills ».
The need for internationalization
Pablo de la Torre, commercial director of Santander Spain International Business, focused his speech on the need for internationalization of Spanish SMEs, something that the pandemic has highlighted. "Internationalized companies have a different behavior, they know how to take advantage of other markets, they have a greater diversification of risks, they are more competitive, more economically sustainable, they generate more brand and take advantage of economies of scale," he said.
To help this internationalization, the technology and the digitization they play a key role. In the province of Alicante, as he pointed out, more than 91% of the international transfers of the bank's clients are made through its website. And to solve all the problems or doubts that may arise, Santander has the solutions adequate to achieve the opening to new markets, the establishment abroad and face the operational complexity of foreign trade.
Specifically, the manager explained the platforms, tools and services developed by Banco Santander to carry out these processes, such as the Santander Trade portal, Trade Club Alliance, International Desk, the WeTrade digital platform and the One Pay FX service. With these services, entrepreneurs have the opportunity to access, among other information, thousands of directories to identify exporters and importers, carry out international operations with European banks with ease or do immediate international transfers in different currencies without paying commissions.
Financial Solutions for SMEs
Octavio Ramírez, director of the Santander Spain Business Network, participated in the conference highlighting that the bank solvency situation In this pandemic, it is very different from the previous crisis and he believed that European measures "put us in a good position to help improve the current context."
Therefore, he noted that Santander has expanded the line of liquidity to companies and, as Rami Aboukhair commented, defended public-private collaboration, as in the case of ICO loans, which "we have approached with leadership. In the Valencian Community we have a share of 28% and 29% in the province of Alicante, "he said.
«From the beginning we have wanted to be part of the solution while maintaining our commitment to being close to customers»
Among the new initiatives, he highlighted the launch of Santander One Companies to reward the customer loyalty and offer differential products of value, such as financial support and commercial orientation, digitization in payments and business activity; the optimization from customer and supplier management, support in business management or sustainability certification after signing an agreement with AENOR.
The person in charge of closing the event was Antonio Valldecabres, territorial director of Santander Bank in Valencia and Murcia, who highlighted the entity's commitment "to the closeness to customers ».
"More than 91% of international bank customer transfers are made digitally in the province"
Digitization within the reach of any SME
Javier Cobo, COO of Acens Technologies, Telefónica Empresas, pointed out that the current economic environment is being driven by the technology and among the characteristics that define it, the hyperconnectivity, be based on a data society, the hyperglobalizationas well as the hybridization of the physical world and digital.
Faced with this situation, he considered that companies can no longer delay their commitment to technology and must invest decisively in its implementation. «Only 28% of the SMEs considers that they are digitally advanced and less than three out of ten companies in Spain have an established plan to address the digitization process, "he lamented, while considering it essential to bet on technology to"grow in the market, gain in efficiency and competitiveness, and customer expectations ".
"Companies that do not digitize will have problems to overcome the pandemic, grow and stay in the future"
From his point of view, transformation digital It is not only to promote telecommuting or have a website but rather implies "a global change that affects strategies, processes, culture, channels, structures, business models, customer relationships, value proposition, customer and team experience, …".
He also considered that while it is true that many SMEs already have a website now is the time to go one step further and «transform them into their equivalent to physical business», Proposing these pages, even for clients who are outside our borders.
«We must sell beyond our city and today there are tools to do it in an easy way, at reduced costs and with a minimum barrier to entry ", he stressed, to warn that" companies that do not adapt their technology will have many problems when it comes to overcoming the pandemic, grow and stay in the future ", stated Javier Cobo.

www.informacion.es
Digsmak is a news publisher with over 12 years of reporting experiance; and have published in many industry leading publications and news sites.