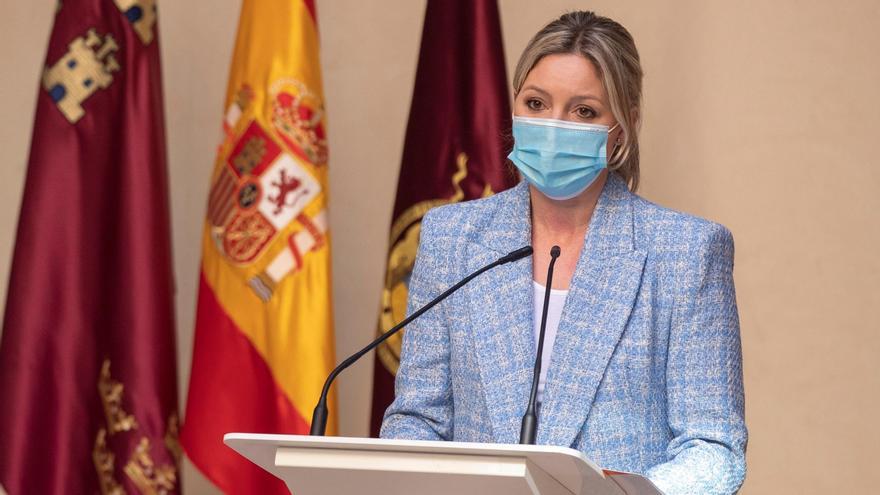 He has touched the presidency of the Murcia region this week, but it won't be. The motion of censure that he presented on Wednesday with the PSOE and that will be debated on Wednesday and Thursday will not go ahead after the head of the Executive, Fernando Lopez Miras, name advisers "to three defectors" of Citizens that deactivate the project of the center-left government. "It is an electoral fraud to all our voters". Ana Martínez Vidal hHe spoke for the first time after starring in the most turbulent political week in the region.
-How are you?
-I am calm and convinced that I have done the right thing. We had a risk but we knew that the interest of Murcia had to be prioritized.
– Do you think that the motion of censure was for the interest of Murcians? Prominent Cs members didn't see it that way.
-The support of the affiliation has been unanimous. Many of them have regained their illusion and we have had around thirty discharges in the last few days. In addition, an important part of our affiliates thought that, as happened in Andalusia, where Cs joined the PP to remove from power a PSOE that had been for decades, in the Region it was necessary to form a Government of Citizens with the PSOE by regeneration democratic. And they were right. We are seeing how the Popular Party is able to buy wills in order to cover up the corruption of 26 years. It has been traumatic for them that we filed a legitimate and constructive motion of no confidence.
-Hasn't you been very delusional in making a vote of no confidence without having all the votes tied?
-I do not conceive of politics in any other way than by maintaining loyalty to your party. There must be a discipline. These three deputies have had enough occasions to express their dissatisfaction at some point if they really did. We had a meeting of more than two hours with the six deputies, four councilors of the Murcia City Council and other organic positions. There was debate.
– None of the wayward disagreed?
-Francisco Álvarez asked some questions, but Isabel Franco and Valle Miguélez defended the motion of censure. There were more doubts with the motion of censure from the City Council. Not only that. Valle agreed to be a member of the working committee and on Thursday night he held a meeting with Gabriel Sánchez Torregrosa. He was a member of the National Executive, like Isabel. And furthermore, Carlos Cuadrado (deputy secretary general for Citizens) said at that meeting on repeated occasions that if there was no unanimity among the ten – the six deputies and four councilors – the motion would not be presented.
-López Miras spoke of "treason." I suppose now you are the one feeling betrayed.
-The betrayal Murcians have really suffered due to the continuous cases of corruption that we have had the shame of having to endure, due to the vaccine scandal and due to the arrogant attitude when governing.
-But do you feel betrayed by your peers?
-I feel disappointed because I think that a political project that is more necessary than ever, from the center, made up of honest people, who come from private companies, does not deserve these shows.
-Which disappointment of the three hurts you the most?
-They are exactly the same.
-Your relationship with Isabel Franco was never good. It was not expected?
-This is not a people project. I was not asking you to support me, but a project in which all the affiliates and all the voters of Cs believe in. She is vice president thanks to Ciudadanos, not because López Miras appointed her. This is electoral fraud. The PP has signed the Anti-Transfuguism Pact in the Congress of Deputies and has now wanted to appoint three former deputies from Cs turncoats as advisers. What greater form of political corruption.
-Ayuso said when calling elections "socialism or freedom" and on Friday you gave the choice between "corruption or dignity."
– I can understand that there are deputies who do not agree with some line of the party, but in this case there has been a purchase of wills. It is obvious. That motion would never have been presented if those deputies had said that they did not agree. What they wanted was this, and while they have done all this paripe. I am surprised that Isabel Franco, who has always called herself a progressive, wants to put an end to the illusion of so many affiliates and voters who trust in a change of government.
Franco spoke on Friday as a member of Cs.
It makes me laugh. He has had the little dignity of not showing his disagreement with the party's decision in all this time in the WhatsApp group of the Executive of Cs. She has not even left the group voluntarily and they have had to kick her out.
-What did Arrimadas tell you?
-He has shown me his full support. They know that the decision was brave and risky.
-In the end, the motion will remain in a mere plenary session to retract.
-We want to get excited again. It is a constructive motion. Murcians need a government without scandals and that gives them stability. Our ministries, for example, would correct all those duplications in which the PP has incurred. On the other hand, our Government would have fewer senior officials and fewer temporary personnel and we would carry out audits to control public spending, especially on SMS.
-With the PSOE, I suppose it will be a more social project.
-Yes. Next week we are going to vote on a regenerative political project, very positive for the Region, which collects more funds for the regional government, since it is committed to modifying the spending ceiling to allocate more items to educational and health policies and, in no case , increasing taxes.

www.informacion.es
Eddie is an Australian news reporter with over 9 years in the industry and has published on Forbes and tech crunch.