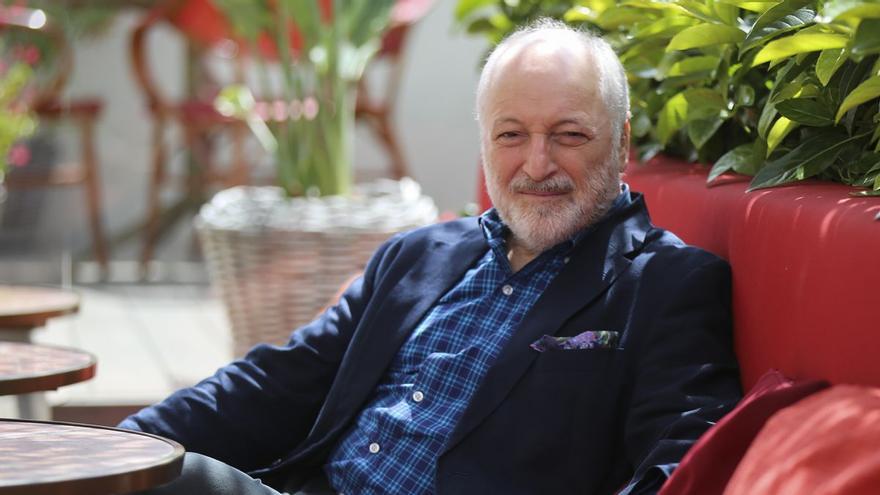 A André Aciman the whole world knew him thanks to the fact that his novel 'Call my by your name', or the loving awakening of a gay boy, was made into a movie. Born in Alexandria into a family where French, Italian, Ladino, Arabic and Greek were spoken, he is now recovering 'Far from egypt'(Asteroid), the book with which he began writing and in which he tells how it was to grow up in the 50s in the increasingly reduced Jewish community of the Egyptian city on the verge of losing its legendary cosmopolitan character. Aciman's portrait oscillates between the perfumed mystery of the city of a Lawrence Durrell and a humorous slant that Woody Allen would not disdain. He tells it from New York, where he resides.
– These memories arose from the need to put in writing your atypical and exotic childhood, for which everyone asked you?
-I always wanted to write fiction, I wanted to invent, and I thought that was the first thing I was going to do. But everyone who knew me told me that my story was very interesting, very unique, something that I did not quite believe because I was a refugee like so many others, a Jew in Egypt who later had to go to Italy.
-Was it difficult for you to tell that story?
-It was difficult, above all, to find my voice, that mixture of nostalgia, pain and sorrow but also irony and humor that characterizes me. I like to get along with the love for the senses and the feelings that it transmits and at the same time the purely intellectual act that is writing.
-His memory goes back even to moments that he did not live, to what his relatives told him. How are fiction and reality balanced in this book?
-I don't have an answer for that. As a writer you don't change the past, but you can move the furniture. You do not invent the essentials but you do invent some details. I tell things from 50 years before my birth because I heard all the stories at home. My reward was that they told me that I had perfectly captured the voice, their sense of humor and their tragedy of my great-grandmother or my great-uncles, whom I did not know.
-It would seem that these memories are loaded with fiction while his novels are read as autobiographies. Are you aware of it?
-That is something that I cannot solve because I am a writer who believes that there is no difference between memories, memories and fiction. In my books there are no limits and the reader is never sure what he is reading, and it is good that it is so.
-Our image of Alexandria is inextricably linked to the recreations of Durrell or Cavafis, which could also be said to have been invented.
-Durrell's Alexandria surely did not exist, but when you read it it does exist and for a person who writes 30 or 40 years later that he is very difficult not to feel contaminated -a word that I do not use in a negative sense- by her. You say Alexandria and you already feel nostalgia. That relationship is the one that Durrell has with Cavafis because he too is infected by his verses. In fact, I sometimes recall the city where I was born and spent my childhood and I'm not sure if I remember or invent.
-How was your Alexandria, invented or not?
– The city then was already in decline, it was no longer the European city that it had been and it was increasingly listing to Arab nationalism. You could still speak French, Italian or Greek, in addition to official Arabic, and they understood you. My grandmother's dining room table was reduced because more and more family members decided to leave. We ended up doing it ourselves in 1964. Now Alexandria tries to maintain the fiction of being an open and multinational city, but it is no longer so.
-In front of Arab nationalism, yours had to hide their Judaism. How did that affect the conception of your identity? Did you feel Jewish?
-In Egypt all the communities, Greeks, Italians, Armenians or Jews, hated each other but managed to live together. My father was a man of original ideas and he never tried to instill religious feelings in me, something that I did perceive in my grandmothers. I never felt Jewish and much less Egyptian, whatever that means. Also at 14 I became Italian because my family moved there but I didn't feel Italian either. At the Olympic Games, I am not interested in flags or anthems, only the good performances of athletes or teams, regardless of the country they are from.
-In the end he ended up being an American, although as an American author he is a 'rare bird'.
-Not American, New Yorker. There I have found the cultural plurality of my childhood. I like New Yorkers because they are weird, unhinged and off-axis. I think it's the only city I can live in.
-In front of the loss of the city in which one was born, one can be angry but his gaze is very passionate and nostalgic.
-When I gave the manuscript to my editor, he read the phrase: "I looked at a city that I had never loved" and was surprised. He said, "how can you write this? But if the whole book is a show of love for Alexandria ". This reflects something very important to me, that I do not know the difference between black and white, love or hate, deep down they are indistinguishable.
-One of her grandmothers spoke Ladino, a language that is a mystery to us.
-Well, it shouldn't be. My grandmother never used the term Ladino, she spoke Spanish and when she came to Barcelona to have her eyes operated on, she made herself understood in her old-fashioned language, full of strange elements, but Spanish at the end of the day. I told him once. "Write me something in Spanish" and he did it in Hebrew characters. When she got angry she could only do it in Spanish and I understood her. Everything was very mixed.
-This book belongs to your past, what are you doing now as a writer?
– Desire and love are predominant themes in my work and in my life. What I am writing are the memories of my Italian years.
-I imagine that it will be superimposed on the events narrated in 'Call me by your name'.
-I don't want it to be intrusive with that story, but of course, they do touch each other a bit. I am interested in exploring the experience of someone who has no roots. Neither in Egypt nor in Italy, even though I have loved Italy as I have never loved Egypt.

www.informacion.es
Eddie is an Australian news reporter with over 9 years in the industry and has published on Forbes and tech crunch.