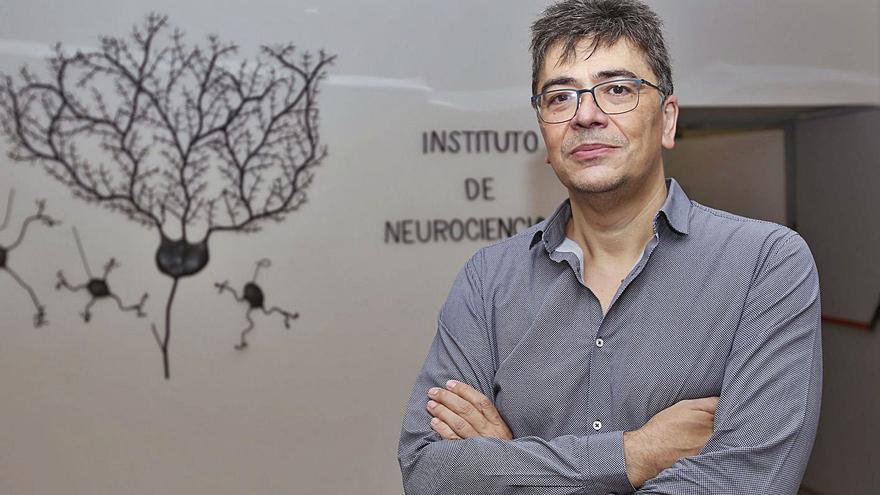 R Saving the special situation of covid that limits our daily work, in terms of research projects underway, we are in a very good position. This year alone we have achieved three major European projects in addition to the rest of the research financed by the national R&D plan and the Generalitat programs. The Institute in these twenty years has been a successful project to which very good research groups have been incorporated that have captured competitive projects and have been able to recruit more researchers and at the same time it has become a pole of attraction for young neuroscientists who want to join this project. We have reached the capacity limit of the building because we have quadrupled the number of people compared to the beginning and we have serious problems of space for laboratories and experimentation. So the challenge is to see how to keep growing.
Q Is this space problem in the process of being solved? The rector of the UMH promised to seek solutions.
A We are in the process of making proposals. The reception by the UMH is very good, the university is very committed to the Institute and we are seeing possibilities. The rectory team is aware of the problem and we hope to find a solution.
P In Neurosciences, they are leaders in research on neurodegenerative diseases and cancer. With the pandemic, could they be affected by turning efforts on the covid?
A The situation of the pandemic affects us on a day-to-day basis because for security reasons we cannot have a normal 100% occupation of the laboratories. Research funds are limited and if they lead to covid there may not be enough for other areas, but it does not seem that this will be the case. Both the Government and the Consell express a desire to improve the conditions of the investigation. In previous economic crises, research was one of the areas that suffered the most cuts, but in this case an increase in budgets is expected. The idea is that in a few years 2% of GDP will be allocated to science. I do not know how long it will take to reach this goal, but the actions that are being taken right now are in the sense of not leaving science aside. In the call for research projects of the ministry, which has just been opened, there is a budget increase. The Generalitat is also reinforcing science and innovation, which is a good decision. And in Europe there is a commitment to a paradigm shift and a strong investment is planned within the recovery funds for R & D & I. Although these are very difficult times, the scientific community sees the research situation with some hope.
Q It can be said that it is one of the few positive things about this pandemic.
A One of the things the pandemic has shown is that investing in science and research pays off. Sometimes it is not seen immediately, but in situations like this it has become apparent.
Q Knowing the lines that are underway at the Institute and what they are doing in other countries, what diseases do you think could have a cure in ten years?
A We have groups that work on the nervous system and neurodegenerative diseases and others that are dedicated to mental illness and disorders that range from schizophrenia to autism to addictions. Progress is being made in all areas, but I would not dare to say which specific disease can be resolved in ten years. Our understanding of brain mechanisms and causes of disease is advancing a lot and I hope that in ten years we will be closer to a cure for various diseases.
Q Science is closely linked to technology. The explosion of Artificial Intelligence and data science, will it mean an exponential progression in results?
A I hope so. Within the plans of the Institute, which has a very strong tradition in basic science, we would like to further enhance the translational aspect, try to ensure that part of this basic knowledge can reach the clinic or human studies.
Q Do you work on a covid line?
A The Institute is in the process of being able to carry out diagnostic tests by having a type two biological safety laboratory, which may be up and running shortly, but we have not been required yet. Some researchers are working directly on covid, such as Salvador Martínez who has a project to test the effect of an anti-inflammatory in severe covid patients. But most of the Institute works on knowledge of the brain and has resumed its research after months with less activity due to confinement.
Q It seems that there are finally vaccines with promising results, do you think it will be the definitive solution to return to pre-covid life or will we have to live with the disease for another year?
A I think we still have a few months ahead of living with the disease. As the number of immunized people increases, we will be able to relax many of the measures, but for it to disappear completely in the best of cases we will have to wait until well into 2021. We will have to learn from this for the future, I don't know how it goes. to affect in normal life from now on. Probably, after adapting to teleworking and virtual meetings, they will have more space. I hope that some Public Health structures that can serve to prevent the next pandemic will also survive.

www.informacion.es
Digsmak is a news publisher with over 12 years of reporting experiance; and have published in many industry leading publications and news sites.