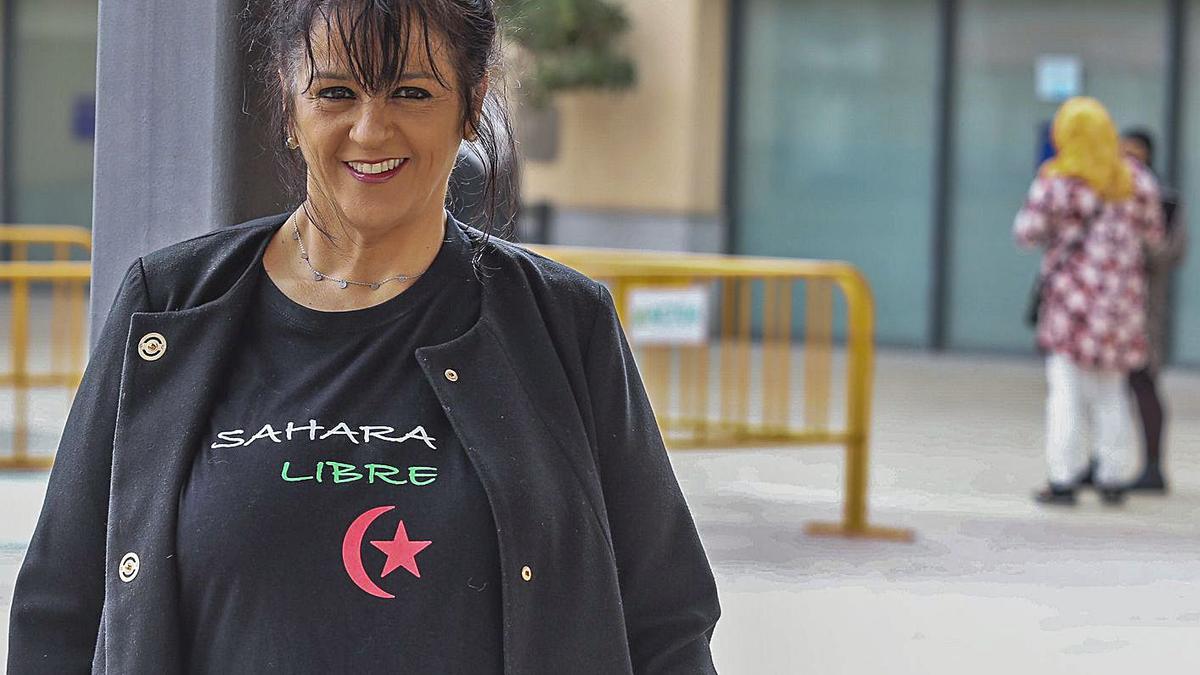 Morocco's pressure on Western Sahara is increasing and, from the province, voices are emerging in support of the Saharawi people despite the difficulties generated by the pandemic. The provincial coordinator, Angela Carrillo, explains her approach.
What information do you have about the worsening conflict in Western Sahara?
Unfortunately, not much information arrives. We know that Morocco has broken the ceasefire and there has been a response from the Polisario. Our mission is not war, it is peace, as an NGO that we are. We continue to support the right of the Sahrawis to a referendum on self-determination and to live free and with their resources on their land. The solution is the United Nations, it is the one that must be the guarantor of the rights of the Sahrawis and allow them to live in peace.
This afternoon they have called a concentration in the Plaza de la Montañeta in Alicante …
We want it to be known that there is a very difficult situation, we need society to know what is happening there. It is the only way for the United Nations to echo and respect freedom of expression and human rights. We are with the Sahrawis because they are a brother people and we will be supporting them until the day comes when they can live with their own resources. Sometimes it seems close and sometimes it seems far away.
The concentration they did on Wednesday in Elda has generated criticism of the serious current health situation …
It is that these days it is difficult to live. The pandemic situation does not favor many people gathering. You have to take extreme precautions, participate with a mask and respect the safety distance. The Government Subdelegation has transmitted us a series of regulations, such as that flags are not carried by several people. In Elda it was bad that there were people without a mask but in a concentration more caution is kept than in a bar.
What added problems is the pandemic bringing?
In Western Sahara they have had few cases and hardly any deaths. The area is armored and fairly free from coronavirus. They comply with the mask and hand washing protocols and the melfa (the typical costume for women) and the turban allow them to protect themselves. They are used to being covered because the sirocco is a wind that carries a lot of sand. Sending aid is becoming more difficult but we are trying to keep up and a caravan will be leaving next week.
This summer they have not been able to bring Saharawi children either …
It has been the best for everyone. We hope that next summer or the next the children will return. The Vacations in Peace program requires a lot of financial effort, it is not cheap, but it is essential for children and it compensates the effort. The program makes it possible to publicize the Sahrawi cause on a massive scale and children undergo medical check-ups that cannot be done there. Some minor has come blind and has been seeing. They go from being in an area at 60 degrees to bathing in water parks.
When was the last time you went to Western Sahara to work in the field?
The last time I went there was in December of last year. I go at least once a year to follow up on our projects. This 2020 I will not be able to do it and we have to work with the information that comes from there. We are looking forward to going back there to continue working closely with the Sahrawi people.

www.informacion.es
Digsmak is a news publisher with over 12 years of reporting experiance; and have published in many industry leading publications and news sites.