WWhat the recent scenes at Celtic Park might have been like if fans had been allowed into the stadium, we are left to reflect. As a rogue element wasted valuable law enforcement resources, amid the pandemic, with protests after last Sunday's defeat by Ross County, it was easy to think that the Celtic players had gotten away with it.
Tens of thousands have not been allowed to howl their disapproval during the loss to Rangers, the embarrassment at the hands of Sparta Prague or the League Cup exit to a club with a twentieth of Celtic's payroll.
It would be unfair to represent the howling mob from last weekend as representative of the Celtic supporters. The concern over a two-game win streak in 11 games is well founded. On Monday night, BBC Scotland had given airtime to two Celtic podcasters who were perfectly articulate and reasoning about their position.
They disputed that Neil Lennon should no longer lead this team. It would be ridiculous to have a debate about Celtic's recent turmoil on the field without focusing on the coach, which Lennon himself will appreciate. However, there is due hilarity when people speak of "respect" for a person that they hope will lose their job.
The Celts are in curious territory. It would be amazing if Lennon, despite an association with the club dating back to 2000, could disperse the unrest surrounding him. Sometimes it has been toxic. Any stumble against St Johnstone on Sunday would surely force the Celtic board to at least be seen as trying to stop the nosedive.
It can be easy to portray soccer as a break from the Covid-19 restrictions that have limited everyone's lives for the past nine months, but watching those fans fight, and more, outside of Celtic Park, it was easy to infer that there was broader issues at stake.
The same goes for social media, never in the most tame of settings, but in the home of some incredible – and incredibly disrespectful – abuse towards Lennon. People have time on their hands, frustrations intensify with the criteria of life, so the problems of football, trivial in the grand scheme of life, are amplified.
Celtic fans, not exclusively, paid premium season ticket prices for a broadcast code. If the blame for that can't reasonably fall on the club's doorstep, not entirely anyway, given Scottish football's terrible misjudgment of when crowds can be allowed to return to stadiums, it just adds to the rumors of discontent.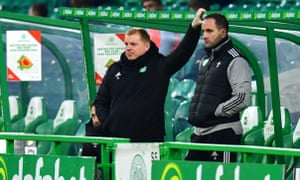 Celtic will soon seek season ticket renewals for the 2021-22 season; If the loyalty of the fans is not to be questioned, the club does not have much time to change the musical atmosphere. Perhaps the public will just be desperate to get back to football as normal, but if ever there was a time to keep the bettors in play, as looks at the balance sheet show, it is now.
Celtic's main shareholder, Dermot Desmond, amassed no more money than royalty through stubbornness. Although Desmond will never be seen in protest, especially in a field he rarely visits, there are other reasons to keep Lennon in office.
The first relates to high respect and management record. However, the Celts are also dangerously short of alternatives. Why would any manager of substance look to get into a fray in which the Rangers are likely to win a first title since 2011?
In summer, with a little room to breathe, the general situation for Celtic can be completely different. For now, this is a club with disconnections between the fans and the board, the fans and the team, and even between certain players in the dressing room. It's not really a big sale.
Hindsight suggests that Celtic spent £ 20 million in 2020 on a dismal hire, including costly loans for Shane Duffy and Diego Laxalt. Surely there can be no legitimate claim that this board did not endorse your manager. More pertinent is the underperforming process leading Celtic toward a series of multi-million dollar deals for players who don't deserve regular starting positions.
On Thursday in Milan, Lennon really had no choice but to speak publicly about a team he has to rely on for the league matches they must win and a Scottish Cup final before Christmas. Such praise may not be to the liking of the masses, but it is a traditional management tactic.
The problem for Lennon and Celtic is that every expression or movement triggers hostility. We didn't particularly need last weekend's demo to figure that out.

www.theguardian.com
Digsmak is a news publisher with over 12 years of reporting experiance; and have published in many industry leading publications and news sites.