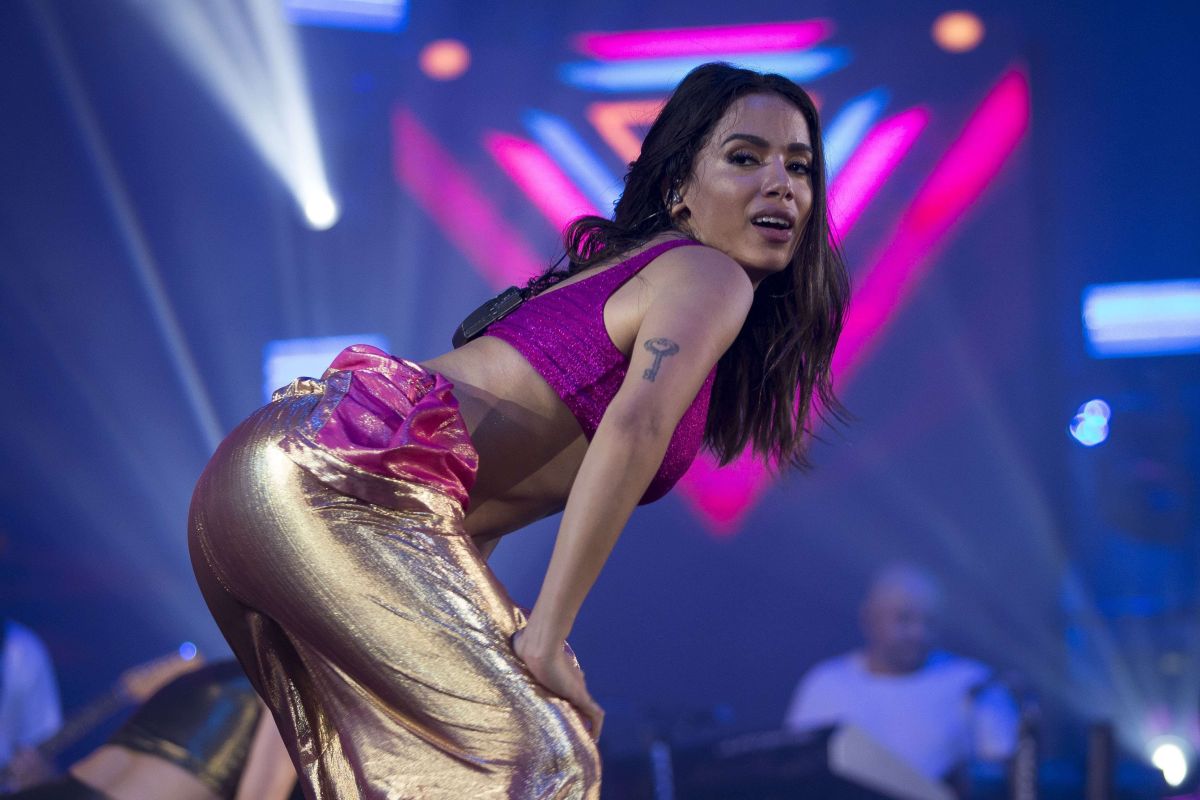 In the video for his new song, "Loco", Anitta skiing through the snow in a bikini. The idea, which she came up with while on vacation in Aspen, Colorado, might sound like nonsense, but she's used to being thought insane since she was five years old.
The artist practically lived in the Brazilian favelas, but she was so sure that she would shine from the top that she told her family about it non-stop.
As a teenager, in order to make a name for herself, she accepted invitations to perform at parties in dangerous areas, although her father kept telling her that that wouldn't get her anywhere; Today she believes that what others saw as crazy, actually put her on the right track.
"I was a girl full of energy who talked about what I would do and I always had in my head that I would be a singer. I was so sure that I didn't need to see it out of my head, but when my career started to get big in Brazil, I thought it wasn't crazy.
"And when everything started happening outside my country I knew it was not crazy. Seeing all that happen now is a delight, I am having fun, having a good time and taking advantage of the fact that everything is a good experience for me ", he shared in a virtual interview.
The singer of "Downtown", duet with J Balvin, is today considered by Billboard one of the 15 most influential musicians in social networks and is nominated for two Lo Nuestro awards for her song "Me Gusta", where she collaborated with Cardi B.
Aspiring to be recognized as Urban Female Artist of the Year and for her song to be the Crossover of the Year is confirmation for the 27-year-old singer that she can achieve anything.
"This tells me about the obstacles I went through and the barriers I broke. This tells me a lot about what happened as if it were an answer to everything I did. It is also a feeling of relief, to know that I was not crazy "he explained.
Although Madonna and Mariah Carrey listen to it today, the artist doubted a lot if she could stand out outside of Brazil and if it was worth releasing in 2017 "Paradinha", her first song in Spanish.
"I thought too much, I was very scared, insecure and I kept asking myself if I did it or not.
"I knew that after making songs in Spanish there was no way back because Brazil was going to tell me that I failed. If I were to take that step, I would have to continue, but what a good thing I did, it changed my life, "he reflected.
More illusions to achieve
To promote her new single, Anitta traveled to Miami. He was supposed to arrive on Sunday night to attend appointments the next day, but his flight was delayed and he arrived until Monday without sleeping.
Last year she would have been the first to insist on keeping her appointments, but with the pandemic she discovered that she was happier if she respected time to herself.
"Now I have changed my rules of life, today I learned to say that I cannot, that something is wrong and my body needs rest, I am not going to sweat more than I can. I discovered that I can have a normal life, work less without anything bad happening ", he claimed.
Although she is learning that she can have a life of her own and be the artist she dreamed of being, Anitta has said before that her intention is to retire in a few years to get married and become a mother.
"It's a lot of pressure when you have a singing career, there is a lot of expectation from people and I like to dedicate myself to what I'm doing. So I don't know if I will change my mind (regarding retirement) ".
While you decide, you already have a nonsense in mind that you want to fulfill.
"Today the craziest thing I dream of is being on a fazenda (farm), in a big place, having my family in the middle of the flowers, the animals, being charged with solar energy and being free. This is definitely the craziest thing, "concluded the Brazilian.
Keep reading: Anitta skis in a tiny thong and melts the snow



eldiariony.com
Eddie is an Australian news reporter with over 9 years in the industry and has published on Forbes and tech crunch.