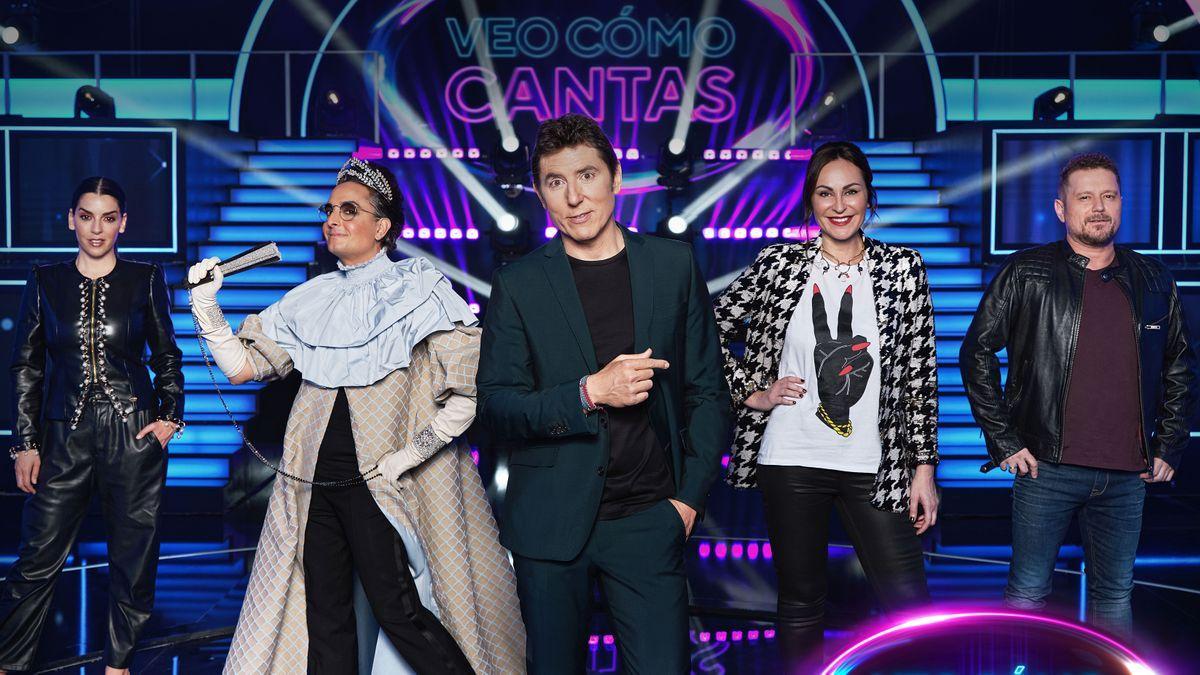 Antena 3, in its commitment to white and family entertainment, premieres this Wednesday, 8 (22.45) another format that is preceded by its success in several countries, such as USA, Germany and the Netherlands, in addition to South Korea, where it comes from and which is preparing its ninth season. The space in question is 'I see how you sing', a kind of great board game brought to television, in which a contestant must guess between nine characters which is the singer without hearing his or her voice. For each imposter discovered, the contestant accumulates 3,000 euros.
The master of ceremonies is Manel Fuentes, a presenter with proven solvency in this type of programs (he has been in charge of 'Your face to me' for 10 years) and to advise the contestant, or confuse him, even if that is not the intention, he has four advisers: the singer Ruth Lorenzo, the actress and presenter Ana Milan, comedian Sergio Fernández El Monaguillo and stylist and fashion commentator Josie. In addition to a renowned artist who will also try to help and who at the end of the program must sing with whoever the contestant has chosen.
Emmy nominated
The format, a production by Atresmedia and Warner Bros. ITVP Spain, which in the last edition of the MIPCOM in Cannes appreciated as one of the most adapted programs of the last year, is nominated for Emmy as best entertainment program. "It is a 'guessing show' that combines all the virtues: talent, emotion, humor and play. Because it puts the audience with a maximum protagonism. At home you will be able to play as on the set, even if you don't win the award ", explains Carmen Ferreiro, director of entertainment programs at Atresmedia TV.
Contestants must guess who the impostors are first by the physicist, then for a 'playback, gossiping on his vinea, checking your musical ability in front of an instrument, listening to his voice (which may be distorted) and subjecting it to a interrogation. Until the final duel arrives, in which the one chosen as the singer will perform a song with the guest artist and there it will be seen if the contestant has made a good choice or not.
Points of view
The advisers, for their part, will try to help each one from their point of view: Josie will be more aware of the outfits; Ruth, of the technique; Ana, movement on set, and El Monaguillo will follow his intuition. "They have played almost the same as the contestant. They gave their opinion, but the final decision is up to the contestant, "recalls Ferreiro.
For Pablo Abelenda, executive producer of Warner Bros. ITP Spain, "The peculiarity of the format is that every five or six minutes there is a revelation and hands at the head. It is a program of desperate situations. Ruth sees details of a good singer up to a person's thigh". And he points out: "We have great singers with a background and we will have some brutal performances and it's a humorous format ".
Talent and impossible styles
Manel Fuentes, which may coincide in the chain in front of 'I see how you sing' and 'Your face sounds to me', he remarks. "It is a pleasure to have so much talent in front of me, and they have given everything. That singers like Rosario and someone else have dared to sing with someone who could do it wrong, what can happen, is of great generosity. "
"I propose that everyone have a sheet of paper and a pen at home and place your bets and you will see how difficult it is, "he advises Milan. "I have tried to look at the smallest details, from how he picks up the microphone, or his body. Inevitably, we have ever been wrong. When someone sang well, it was like the greatest sadness in the world and when they did it badly, we shouted: 'We have won' ". Because the question is to accumulate impostors ", explains Lorenzo.
The Altar Boy has displayed his humor and Josie, her impossible outfits: "Prepare for the memes. I don't even know what I put on, I was crazy. I have put too much fashion for that set. But if people have fun with my 'look' and make cartoons with it, welcome, "he says without complexes, because he doesn't have them.

www.informacion.es
Eddie is an Australian news reporter with over 9 years in the industry and has published on Forbes and tech crunch.