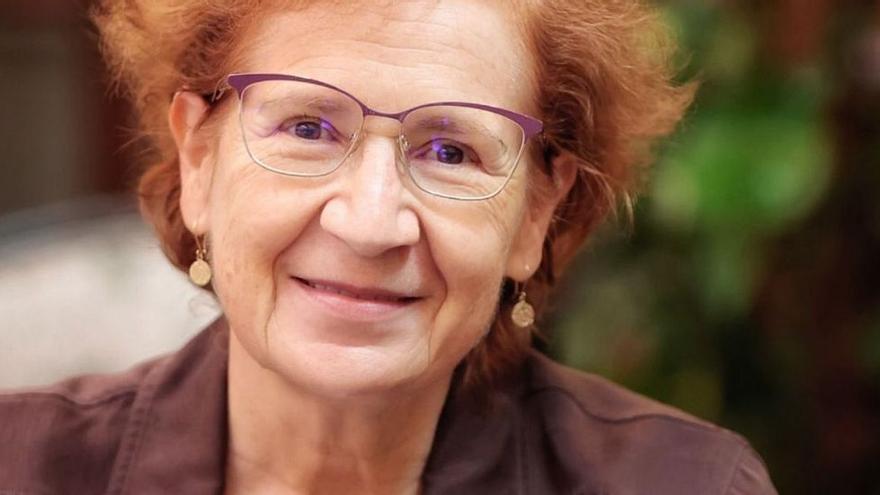 The Doctor of Chemical Sciences Margarita del Val arrives in Tenerife to offer several master sessions. After participating in the Forum on the Earth of the CajaCanarias Foundation, today the Africa Campus will close. As it's usual, highlights the importance of vaccination.
Today he is in charge of closing the new edition of Campus Africa. What can you tell us about your intervention?
I want to focus on why we have had to face this pandemic, show who the enemy is, make the virus a little known, know our defenses and our immune system. I will also pay attention to our present, which is the vaccination campaign with which Spain has become one of the most successful countries. All of this prepares us for the immediate future, which is Christmas, and it makes us think about what we should do next, looking outside our country.
This edition of Campus Africa alternates a block on the pandemic with another on climate change. Is this combination of themes successful?
Climate change will cause diseases that were previously tropical to reach further north and that causes problems because, in general, we have few vaccines for it. All this will catch us off guard again, as with this virus, so we must prepare for it. It can directly have an impact on infections but on the other hand I think the challenge posed by a single virus has caused fewer problems than the one virus can cause us. global warming. The solution for the virus was clear from day one, a vaccine, but warming implies more powerful and diverse measures. It is very important that we realize that crises can affect the entire planet and we must respond globally, with technology, research and science. It is not worth postponing the problem but, instead of returning to a previous state of life, you have to change for the better. We must not go back to the Middle Ages, as with the confinement of the first wave, but rather technology and knowledge must be applied. You have to react as soon as possible.
And in that health crisis, what role has globalization and climate change played?
Globalization clearly causes local epidemics to grow rapidly and out of control. We have seen that trend in recent decades because there is more potential for expansion. In developing places, where there is no strong healthcare system, we live with traditional practices and there is a crowded urban environment we find serious health problems. Upsetting the balance can lead to problems. Globalization has influenced pandemics but there have always been jumps of infectious agents from animals to humans.
This pandemic is being unique also because there has been unprecedented scientific dissemination.
Definitely. Before, I used to do scientific dissemination in minority circuits. He knew that people liked him very much, even if they were not engaged in science, but only for the enjoyment of knowledge. With this pandemic we have verified the responsibility that exists when disclosing about vaccines and their importance. When the pandemic started, I first tried to understand it and then I could explain it because, for me, understanding things reassures me and I have found that the same thing happens to many people: it reassures them to understand that what is taking place is a catastrophe. All this has made me want to continue explaining.
Do you think there will be a change and scientific dissemination will settle in society and in the media?
I think so, because the scientists that we already reported before have learned to do it a little better and the journalists have treated us fantastically and you have learned a lot. There has been a mutual respect that has been wonderful. The disclosure will remain, but not only for emergencies, and we have seen that also in the La Palma volcano, when scientists have immediately jumped in and their advice is being followed despite the volcano's uncertainty.
After two years of a pandemic, what have you learned from yourself about it?
Virologists have been expecting pandemics for a long time but I have seen the true potential of not having defenses against a virus, because this pandemic is completely different from the previous ones. We are surrounded by infectious agents in our day to day but we do not find out from our immune system, but here we had not developed it. That has been the problem: the potential of the virus to reproduce without our defenses. The potential of vaccines also amazes me. We have never seen them in action so clearly.
Spain has played a prominent role in carrying out its vaccination campaign. Do you think that the one that is developed now with the booster doses will work just as well?
The prominent place is not because Spain has administered the vaccines very well or because we have already reached the third dose, which is just a precaution because we should not trust this virus. The success of Spain comes from the responsibility of communicating about vaccines, in the confidence that has been generated and that has caused that more than 85% of people over 60 years of age have been vaccinated. These data are unique in Europe. This confidence in vaccines is something more sociological than pure scientific research and I have also worked to understand why we had so much confidence in vaccines, how we can do to maintain it and why in Europe there is less confidence in them.
Now we are facing a new chapter in the pandemic, which is the appearance of the omicron variant, but you are sending a message of calm on this issue.
We must bear in mind that Johannesburg is a very large communications node and in South Africa they have detected this new variant but it could have been circling the world before. It is a variant of which its dangerousness is not yet known because it has not had contact with other variants. Scientists are very alert because as time goes by, more mutations accumulate and, although many are repetitive, the combinations are endless. You have to be vigilant but the population should be calm. Although it is clear that we cannot resume all international travel because we would distribute the problem again.
We are facing the second Christmas pandemic. What recommendations do you make?
The Europe Epidemiology Center analyzes the situation in countries and says that those who are well vaccinated, as is the case in Spain, have to maintain the measures or increase them a little. We still have people who have not been vaccinated and pose a risk. We must understand why they have not been vaccinated and manage to convey confidence because the virus is going to stay with us and we are all going to be infected, so it is better that he catches us vaccinated and better, also, at a time when we are in good health. But vaccines are not miracles and people with serious illnesses, such as the elderly, who we will see for sure at Christmas, must be protected from the virus. We know that you have to ventilate and, in the Canary Islands, you can do it better than in other places. You also have to wear masks, better ffp2 even outdoors, and, if we can, we do the antigen test just before the encounters, even if we are vaccinated. You have to minimize the risks by putting many layers. Until now we have protected ourselves in a big way with vaccination and now we have to put the icing on the cake in an artisanal way, protecting our vulnerable close relatives. This will be for a couple of months and then it will be seen if we relax again. What we cannot do is repeat what happened last Christmas.
Talk about individual actions, but should restrictions return?
What administrations should do is lower the price of antigen tests. We already have them in the pharmacies but if they subsidize them for a couple of months there will be less pressure on the hospitals.

www.informacion.es
Eddie is an Australian news reporter with over 9 years in the industry and has published on Forbes and tech crunch.