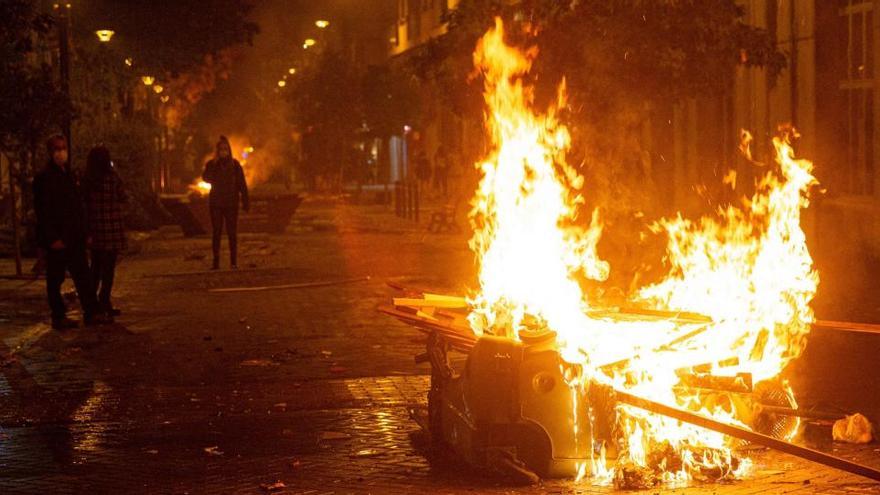 In the Germany of Adolf Hitler, Germany in 1935, was a very frequent and normalized phenomenon that was persecuted, discriminated and prohibited any cultural act that went against the guidelines set by the leader. The music did not escape either intransigence and a cruel screening consequence of a totalitarian dictatorship. In spite of everything, jazz and swing found in this pre-war Germany with a lack of freedom, an enthusiastic public and eager to dance. With their meetings, their ideas and clandestine parties began to worry the Hitler regime. Concern that grew when, far from being cowed, for a group of young Germans to listen to jazz bands from Duke Ellington and dance to the frenetic rhythm of the swing of Benny Goodman, it was much more than a passing fad. The swingjudend, the "young people of swing", as they were derogatory called by the Hitler youth, came to found a whole trend, a new youth current. With a pleasant appearance, with a peculiar way of dressing, dancing and with a philosophy of life with deeply Anglo-American roots, they had a very peculiar and carefree way of facing life that irritated the Nazi leaders a lot. Night after night, in hiding and to the rhythm of "swing heil", young Germans expressed their total rejection of the tyrannical and oppressive regime imposed by Hitler. On April 18, 1941, some three hundred "swing youths" were arrested by the Gestapo. Punishments ranged from a zero haircut, being sent to a controlled school or, in the case of the leaders, internment in a concentration camp. The swing youth, without a doubt, were an anti-establishment group of the German Third Reich. Or not? Is this the model of a young anti-system that my friend Amparo dreams of for her daughters?
Days ago, when the "Todos los Santos" bridge was celebrated in Spain, the hoteliers took to the streets. In it they expressed their concern about the latest regional measures adopted to try to mitigate the effects of the pandemic. The owners of bars and restaurants were also accompanied by a group of young and old who, in principle, empathized with their concerns. Young people who, mobilized through social networks, organized a "late-night meeting" that would last beyond the curfews. And it happened that those protests organized peacefully, shortly before midnight and Led by "anti-system youths", they turned into real pitched battles. They were young people without a defined profile, apparently without political ideology and who gave the feeling that they were not willing to give up their long, busy and nocturnal weekends. Young people who shouted for "freedom" or "they want to take away our rights", destroyed urban furniture, faced off with riot police and broke shop windows. Yes, Their desire for freedom and to fight for their rights was paralyzed when they managed to burst a shop window and were able to access the interior of the stores. The demands were crumbling like crystals, and the assault was the priority for those young people who, displaying smiles, fled riding a bicycle, or with several articles of clothing under their arms, all stolen, all the product of looting that they surely had already planned. Are these the anti-establishment youth that my friend Amparo talks about?
The novelist Wallace Stegner He said: "Wisdom begins when you recognize that the best thing you can do is choose what rules you want to live by." And he added: "It is a persistent and aggravated stupidity to pretend that one can live without rules." The question as presented by Amparo is tendentious. Between being an indoctrinated and a champion of noble causes there are many intermediate terms. "Neither the good ones are so good, nor the bad ones so bad". It is essential that our little ones, the future antisystem or trained, have very solid social foundations. And it's all about education. An education that goes through recognizing that there are basic rules of coexistence that are insurmountable. On the other hand, in the face of the injustices they believe they are facing, let them first know how to reflect, have a critical sense of the situation and then act autonomously and freely. This is everyone's job, being very important and fundamentally in the first years of life where the educational task falls on the shoulders of the parents. From an early age, with the first bottles, from the time our offspring sleep in the cradle, we must teach them that the rules exist, that their freedoms end where they overlap with the freedom of their friends. They must be taught to be critical, responsible and consistent with their actions.
As Stegner says, let's not make fools of our offspring by making them think they can live in a world without rules. It is the only way to prepare the way for a more hopeful and just future. We can dream that our children, all together and without putting up with pejorative labels such as black, sheep, red or façade, now they can develop their full potential to create a more equitable and happy world. If we prepare them well, if we do our work, surely they will never see the unconsciousness of some in the face of a pandemic again and they will be able to keep future Donald Trump in caverns from which they should never have left.

www.informacion.es

Digsmak is a news publisher with over 12 years of reporting experiance; and have published in many industry leading publications and news sites.