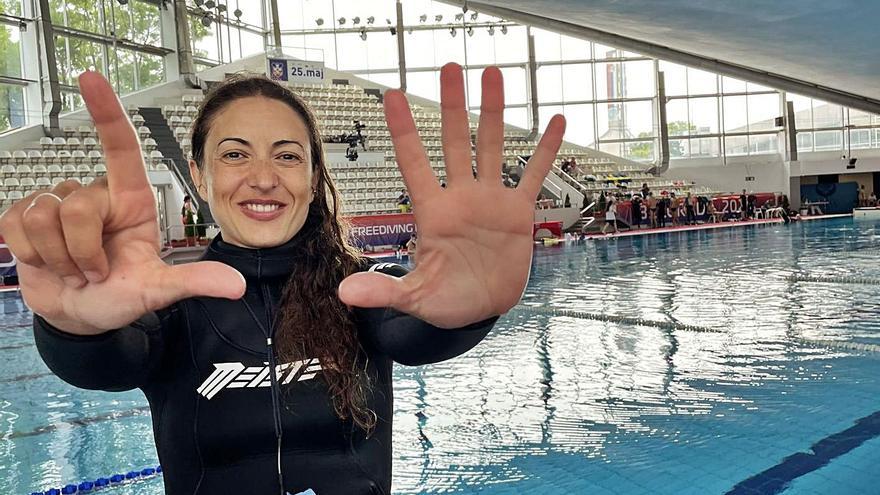 After the World Championship in Serbia, how are you?
You cannot imagine how busy I am, apart from sports I have my club of which I am an instructor, I am every day in the water teaching people, then I collaborate in the Spanish Federation of Underwater Activities, within the Board of Directors of the department of Apnea, I am a sports spokesperson for the Emprén Dona Association, then there is my family …
And then after all that, you are …
Yes, especially for training I don't make time, but I have to do it like this. My sport is a minority and thanks to all these things that I do, I have been able to emerge afloat, even those that I do voluntarily without remuneration, are also reversed in a positive way.
But in the end, you also need financial support. How is apnea currently in that regard?
We do not generate, so it does not matter what you earn, the follow-up or the show, if some brands want to invest in you because they follow you, first you have to generate and pay for yourself. I also do specialized translations in diving, which is what I studied for, and then I am financed with the grant from the Alicante Provincial Council that does not even come to pay for the registration of the competitions. Mainly everything comes from the club, also for my family who have a lot of patience, they are with me, excited, they support me a lot.
She is a globetrotter, she has lived in different parts of the world. Does it have something to do with the sport you play?
I am a person who is outdoors, who travels and is in contact with nature. I have practiced other outdoor sports such as caving, canyoning, swimming in open water. I discovered diving and I loved it, from there I went to apnea.
They say that getting away from atmospheres that remind you of your work is healthy. Does the same thing happen to you with water?
Not at all, I've always liked water a lot. I remember my happiest moments in the swimming pool in town, on the beach with my cousins ​​and the Spanish omelette or bathing in a raft with my parents. It was like a feeling of freedom, of non-gravity, that you can ruffle your hair if you want. Apnea as a sport has given me a lot of physical and mental balance.
And your history with apnea is by chance?
The first week someone took me into the water and told me what to do, I spent six minutes, I managed to reach my limit. Normally it takes people a while, because you have to get used to the sensations, but I was very curious and trusted the people who were with me a lot. Facing the call for the World Cup, Mara Torrealba, my coach, told me that we could speak with Aleix Segura, former world champion in static apnea. He gave me some advice and I was planted in seven minutes, we have the feeling that he can still give for more.
He has played a lot of sports. Why did you stay with him?
When I started diving we were a group of friends on the island of Tobago, I lived in French Guiana. We tried the experience and did a diving baptism with a bottle and we liked it. My friend told me that she would not work on this because it was her hobby and not an obligation, that stuck in my head. It occurred to me to send a resume to the site where I was diving. The one who hired me to keep me happy took me diving when there was no work, he quickly realized that I was good at water and transmitting.
Is there a relationship between discovering things and liking the sea, something so mysterious and inhospitable?
I have a memory … This I have never told in interviews, it is the oldest of my life, and it is the color yellow. It is something that shines and catches my attention, I want to go there and discover what it is, it is far away. When something calls you, it prompts you to go there to find out what it is, and I relate it to curiosity. Curiosity has always been the engine of my life, which has driven me to always want to learn, discover or explore. Perhaps the fact that my mother died when I was young also had an effect.
In apnea, how does your mind work, do you think about yellow?
No, that would excite me. In depth I visualize the dive. In the static I think that I am on the sofa taking a nap hugging my partner and when I start to feel like breathing it is as if the alarm clock was ringing, that feeling of not wanting to get up, five more minutes!
The latest competition data I have found about your participation in competitions is from 2019. Was there nothing for the pandemic in 2020?
No, because there was a lot of fear, there were no clear security protocols that were contrasted, in the end we are an amateur sport, I did spend the whole summer teaching courses like crazy. The competitions were not held, due to mobility restrictions and it costs a fortune to organize something like that.
After having broken a historical record and winning three modalities, where can we see him from now on?
I have the Spanish championship in Tenerife in September, and the world championship in October in Turkey. For next year I am hoping to find sponsors to go to Vertical Blue, which is my dream competition.

www.informacion.es
Eddie is an Australian news reporter with over 9 years in the industry and has published on Forbes and tech crunch.