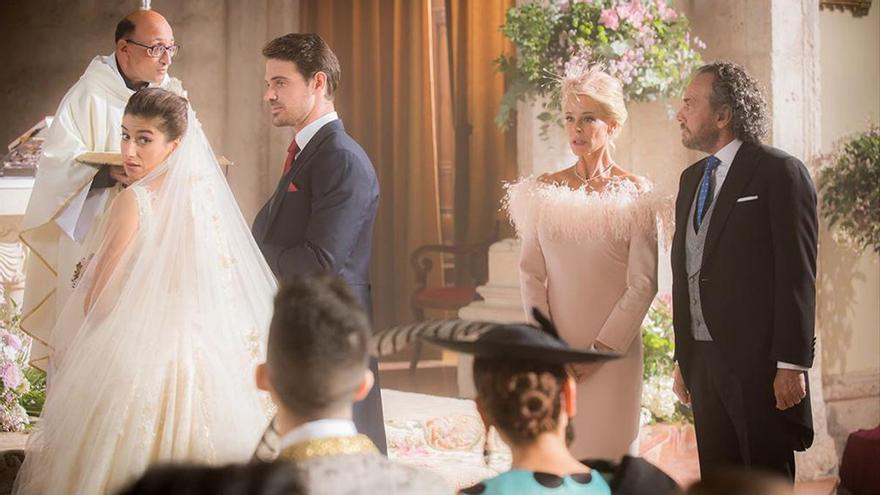 Arantxa Echevarría (Bilbao, 1968) made his feature film debut with 'Carmen y Lola', a film that was a real shock to Spanish cinema for its way of approaching the love story between two lesbian women within the gypsy community. She became the first director of Spanish cinema to participate in the Directors' Fortnight at the Cannes Film Festival and won the Goya for best new direction. Now he radically changes the register in 'The Perfect Family', a comedy starring Belén Rueda, Jose Coronado and Carolina Yuste, one of the revelations of his debut.
What has it been like to embark on a big budget project?
I had a great time. I have not had to think if there is money for the team sandwiches. Obviously I'm an aunt who makes social films, but it takes me six years to get a project done, I have to do something in the meantime.
What did you like the most about the script?
The first thing, that it was carried out by a 50-year-old woman. That made me want to make the movie. And I thought, what if between giggle and giggle I tell you my movie? In that sense, both the scriptwriter Olatz Arroyo and the producers gave me total freedom to do whatever I wanted.
"I wanted Belén Rueda, who plays a posh, to take off that artificial mask and realize that her life was shit"

The film talks about the clash of classes, but it also addresses how we allow ourselves to be carried away by prejudices and appearances
It is something that I was very interested in addressing because, I always look bad, I am a disaster. And the character that Belén Rueda embodies is the height of the pijerío. What I wanted is for him to take off that artificial mask and realize that his life was shit, a perfect life that is a shit. And that the other working-class family exudes love: they touch, they talk about everything, they fuck.
It's something that happens a lot on social media. Everyone seems happy, I do not see parrots, nor sadness, it is all so superficial that it caught my attention to play with the roles, where they place you and where you place yourself. Everything is exhibitionism and lies.
The presence of Carolina Yuste would be the point of union between her two films
In addition to my fetish actress, she is one of the best of her generation. Everything he touches turns into light, Auntie. And Rafaela also comes out, who was Lola's mother in 'Carmen y Lola'. I found it funny to create those links between a four million euro film and my tiny, warrior cinema.
"I found it funny to create links between a four million euro film and my tiny, warrior cinema"
How has it been working with Belén Rueda?
How is Belén. Wonderful no, the following. She is a curranta, generous and she trusted me, because she had never played a role in which she had to fall very badly, and that dislodged her.
Did you want to get Belén Rueda and José Coronado out of your interpretive comfort zone?
Comedy is an already difficult genre for any actor. Because there is no foolproof formula to make you laugh. As we rehearsed, I asked them to improvise to make the text more their own. We played a lot with the script, we introduced jokes about José. And that impressed them. I can conduct, but they are the violin, the trumpet and sometimes I would ask them for one thing and they would give me a further note.
"Everyone should have basic money to live. From there, everything else is superfluous."
Can you escape the dictatorship of the material?
Everyone should have basic money to live on. From there, everything else is superfluous. If you want to buy a Maserati, it is your problem, because with a 600 you move the same and you arrive at the same places. What happens is that we live in a world in which we want what others have and it seems that if we do not achieve it, we are unhappy. My motto is that the less things we have, the less we will carry.
What is the perfect family for you?
The concept of the perfect family was a pain in the ass, and a lie. Luckily, little by little it has been unraveling. The family is what we build around us and we configure it throughout our lives. And then there is the issue of motherhood, conciliation, which is a big lie, and glass ceilings. We may no longer be housewives, but we still have to carry all the weight.

www.informacion.es
Eddie is an Australian news reporter with over 9 years in the industry and has published on Forbes and tech crunch.