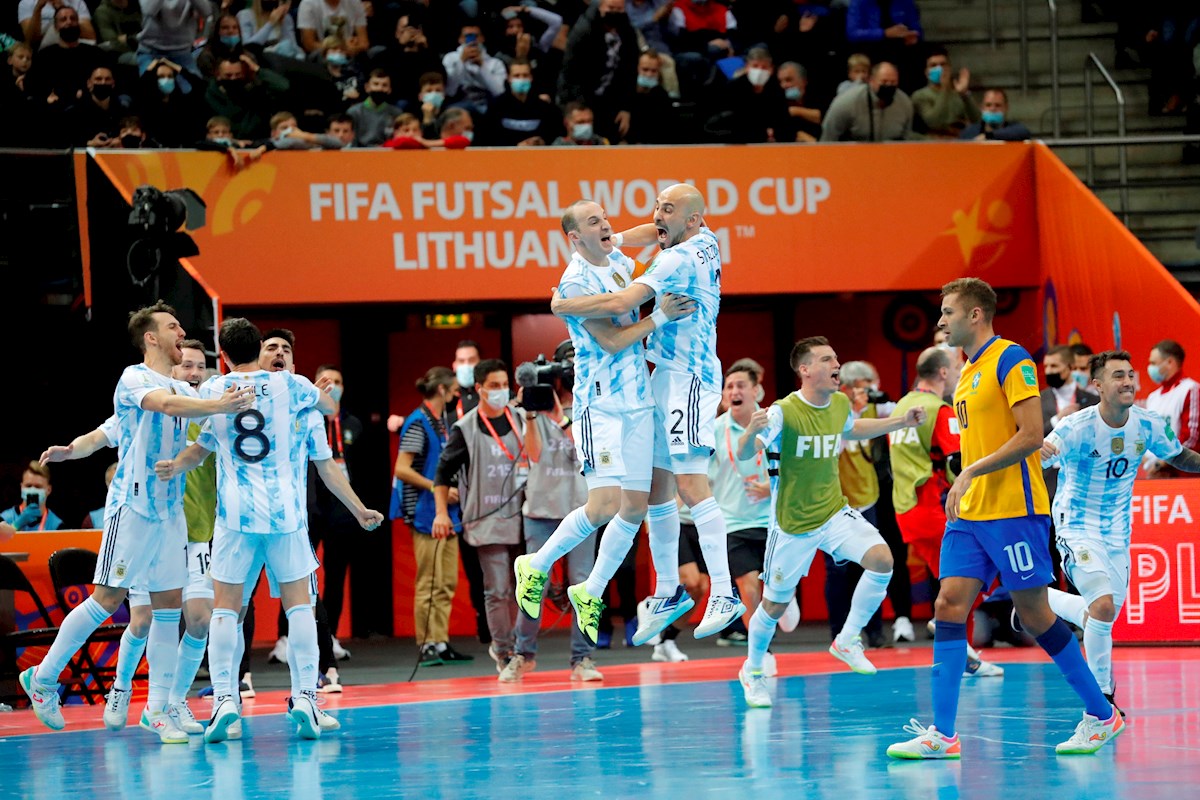 The Argentine national team achieved his pass this Wednesday to the final of the World Cup in Lithuania after beating 1-2 Brazil in the first semifinal.
Argentina was the great dominator of the first part of the match and proof of this was the advantage for Albiceleste (1-2) at the end of the first 20 minutes.
The first big chance was for Argentina with a left shot by Alan Brandi and Guitta reacted well (min.8).
The first goal for Argentina was signed by Cristian Borruto at the end of a set piece (min. 11). A minute later, the Argentine goalkeeper Sarmiento stopped a play started by Leonardo and ended without success by Ferrao.
Borruto made it 0-2 in a great counterattack made by the Argentine team (min.13). In the 15th minute, Ángel Claudio shot the right post of Guitta's goal. Brazil showed symptoms of being very touched mentally.
Brazil made it spicy, but it was not enough
La Canarinha cut distances with a goal from Ferrao that ended a great strategy play in which Lucas Bolo won the position (min.17).
In the second half the tables were turned and Brazil took control of the ball and cornered Argentina in their field. In the 29th minute, Maxi Rescia finished off a very clear chance, but Guitta saved with great skill.
Vinicius Rocha had the equalizer, but once again Sarmiento repelled the Brazilian wing's shot. In the last 5 minutes, Brazil used a goalkeeper-player with the intention of tying the game, but Argentina knew how to defend the 5 for 4 and won the ticket for its second consecutive World Cup final.
– Datasheet:
1 – Brazil: Guitta, Dyego, Ferrao, Gadeia, Rodrigo Araújo, -initial five-; Willian (ps), Marlon, Bruno, Leandro Lino, Leonardo, Vinicius Rocha, Pito, Arthur, Le y Dieguinho.
2 – Argentina: Nicolás Sarmiento, Ángel Claudino, Santiago Basile, Alan Brandi, Pablo Taborda, -initial five-; Lucas Farach (ps), Damián Stazzone, Lucas Bolo, Maxi Rescia, Leandro Cuzzolino, Cristian Borruto, Constantino Vaporaki, Andrés Santos and Matías Edelstein.
Goals: 0-1, min. 11: Cristian Borruto. 0-2, min. 13: Cristian Borruto. 1-2, min. 17: Ferrao.
Referees: Juan Cordero (Spain) and Alejandro Martínez (Spain).
Incidents: first semifinal of the 2021 Lithuanian World Cup held at the Kaunas Arena with limited attendance.
Read also: Again Cristiano Ronaldo prevented Manchester from living their own hell [Video]



eldiariony.com
Eddie is an Australian news reporter with over 9 years in the industry and has published on Forbes and tech crunch.