Vigo (Pontevedra)
Updated:
Keep

The arrival of Ari Huusela occurred ahead of schedule, at 08 hours and 35:46 minutes today, Friday, March 5, 2021, he crossed the finish line with the «Stark» after investing 116 days, 18 hours, 15 minutes and 46 seconds to complete the round-the-world sailing route alone without stopovers or outside help.
Huusela joins the exclusive club of sailors who have completed a Vendée Globe, as well as being the first Finn to do so. It is true that he was the last participant to finish this edition of the 33 sailors who left Les Sables d'Olonne on November 8, 2020, but in the world of oceanic regattas, finishing a solo round the world is already a great achievement in itself, since 1989 only 113 employers of the 198 who have tried it have achieved it.
An aeronautical engineer turned airplane pilot, passionate about ocean racing since his first crossing of the Atlantic in a Mini650 in 1999, Ari Huusela became the first skipper from a Nordic country to finish the Vendée Globe. His 25th place is infinitely less important than his status as a "finisher", and however long the days may have seemed at times, the Finn deserves the nickname he has given himself: "Super Happy Ari". At worst, at the height of the depressions, when the gales lashed his ship, he acknowledged that he was only "happy." "I am not at all worried about being the last," he said a few days ago. "I am very happy to be in the race and to be where I am. I knew I was going to be very far from the others, and the main thing was to finish with a boat solid that it returned in good condition ".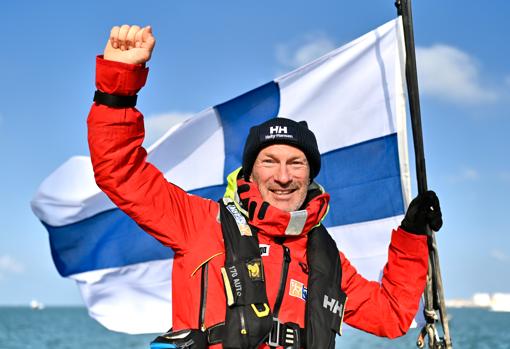 Ari Huusela has managed to culminate his love for the sea. In 1997 he competed in the Mini Transat 650 with a boat designed by his compatriot Kamu Strahlmann, finishing in 13th place, just behind Yannick Bestaven. Later he bought the old Aberdeen Asset Management, Andrew Cape's design for Sam Davies who finished the 2001 MiniTransat in 11th place. Private, for reasons he does not yet understand (the organization told him he did not accumulate enough miles), In the 2003 edition, he sold his boat to Isabelle Joschke, who he helped to start. In 2007, after sailing in the F18 Class, he took part in the Route du Rhum with Class 40 Pogo in the Rhum category and took ninth place. He only needed to conquer the Vendée Globe, he managed to buy Dee Caffari's IMOCA 60 Aviva, designed by Owen Clark; He was able to participate with this ship in the Transat Jaceques Vabre de xxx with Mikey Ferguson, in order to get to know the ship well before going around the world alone.
His entire ocean career has had an astonishing resonance in his country, achieving that for the Vendée Globe 2020-2021 the Stark company was involved as the main sponsor of his project, which has also been awarded as one of the three most important sports sponsorships in Finland. The tenacity of Ari Huusela, from Super Happy Ari, at 58 years old, has made him a hero in his country.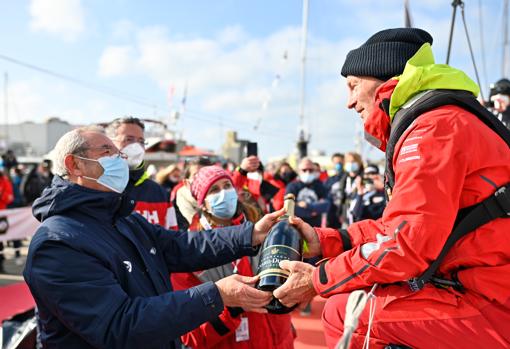 Tremendously excited when he moored the "Stark" at the Vendée Globe arrival dock, he responded very calmly to the first questions from the journalists who awaited him: "… Finishing is already incredible…". An attitude that he maintained at all times, like enjoying home second after finishing his first round the world tour; even to uncork the bottle of champagne that he gives to all the patrons, I let Yves Auvinet, Président
Conseil Départemental de Vendée, he took his time maintaining a very leisurely conversation. Ari wasn't in a hurry, she was holding the bottle, but it still took a few minutes to uncork it, see some of the precious liquid on the deck of the Stark, and finally give it a long drink from the nose.
Best of all, the moment you disembark from the "Stark." Gripping the starboard shroud, he first put the tip of his left foot, stroking his boat; and to everyone's surprise, on the red carpet, he got down on his knees – many would be thinking about the gesture that Pope John Paul II made fashionable of kneeling when he came to other countries kissing the ground – and Ari walked on all fours implied what "I was already on land", had already arrived, had already fulfilled its objective of finishing the Vendée Globe. Then he hugged Sam Davies and waited on reporters on the dock.
A few days before his arrival, Huusela reconfirmed that his only main objective was always to finish. If he is in last position, he does not care.
"I am not worried at all. I am very happy to be in the race and to be where I am. When I started the race I would have liked to do it in 110 days, but for me it does not matter if it is 150 days; it is fine while I finished. I knew that I would be very far from the others. The most important thing is to end up with a solid boat in good condition. "
And before finalizing. "I was crying most of the night, I have been thinking about this for a long time. I am very grateful to my team. Without them I wouldn't be here, and Alex Thomson, who was the first who pushed me and helped me a lot to start the project. And this welcome here today is so moving. To have been in all the exits of this regatta since 1996 and to have ended up today seeing all these people at sea, in the English Channel and now on land is simply incredible, to be able to enjoy it myself. I am very happy that Les Sables d'Olonne and the Vendée region are organizing this regatta, and to see such kind people from Les Sables d'Olonne taking care of us and being here this morning is just lovely. ".
See them
comments

www.abc.es
George is Digismak's reported cum editor with 13 years of experience in Journalism