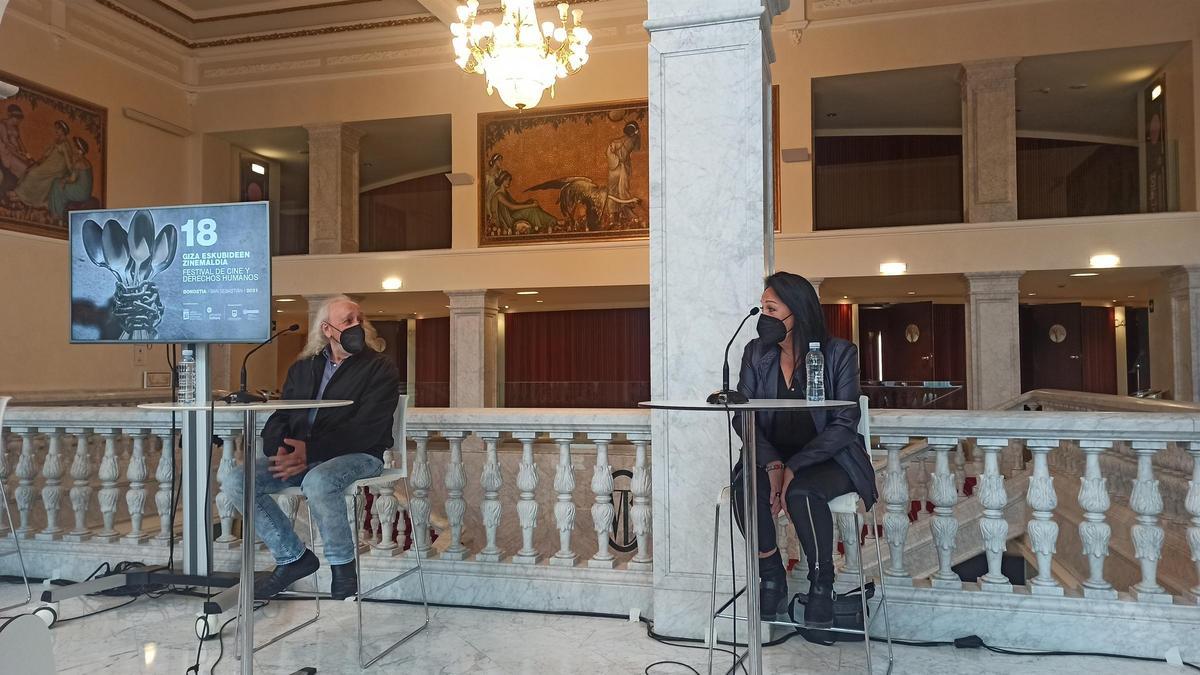 "Not only in the cinema, but in society in general, consumerism is increasingly prevalent, what works quickly and what sells, in front of that which raises questions and that the spectator himself empathizes and collaborates with what he is seeing in a film ", according to the filmmaker Montxo Armendariz. The Navarrese director made this reflection during the press conference in which this Friday the San Sebastián Film and Human Rights Festival announced that both he and the production company Puy Oria will receive this afternoon the award with which each year recognizes "the work and involvement "of personalities from the world of cinema in favor of human rights.
In a subsequent appearance, the festival has also announced its record of the current XVIII edition, in which the American film 'Welcome to Chechnya', David France (2020), has obtained the Audience Award for Best Feature Film, as well as the award also granted for this same concept by the NGO Amnesty International. "I believe that we are walking towards a society that is less and less concerned with content and does so only for the economic result. And to that extent I think that the cinema is affected and is harmed, "Armendariz explained after being asked about this phenomenon by journalists.
Previously, the director of works such as 'Tasio', '27 hours', 'The letters of Alou', 'Histories of the Kronen' or 'Secrets of the heart', He had thanked the organization for granting this award, despite the fact that "you don't make films to receive awards, but because you think you have to do them." Armendariz has also congratulated himself because the distinction he has received together with Puy Oria "coincides" with what they both understand as "cinema" which, in his opinion, "apart from amusing and entertaining, it should also serve to record the reality that we live and of our history ", in addition to being worth so that" it helps us to have a better, fairer and a little more humane society ".
For his part, Puy Oria, who worked on films such as 'Shoot!', 'Turkish Passion', 'Border Law' or 'Deep Crimson' before creating, together with Armendariz, the production company Oria Films, has thanked this "recognition" also made to the people "behind the camera" and who "are trying to make a film" and an "audiovisual" product as personal and human as possible ".
"It is important that we are also seen at some point," he continued. Oria, who has clarified that receiving this award together with Montxo Armendariz, with which heI spent a long time "fighting to get the best movies out of it", constitutes "a luxury". Oria Films, created in 1999, has produced films directed by Armendariz such as "Broken Silence", "Mobile Stage", "Obaba" and "Don't be afraid" with which, according to the organization of the San Sebastian festival, both winners have put of manifest "his predilection for tackling all kinds of social issues, his commitment to historical memory and his interest in telling realities of his time and his environment".
This is the first time the Human Rights Festival de San Sebastián has awarded a "double" award since it was established in 2007, the year in which it went to actress Pilar Bardem. Since then, it has also been received by the producer Elías Querejeta, the filmmaker José Luis Borau, the Serbian director Goran Paskaljevic, the British documentary maker Kim Longinotto, and the actress and director Icíar Bollain. Along with "Welcome to Chechnya", the record of the San Sebastian Film and Human Rights Festival has been completed with the award of the Young Jury Prize to the French film "Confinés dehors", Julien Goudichaud (2020).

www.informacion.es
Eddie is an Australian news reporter with over 9 years in the industry and has published on Forbes and tech crunch.