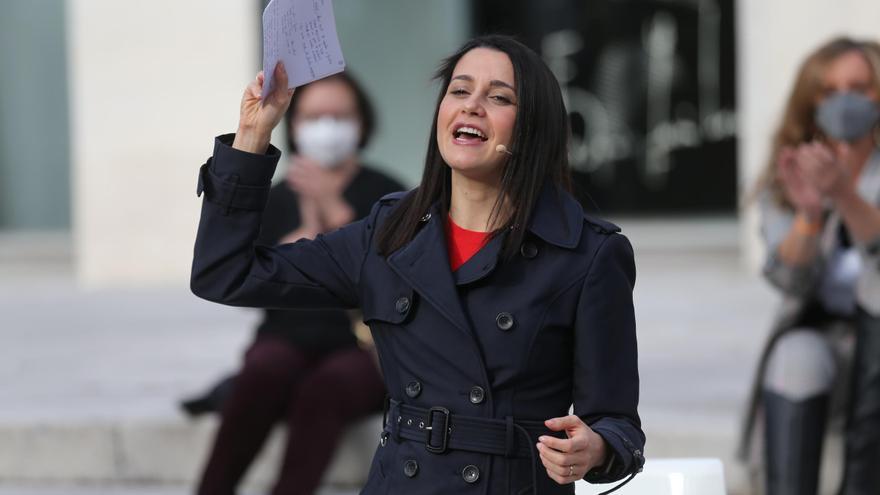 The president of Ciudadanos, Inés Arrimadas, pointed out this Friday that neither Pablo Casado nor Pedro Sánchez left nor was their resignation requested due to electoral failures of the PP and the PSOE and has suggested that she would continue to lead Cs even if the party did not get representation on the Madrid Assembly in the elections of May 4.
"I understand that there are many people who want to go back to a traditional bipartisanship, but now, in addition, with two poles that are going to pull them towards the extremes. But we are going to continue fighting for a space in which many people believe and that I am convinced that it is necessary, "he declared in an interview on the COPE chain, collected by Europa Press, referring to the PSOE and United We Can and the PP already Vox.
In this way, she has rejected the idea that she should resign as president of Ciudadanos if they run out of seats in Madrid, after having had 26 seats in the Assembly and having governed in coalition with the PP. In any case, he has said to be "convinced" that they will obtain parliamentary representation and they will once again be part of the regional Executive.
Arrimadas recalled that Albert Rivera resigned as leader of the orange formation after a bad result in the general elections of November 2019, but he did so after having been leading it for fifteen years, while this new stage of Cs began a year ago, with the primaries in which she was elected president and with the V General Assembly, already knowing that "There were going to be many difficulties of all kinds and many attacks."
"Object of attack"
In addition, he has pointed out that when the PP fell from 137 seats in Congress to 66, in the April 2019 electionsHe did not resign and "no one asked him for anything", and the same happened with Sánchez when he reaped "the worst result in the history of the PSOE" in June 2016, by remaining with 85 deputies.
Instead, "the center is always under attack," he lamented, wondering why "Citizens are required to do what is not required of other parties."
"I have a very good team", "I trust this project", there are "many people giving up their lives" for him and "we have a moral obligation to continue fighting for this space that is good for Spain", he said, mentioning the candidate to preside over the Community of Madrid, Edmundo Bal, to the deputy mayor of Madrid, Begoña Villacís, and the vice president of the Junta de Andalucía, Juan Marín.
In his opinion, the political center "has always been very difficult to defend", but "the political space exists, its usefulness is undeniable" and "Spain is a better country" with a party like Cs, which offers "seriousness", "governs well" and is "capable of reaching state agreements".
Rivera, "very critical"
For this reason, he has defended the continuity of Ciudadanos as a different party from the PP, emphasizing that in the European Parliament they are part of different political families, since the first is with the liberals and the second with the conservatives. Believe that both parties can reach agreements and govern together, "but keeping each one what they may not be able to agree on".
Regarding the intention of the PP to absorb his party, Arrimadas has reiterated that he wants to be able to continue defending a guaranteeing regulation of euthanasia or that politicians should not "divide the judges and RTVE", issues that Cs is betting on and in which it does not coincide with the 'popular', and has said that he still does not understand why Casado, who wants a confluence, refused to form a coalition with them in Catalonia for the last regional elections.
Regarding the information published by the newspaper 'La Razón' according to which Albert Rivera wants to return to politics and "is heading to end up in Pablo Casado's team", the deputy has only indicated that "Albert said in front of all Spain that he was leaving politics" and that "he has always been very critical of bipartisanship and very much a defender of that third Spain, of that center that Cs represents."
Gabilondo's "cake"
Finally, he insisted that, in the elections in the Community of Madrid, voters must decide if they want to "continue advancing" with a government of PP and Cs, which "worked well" and where "everything was already negotiated and organized" , or if the 'popular' candidate, Isabel Diaz Ayuso, makes "experiments" including Vox in the future Executive.
Arrimadas has claimed that, in the last two years, the orange formation has contributed "modernity, good management, cleanliness against corruption and social policies" that before, when the PP ruled Madrid alone, were "in the background." Even if "it has been possible to maintain a lot of activity" economic in the community despite the coronavirus crisis, believes that there is still to help many families in need.
Regarding the position of the PSOE candidate, Angel Gabilondo, on the post-electoral pacts, has pointed out that "the Moncloa people have discovered the cake", because "he wanted to say that he was not going to agree" with United We Can, but in the electoral debate last Wednesday it was clear that "it is going in a pack with (Pablo) Iglesias ".

www.informacion.es
Eddie is an Australian news reporter with over 9 years in the industry and has published on Forbes and tech crunch.