It was far from being Arsenal's costliest own goal of the week, but it still felt completely fit. They didn't deserve to lose to Everton after a better performance in the second half, but then there came the kind of moment that was ruining their season long before the term "Super League" became mainstream.
Richarlison had picked up a low pass from Allan and, skipping a sloppy leg from Granit Xhaka, tried to pierce the goal for a decisive touch. He couldn't have expected that to come from Bernd Leno, who seemed to have gotten behind the ball but looked back in agony as he wriggled through it and over the line. Everton claimed their first win in six, reigniting their commitment to European football.
The defeat capped a miserable night for Arsenal, who must now put everything on the Europa League and put the recent turmoil aside. Around 3,000 fans had protested in front of the Emirates before the game in response to the Kroenke's ghastly misstep and were ultimately offered nothing to lighten their mood. chants ringing in his ears. Fans on the outside hadn't taken Jon Moss's whistle as an invitation to come home and continued to make their feelings heard at a volume that could not have escaped those on the field. It was a surreal backdrop to the most distracting and disorienting weeks – no one in the game has been affected by such a crude attempt to irrevocably lock the football compass to the south, and the Arsenal players couldn't help but be touched in some way by anger. and frustration with club ownership for the past five days.
Was it a blessing for those trying to win a soccer game that 60,000 fans weren't clamoring for Kroenke blood on the other side of the billboards? The chants from Hornsey Road continued to filter through well into the opening period, but their message would have reverberated even more chilling in pre-pandemic times. Perhaps the only positive for Mikel Arteta in such a rotten accumulation had been that everyone knows, deep down in their hearts, that there are few domestic reasons for Arsenal to chase in recent weeks. Had the Super League cataclysm occurred before next week's Europa League semi-final against Villarreal, the consequences could have been harsh; here in a ninth-on-eighth clash, it was primarily about keeping the show on the road.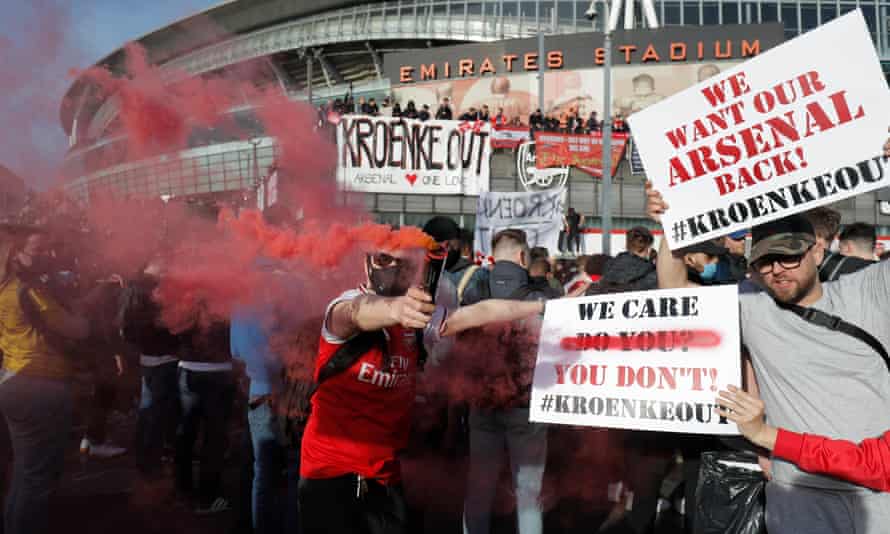 Stripped of Alexandre Lacazette and Pierre-Emerick Aubameyang, Arsenal's problems with firepower needed little elaboration. They only worked Jordan Pickford once in the first half, via a snapshot from Bukayo Saka, though Mason Holgate did make a valiant block from Eddie Nketiah.
It was Everton, not winning in five, but hoping to join the merit-based European match next season, who were unlucky enough not to lead. Leno saved well to his right from Richarlison shortly before half an hour after the forward turned inside Pablo Mari; then Gylfi Sigurdsson produced a textbook free throw from 25 yards that jumped off the top of the crossbar. The football had been visible enough, the sides more or less even, but I still had the feeling that the most important story was elsewhere.
VAR would still have a headline grip in the event of an impending apocalypse. A much more spirited start to the second half had seen Rob Holding deny Sigurdsson a certain goal earlier, in the 52nd minute Arsenal thought they had a chance to clear their heads. Richarlison's kick to the right shin from Dani Ceballos, who was moving away from the goal inside the area, was silly but ultimately unpunished.
Moss pointed to the spot, but it turned out that Nicolas Pépé had been offside by an arm's width earlier on the play; the penalty was disallowed and Arsenal would have been even more aggrieved moments later if Everton, appealing loudly, had received one of their own when a Richarlison cross struck Granit Xhaka's arm.
Arsenal were channeling the mood of the night much more positively now, Calum Chambers firing a bit more and Ceballos getting a smart save from Pickford. But then Leno made a mistake and the gloom shows no signs of disappearing.

www.theguardian.com
George is Digismak's reported cum editor with 13 years of experience in Journalism