TThe chorus has become familiar, even exhausting. Since mid-February, every week in Arsenal's life they have been mired in the same danger: the feeling that if things go wrong the season will be in tatters and Mikel Arteta will be forced to continue his rebuilding with a emaciated diet of crumbs. .
Nothing has changed during the international break. Arsenal are reverting to the regime of what Arteta has willingly come to call "finals" and, if they manage to negotiate each section of the tightrope, it will continue to do so until the end of May. Defeating Liverpool at the Emirates Stadium on Saturday night seems mandatory if you want to keep the heat in the top European spots; Avoiding a headache in the first leg against Slavia Prague five days later would put them within three games of a true Europa League final in Gdansk and give them a chance to make all that domestic mess unnecessary.
They fall short on both and the cold, pale backdrop to which Arsenal played most of their football in the fall and early winter will quickly return. Since then they have often threatened brilliance and occasionally produced it, but now it must become a hallmark.
Arteta wants to see the team that, driven by Martin Ødegaard, returned the roar to West Ham instead of the one that couldn't handle the hosts' half-hour offensive intent; it requires players who outplayed the Spurs for 80 minutes, and not those who came out feeling lucky to have outscored 10 men. Arsenal are neither poor enough to lash out nor clever enough to get off the rooftops – in essence, they have to leap into the latter in the next eight weeks.
Arteta is about to find out who can handle the pressure. Of his regular headlines there are, perhaps, six that would inspire his unwavering long-term confidence: Kieran Tierney, Thomas Partey, Bukayo Saka, Emile Smith Rowe, Ødegaard and, although the aging captain's best display is an enigma in itself, Pierre. – Emerick Aubameyang. Gabriel Magalhães may deserve a place on that list but, beyond these names, all bets are off. The spine looks solid and, especially if Ødegaard can somehow secure Real Madrid for another season or more, just as vibrant as most of the top six. But it's not unreasonable to suggest that half of the team's destinies are up in the air and that anyone who doesn't deliver risks getting a closer look at the unsentimental side of their coach.
"In some cases we have decided; in other cases things remain to be decided, "Arteta said Thursday when asked how many questions about the future of his squad had been resolved. There are some easy ones: Borrowers like Ainsley Maitland-Niles, Sead Kolasinac, Matteo Guendouzi, and Lucas Torreira, along with the rarely seen Reiss Nelson, are sure to seek new beginnings elsewhere.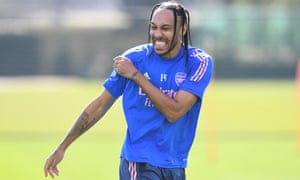 True imposters are among those closest to the action. Is it worth pursuing Dani Ceballos, a decent player and a character who has failed to stamp his authority in the games, beyond his second loan from Madrid? How does Arteta make sense of a central defender crammed with options that are generally a notch above mediocre and generally led by a 33-year-old David Luiz, whose expensive contract expires soon? Do the rumors suggest that Héctor Bellerín is willing to face a new challenge leading to an amicable separation and a useful transfer fee? Does it have Granit Xhaka in it to stay relevant as Arteta's project evolves? Would the right competition improve Bernd Leno's form or push him out?
Then there is the question of Alexandre Lacazette. Like Arsenal, the Frenchman is capable of delighting and exasperating in turn. It has recently been closer to the first, but is not yet a guaranteed headline; His contract expires in 15 months, and since his next contract will be the last major of his career, a renewal will not come cheap. The fact that discussions have not yet started suggests that the wind is blowing in a certain direction, but it wouldn't be a huge leap to imagine Lacazette as the scorer who, against all odds, sealed Champions League football for Arsenal. . It's a particularly sensitive subject given that Eddie Nketiah's days seem numbered and, even if Folarin Balogun signs new terms, the 19-year-old hasn't played a minute of Premier League football.
Each element of success achieved now reduces the stakes behind each of Arteta's summer decisions. Arsenal announced a loss of £ 47.8 million last month and that figure included only the first weeks of the pandemic; The prospects for next season will be much bleaker if European football cannot be secured and underperforming players must move on.
"We know what we want to do, we have a plan that we will develop and we know that there are certain scenarios that may vary. [and] We really can't control, "Arteta said of his preseason transfer intentions. "They will depend on things that today we really cannot determine."
His last sentence was meant to reflect the wildly different twists this season could still take, but it rang true in another way as well. No one knows for sure whether Arteta's players are able to click through a babbling Liverpool before making their way into a league match that, aside from a visit to Chelsea, is the envy of their teammates. Some are playing for their careers; Arsenal face a series of shootings for their immediate future at the highest level and the margin for error has practically disappeared for everyone involved.

www.theguardian.com
George is Digismak's reported cum editor with 13 years of experience in Journalism