meit's Christmas. There is no need to be afraid. Hahaha That Paul Young was full of shit, man. Of course, there is a lot of fear in place at the end of a year when the world turned goth, when anxiety stalks the land and when Micah Richards was able to suggest this week that the problem with Arsenal is that the players are scare of Arsenal Fan TV.
It is an interesting idea. Arsenal is the eleventh richest football club in the world, elite athlete players processed through a brutally harsh system. Arsenal Fan TV, on the other hand, is a YouTube channel staffed by performatively enraged middle-aged men with glassy, ​​anguished eyes saying things like, "I can't. I just can not. I can't "as people walk by, waving.
Who knows, maybe Richards is right. There is something deeply wrong with Arsenal, something that goes beyond the normal roster of coaches and players, even beyond a decade of low-energy ownership and incompetent appointments.
Is there a more fascinating club in English football right now? The obvious answer to this is yes. Almost every club is more fascinating than a low-powered half-giant led by a distant billionaire. But then context is everything. Watching Tuesday's zombified 4-1 loss at home to Manchester City, the main feeling was a deep unease over something so strangely lifeless.
Here they come again, the Arsenal, entombed within its own massive drome, the manager stalking the margins like a 19th century vampire reanimated as a Selfridges window mannequin.
This is a ghost ship, a skeleton crew drifting through the depression, surrounded by YouTube banshees who cry in the night. It's not even funny or fascinating anymore. It's really scary.
Sigmund Freud wrote that the root of horror is confusion as to whether an object is alive or dead, and this is what Arsenal are doing with their fans right now, what the Arsenal vlogger-horror howl is about, the screaming, eyes rolling. .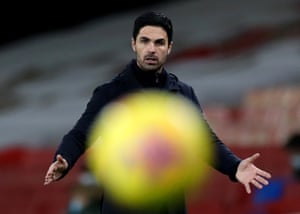 What these overexcited folks in replica jerseys are saying is: what has worried me has gotten weird. My beloved marvels the earth with empty eyes. The man who grabs my wrist with his bony hand has been revealed to be a semi-zombified former sailor. And a vessel of life and love has been transformed into a ghost ship of glass and steel off Holloway Road.
Now there is talk of firing Mikel Arteta. Arsenal could end up a place outside the relegation zone if they lose to Chelsea tonight. Maybe someone else could get better results in the short term. But the idea that anything would be solved with this is wrong.
Firing Arteta would be like firing scientists doomed and confused by radiation in the Chernobyl nuclear disaster. Bring in more dying scientists. Bring in different dying scientists. Maybe in a little thicker lab coats this time.
Arteta may or may not be good enough, but he didn't create the problems here. The same goes for the "team full of kids" identified by Jamie Redknapp in the middle of the week. To be sure, some of the older players are, in the nicest sense possible, a bunch of pigeon-chested decays struggling to fulfill their demotivating top-tier contracts.
But this deadly culture seems to stay on the walls, a disembodied spirit. Almost seven years ago, Arsène Wenger's team lost 6-3, 5-1 and 6-0 in rapid succession and we deplore the obvious character flaws of the players, six of whom later won important trophies elsewhere.
In fact, almost all the human parts of that time are gone. But the culture, well, it still is, I just can't, can't, can't, can't.
Once upon a time there was a dream that was Arsenal. Watching the cup match this week, I was reminded of going to see the first match of the Champions League at the Emirates Stadium in September 2006, three months after Arsenal had played the final in Paris. This was the peak of high Wengerism. As the ball spun under the bright new lights, dazzled by Wengerball's full-blown Velcro touch skill gnomes, everything felt new and synthetic, but also complete. Whatever its flaws, this was a fully formed world.
At the time, Arsenal was a sports incarnation of a kind of neoliberal eurozone economy – signed players from eight European countries playing frictionless football in a super stadium designed to resemble global finance houses a few miles away. south. To be Arsenal was to be this. The Wenger world had been realized.
Seven months later, Stan Kroenke bought his first small stake. Thirteen years later he owns the place. All traces of Wengerism have disappeared. And death stalks the illuminated mansion.
What is Arsenal now? Where is your pulse? Interestingly, for a team accused of being too foreign, Arsenal now feel like a footballing version of the UK – an idea that infuriates people, a fight for history and a declining prestige, clumsily tied to the past, dragging its Bookings.
It seems pretty obvious that this comes directly from the property, from the lack of care, from the lack of care. In the post-Wenger void has come a bewildering array of understudies and outsiders, corporate wonders from sports-related fields. Most irritating of all is the appointment of the owner's unqualified son to oversee the labyrinthine and highly specialized business of European elite club football.
The result has been vagueness, endless arrivals and departures, and the attentions of a supposedly super-agent. There was a dream that was Arsenal, but you don't really need a dream, just a structure, a keen eye and some kind of plan.
For now we have this, the corporate entropy to the soundtrack of the stunned-eyed superfan squeals and howls, still out there urging this thing to breathe, stand up, and walk among us again. Getting rid of Arteta may offer a brief defibrillation. But those howls of horror would be better directed higher up the chain.

www.theguardian.com
Digsmak is a news publisher with over 12 years of reporting experiance; and have published in many industry leading publications and news sites.