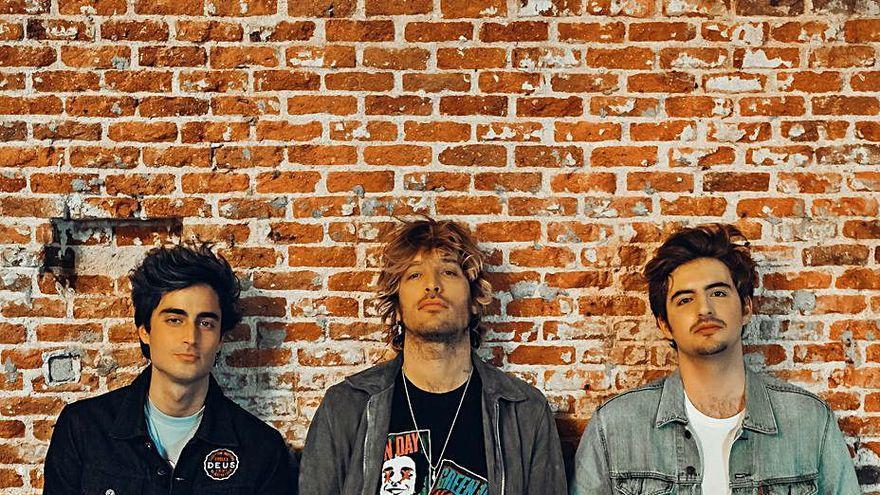 Adrian Rome is the vocalist of the rock group Marlon, who this summer travels to dozens of cities in Spain with his tour, 'Tequila and Candela ', also name of a single it just got platinum.
'Tequila y Candela' talks about love, joy, does it express your philosophy?
I don't think we have a philosophy. We make the lyrics that come out, and it depends on the state of mind we are in, but there is no sketch to make songs.
They bring out a theme for this summer, 'Bad herbs', what inspires you?
Talk about all these years. Of our weeds, our bad nights, our days of partying, all the movement we have had to get here, the fuss we have gotten into and the things that we carry inside.
How have you matured as a group since you started?
When we started seven years ago we were more kids. We wanted to be rockers at all costs, we were more canallitas, more badass. Or that was the idea we wanted to give, and I think it was out of fear of being who we really are. Time goes by, you go on tours, you see how everything works, there are more people and you are celebrating your birthday. All that matures you to make more universal songs, and to go undressing and taking off those shields, those armor of fear to teach you to the public and what they may think of you. In the end what you learn is to be yourself, and when you are, I think people like you more.
And do you make better music?
Undoubtedly. Before we made songs that were a bit more childish, more childish, and with more absurd lyrics. Every time we write better, more mature and more universal songs.
What do you want to explore for the future, musically?
We do not close any doors. We wanted to be rockers because those were the bands that we liked, but with Tequila and Candela Suddenly we did a rumba and it was one of the songs that worked the most. We have also learned that: if a rumba comes out, a rumba comes out, if a beautiful ballad comes out, it comes out. We are no longer afraid to see what happens nor do we want to pigeonhole ourselves in a fixed place.
What were your references when it came to wanting to be rockers?
The music we always listened to was Los Rodríguez, Andrés Calamaro, Tequila … We listened to Hombres G a lot, Sabina, a lot of Argentine rock. We loved Sloth who also drank from there. El Canto del Loco, Loquillo, Los Secretos, Fito, MClan. We have drunk all of those and with them we have made Marlon's potion. After so many years I think we have found it, because at first you are more lost, you don't know where to go, you can't find your voice, your sound, what you want to be. You find it over the years until you see yourself now, make a song and let people know that it is Marlon, which I think is the most difficult thing in music.
The 15-year-olds may be more with the trap than with those references. Do they reach them? Do teens still listen to rock?
Yes, definitely. There is a very strong fashion of trap and reggaeton, but the fashions end up passing. I think the music that we make, and that of the groups that I have spoken about, will never go out of style; my children and my children's children will listen to it. That music is always there, and the concerts he goes to are the music that is played. People who trap do a concert, but they don't go with their band live because it's not music to play.
What then does a music need to last?
I think you need beautiful songs that tell you something. A trap or reggaeton theme talks about girls, at night, drinking you, eating you … The same thing. They are not letters that last. But one of Sabina's is telling a beautiful, real story, and it has to last over time. You listen to it and you get excited, it takes you somewhere. The other is simply dancing and perreo.
Now a lot of artists only put out singles. Do you still think about the disc format?
Yes, in the quarantine we have recorded a complete album, with two important collaborations, and we are going to release it after the summer. We want to release an album. Before you put out a couple of singles to warm up the output, but we are a disco group. We are going to release even vinyl edition.
Why are they a disco group?
In the end, what we like is writing. If I spend a year at home, at the end I have fifty songs, and I want to make an album and tell more than one story at the same time, wrapped in a very cool package so that it is more than a song. That people can play the record, pick it up and go from one song to another … I have grown up with records and vinyl at home, with my parents. Today in my car I have a lot of records and at home I listen to vinyl. I always try to buy the records that I like; I like to hear a complete one.
What kinds of stories do you find most interesting to tell? Perhaps there is a cliché that sad themes make for more interesting lyrics.
Depends. It's what I said before: it depends on your state of mind and the things that happen to you. We always try to talk about things that happen to us but in such a way that when you listen to the song you think "this song was made to me" because it is also happening to you. It can be a love theme: sadder, loss of something; good vibes from colleagues; of a girlfriend who left you … It can be a lot of stories, but what we try to convey to people is to make it seem like we are doing the song to all of them. I think the most exciting and cool thing about music is when someone suddenly writes to you telling you that the song was made for him, it's magic.

www.informacion.es
Eddie is an Australian news reporter with over 9 years in the industry and has published on Forbes and tech crunch.