Another one gone, another gone… Boult pins Marnus in front and hollers loudly to Rod Tucker who duly raises his digit. This looks dead. Dead I tell ya. Labuschagne reviews in vain, DRS shows the ball scudding into leg stump and he is on his way back to the hutch.

","elementId":"c8886890-a687-472b-861f-eb94ac86be7c"},{"_type":"model.dotcomrendering.pageElements.TextBlockElement","html":"

Boult then shows his swing bowling chops by greeting Marcus Stoinis with an out-swinger first up. Too good Trent.

","elementId":"63b1058d-5a4d-4e70-870c-dc89531e2b12″},{"_type":"model.dotcomrendering.pageElements.TextBlockElement","html":"

7th over: Australia 22-3 (Smith 12, Stoinis 0)

","elementId":"b3fcb9e8-d64f-4023-9c41-9a1516a297ba"}],"attributes":{"pinned":false,"keyEvent":true,"summary":false},"blockCreatedOn":1662612800000,"blockCreatedOnDisplay":"05.53 BST","blockLastUpdated":1662613090000,"blockLastUpdatedDisplay": "05.58 BST","blockFirstPublished":1662613090000,"blockFirstPublishedDisplay":"05.58 BST","blockFirstPublishedDisplayNoTimezone":"05.58″,"title":"WICKET! Labuschagne lbw b Boult 5 (Australia 22-3)","contributors ":[]","primaryDateLine":"Thu 8 Sep 2022 06.02 BST","secondaryDateLine":"First published on Thu 8 Sep 2022 05.07 BST"},{"id":"631971808f08d2b5fa6d9ec5″,"elements":[{"_type":"model.dotcomrendering.pageElements.TextBlockElement","html":"

Carbon copy dismissal and it is Warner who is on his way this time! Plinking a drive on the up straight to a gleeful Kiwi skipper. Australia in all sorts!

","elementId":"a1e7f571-ae1e-4b63-98fa-de0d21739648″}],"attributes":{"pinned":false,"keyEvent":true,"summary":false},"blockCreatedOn":1662611840000,"blockCreatedOnDisplay":"05.37 BST","blockLastUpdated":1662611988000,"blockLastUpdatedDisplay": "05.39 BST","blockFirstPublished":1662611988000,"blockFirstPublishedDisplay":"05.39 BST","blockFirstPublishedDisplayNoTimezone":"05.39″,"title":"WICKET! Warner c Williamson b Henry 5 (Australia 7-2)"," contributors":[],"primaryDateLine":"Thu 8 Sep 2022 06.02 BST","secondaryDateLine":"First published on Thu 8 Sep 2022 05.07 BST"},{"id":"63196f258f08aab4f5b4d454″,"elements":[{"_type":"model.dotcomrendering.pageElements.TextBlockElement","html":"

It's a plump slice of duck for Aaron Finch! He plinks a length ball from Matt Henry tamely to Kane Williamson at mid-off. Finch hangs his head and drags himself from the field, might that be the end?

","elementId":"bf252fd3-af7d-4b3a-8689-1c12d573ff5d"},{"_type":"model.dotcomrendering.pageElements.ImageBlockElement","media":{"allImages":[{"index":0,"fields":{"height":"2822″,"width":"3995″},"mediaType":"Image","mimeType":"image/jpeg","url":"https://media.guim.co.uk/62994d5ad8401b77f64589cfdab67d5f06856399/0_0_3995_2822/3995.jpg"},{"index":1,"fields":{"isMaster":"true","height":"2822″,"width":"3995″},"mediaType":"Image","mimeType":"image/jpeg","url":"https://media.guim.co.uk/62994d5ad8401b77f64589cfdab67d5f06856399/0_0_3995_2822/master/3995.jpg"},{"index":2,"fields":{"height":"1413″,"width":"2000″},"mediaType":"Image","mimeType":"image/jpeg","url":"https://media.guim.co.uk/62994d5ad8401b77f64589cfdab67d5f06856399/0_0_3995_2822/2000.jpg"},{"index":3,"fields":{"height":"706″,"width":"1000″},"mediaType":"Image","mimeType":"image/jpeg","url":"https://media.guim.co.uk/62994d5ad8401b77f64589cfdab67d5f06856399/0_0_3995_2822/1000.jpg"},{"index":4,"fields":{"height":"353″,"width":"500″},"mediaType":"Image","mimeType":"image/jpeg","url":"https://media.guim.co.uk/62994d5ad8401b77f64589cfdab67d5f06856399/0_0_3995_2822/500.jpg"},{"index":5,"fields":{"height":"99″,"width":"140″},"mediaType":"Image","mimeType":"image/jpeg","url":"https://media.guim.co.uk/62994d5ad8401b77f64589cfdab67d5f06856399/0_0_3995_2822/140.jpg"}]},"data":{"alt":"Matt Henry celebrates as Finch starts the long walk off.","caption":"Matt Henry celebrates as Finch starts the long walk off.","credit":"Photograph: Robert Cianflone/Getty Images"},"displayCredit":true,"role":"inline","imageSources":[{"weighting":"inline","srcSet":[{"src":"https://i.guim.co.uk/img/media/62994d5ad8401b77f64589cfdab67d5f06856399/0_0_3995_2822/master/3995.jpg?width=620&quality=85&auto=format&fit=max&s=de690a6770064e0f24620a8e8cc9b214″,"width":620},{"src":"https://i.guim.co.uk/img/media/62994d5ad8401b77f64589cfdab67d5f06856399/0_0_3995_2822/master/3995.jpg?width=620&quality=45&auto=format&fit=max&dpr=2&s=c2670b2722855db5a36023765cc8b22b","width":1240},{"src":"https://i.guim.co.uk/img/media/62994d5ad8401b77f64589cfdab67d5f06856399/0_0_3995_2822/master/3995.jpg?width=605&quality=85&auto=format&fit=max&s=bd5b1d065ec8fb485168374711a267fb","width":605},{"src":"https://i.guim.co.uk/img/media/62994d5ad8401b77f64589cfdab67d5f06856399/0_0_3995_2822/master/3995.jpg?width=605&quality=45&auto=format&fit=max&dpr=2&s=8248398f98c4a9d9479bbb5e34799a2a","width":1210},{"src":"https://i.guim.co.uk/img/media/62994d5ad8401b77f64589cfdab67d5f06856399/0_0_3995_2822/master/3995.jpg?width=445&quality=85&auto=format&fit=max&s=8ce479a10107b9f1aa32dfbf492598cd","width":445},{"src":"https://i.guim.co.uk/img/media/62994d5ad8401b77f64589cfdab67d5f06856399/0_0_3995_2822/master/3995.jpg?width=445&quality=45&auto=format&fit=max&dpr=2&s=c59075c137adcd9b64ba70c0782713e3″,"width":890}]},{"weighting":"thumbnail","srcSet":[{"src":"https://i.guim.co.uk/img/media/62994d5ad8401b77f64589cfdab67d5f06856399/0_0_3995_2822/master/3995.jpg?width=140&quality=85&auto=format&fit=max&s=3c6ad25e94000c057f6147c54e40e090″,"width":140},{"src":"https://i.guim.co.uk/img/media/62994d5ad8401b77f64589cfdab67d5f06856399/0_0_3995_2822/master/3995.jpg?width=140&quality=45&auto=format&fit=max&dpr=2&s=fea5f18052e91b934abc0e213c207687″,"width":280},{"src":"https://i.guim.co.uk/img/media/62994d5ad8401b77f64589cfdab67d5f06856399/0_0_3995_2822/master/3995.jpg?width=120&quality=85&auto=format&fit=max&s=308ae0a99cb5a97de3614cef4f116b17″,"width":120},{"src":"https://i.guim.co.uk/img/media/62994d5ad8401b77f64589cfdab67d5f06856399/0_0_3995_2822/master/3995.jpg?width=120&quality=45&auto=format&fit=max&dpr=2&s=34c1fee7cf307aa524598365d52218a0″,"width":240}]},{"weighting":"supporting","srcSet":[{"src":"https://i.guim.co.uk/img/media/62994d5ad8401b77f64589cfdab67d5f06856399/0_0_3995_2822/master/3995.jpg?width=380&quality=85&auto=format&fit=max&s=c8e751926b2e899c4ff3908b3cd44dbd","width":380},{"src":"https://i.guim.co.uk/img/media/62994d5ad8401b77f64589cfdab67d5f06856399/0_0_3995_2822/master/3995.jpg?width=380&quality=45&auto=format&fit=max&dpr=2&s=1cbc2853242d2160f6b3ed4604849762″,"width":760},{"src":"https://i.guim.co.uk/img/media/62994d5ad8401b77f64589cfdab67d5f06856399/0_0_3995_2822/master/3995.jpg?width=300&quality=85&auto=format&fit=max&s=e3a562fc855ca07f1609c08feaa9738f","width":300},{"src":"https://i.guim.co.uk/img/media/62994d5ad8401b77f64589cfdab67d5f06856399/0_0_3995_2822/master/3995.jpg?width=300&quality=45&auto=format&fit=max&dpr=2&s=30ebb0555a32ac994a6ac9837fc32155″,"width":600},{"src":"https://i.guim.co.uk/img/media/62994d5ad8401b77f64589cfdab67d5f06856399/0_0_3995_2822/master/3995.jpg?width=620&quality=85&auto=format&fit=max&s=de690a6770064e0f24620a8e8cc9b214″,"width":620},{"src":"https://i.guim.co.uk/img/media/62994d5ad8401b77f64589cfdab67d5f06856399/0_0_3995_2822/master/3995.jpg?width=620&quality=45&auto=format&fit=max&dpr=2&s=c2670b2722855db5a36023765cc8b22b","width":1240},{"src":"https://i.guim.co.uk/img/media/62994d5ad8401b77f64589cfdab67d5f06856399/0_0_3995_2822/master/3995.jpg?width=605&quality=85&auto=format&fit=max&s=bd5b1d065ec8fb485168374711a267fb","width":605},{"src":"https://i.guim.co.uk/img/media/62994d5ad8401b77f64589cfdab67d5f06856399/0_0_3995_2822/master/3995.jpg?width=605&quality=45&auto=format&fit=max&dpr=2&s=8248398f98c4a9d9479bbb5e34799a2a","width":1210},{"src":"https://i.guim.co.uk/img/media/62994d5ad8401b77f64589cfdab67d5f06856399/0_0_3995_2822/master/3995.jpg?width=445&quality=85&auto=format&fit=max&s=8ce479a10107b9f1aa32dfbf492598cd","width":445},{"src":"https://i.guim.co.uk/img/media/62994d5ad8401b77f64589cfdab67d5f06856399/0_0_3995_2822/master/3995.jpg?width=445&quality=45&auto=format&fit=max&dpr=2&s=c59075c137adcd9b64ba70c0782713e3″,"width":890}]},{"weighting":"showcase","srcSet":[{"src":"https://i.guim.co.uk/img/media/62994d5ad8401b77f64589cfdab67d5f06856399/0_0_3995_2822/master/3995.jpg?width=860&quality=85&auto=format&fit=max&s=c06dfda2d54c3a296174ced9435018ac","width":860},{"src":"https://i.guim.co.uk/img/media/62994d5ad8401b77f64589cfdab67d5f06856399/0_0_3995_2822/master/3995.jpg?width=860&quality=45&auto=format&fit=max&dpr=2&s=287a3fc5e6b638be218f6a2f5ca5e7e4″,"width":1720},{"src":"https://i.guim.co.uk/img/media/62994d5ad8401b77f64589cfdab67d5f06856399/0_0_3995_2822/master/3995.jpg?width=780&quality=85&auto=format&fit=max&s=90aa643f1bdf1a8d2ca5b87789621e0a","width":780},{"src":"https://i.guim.co.uk/img/media/62994d5ad8401b77f64589cfdab67d5f06856399/0_0_3995_2822/master/3995.jpg?width=780&quality=45&auto=format&fit=max&dpr=2&s=8824d06aa63b74b3e17467ca9b3d6479″,"width":1560},{"src":"https://i.guim.co.uk/img/media/62994d5ad8401b77f64589cfdab67d5f06856399/0_0_3995_2822/master/3995.jpg?width=620&quality=85&auto=format&fit=max&s=de690a6770064e0f24620a8e8cc9b214″,"width":620},{"src":"https://i.guim.co.uk/img/media/62994d5ad8401b77f64589cfdab67d5f06856399/0_0_3995_2822/master/3995.jpg?width=620&quality=45&auto=format&fit=max&dpr=2&s=c2670b2722855db5a36023765cc8b22b","width":1240},{"src":"https://i.guim.co.uk/img/media/62994d5ad8401b77f64589cfdab67d5f06856399/0_0_3995_2822/master/3995.jpg?width=605&quality=85&auto=format&fit=max&s=bd5b1d065ec8fb485168374711a267fb","width":605},{"src":"https://i.guim.co.uk/img/media/62994d5ad8401b77f64589cfdab67d5f06856399/0_0_3995_2822/master/3995.jpg?width=605&quality=45&auto=format&fit=max&dpr=2&s=8248398f98c4a9d9479bbb5e34799a2a","width":1210},{"src":"https://i.guim.co.uk/img/media/62994d5ad8401b77f64589cfdab67d5f06856399/0_0_3995_2822/master/3995.jpg?width=445&quality=85&auto=format&fit=max&s=8ce479a10107b9f1aa32dfbf492598cd","width":445},{"src":"https://i.guim.co.uk/img/media/62994d5ad8401b77f64589cfdab67d5f06856399/0_0_3995_2822/master/3995.jpg?width=445&quality=45&auto=format&fit=max&dpr=2&s=c59075c137adcd9b64ba70c0782713e3″,"width":890}]},{"weighting":"halfwidth","srcSet":[{"src":"https://i.guim.co.uk/img/media/62994d5ad8401b77f64589cfdab67d5f06856399/0_0_3995_2822/master/3995.jpg?width=620&quality=85&auto=format&fit=max&s=de690a6770064e0f24620a8e8cc9b214″,"width":620},{"src":"https://i.guim.co.uk/img/media/62994d5ad8401b77f64589cfdab67d5f06856399/0_0_3995_2822/master/3995.jpg?width=620&quality=45&auto=format&fit=max&dpr=2&s=c2670b2722855db5a36023765cc8b22b","width":1240},{"src":"https://i.guim.co.uk/img/media/62994d5ad8401b77f64589cfdab67d5f06856399/0_0_3995_2822/master/3995.jpg?width=605&quality=85&auto=format&fit=max&s=bd5b1d065ec8fb485168374711a267fb","width":605},{"src":"https://i.guim.co.uk/img/media/62994d5ad8401b77f64589cfdab67d5f06856399/0_0_3995_2822/master/3995.jpg?width=605&quality=45&auto=format&fit=max&dpr=2&s=8248398f98c4a9d9479bbb5e34799a2a","width":1210},{"src":"https://i.guim.co.uk/img/media/62994d5ad8401b77f64589cfdab67d5f06856399/0_0_3995_2822/master/3995.jpg?width=445&quality=85&auto=format&fit=max&s=8ce479a10107b9f1aa32dfbf492598cd","width":445},{"src":"https://i.guim.co.uk/img/media/62994d5ad8401b77f64589cfdab67d5f06856399/0_0_3995_2822/master/3995.jpg?width=445&quality=45&auto=format&fit=max&dpr=2&s=c59075c137adcd9b64ba70c0782713e3″,"width":890}]},{"weighting":"immersive","srcSet":[{"src":"https://i.guim.co.uk/img/media/62994d5ad8401b77f64589cfdab67d5f06856399/0_0_3995_2822/master/3995.jpg?width=1900&quality=85&auto=format&fit=max&s=254003ee523949f5bd08eef1e929f57b","width":1900},{"src":"https://i.guim.co.uk/img/media/62994d5ad8401b77f64589cfdab67d5f06856399/0_0_3995_2822/master/3995.jpg?width=1900&quality=45&auto=format&fit=max&dpr=2&s=0c97cd6191f3a6ad1861ebb25e769671″,"width":3800},{"src":"https://i.guim.co.uk/img/media/62994d5ad8401b77f64589cfdab67d5f06856399/0_0_3995_2822/master/3995.jpg?width=1300&quality=85&auto=format&fit=max&s=391843de37bf45e930b8705aebc49f69″,"width":1300},{"src":"https://i.guim.co.uk/img/media/62994d5ad8401b77f64589cfdab67d5f06856399/0_0_3995_2822/master/3995.jpg?width=1300&quality=45&auto=format&fit=max&dpr=2&s=92f22e552dff81f3753738d1e61f875c","width":2600},{"src":"https://i.guim.co.uk/img/media/62994d5ad8401b77f64589cfdab67d5f06856399/0_0_3995_2822/master/3995.jpg?width=1140&quality=85&auto=format&fit=max&s=36d673a75932dca83ddf566ddd045d18″,"width":1140},{"src":"https://i.guim.co.uk/img/media/62994d5ad8401b77f64589cfdab67d5f06856399/0_0_3995_2822/master/3995.jpg?width=1140&quality=45&auto=format&fit=max&dpr=2&s=19401f22343d59c43a2f2e442cfae803″,"width":2280},{"src":"https://i.guim.co.uk/img/media/62994d5ad8401b77f64589cfdab67d5f06856399/0_0_3995_2822/master/3995.jpg?width=980&quality=85&auto=format&fit=max&s=df80e8beec78b3515f3d51a0c990b05b","width":980},{"src":"https://i.guim.co.uk/img/media/62994d5ad8401b77f64589cfdab67d5f06856399/0_0_3995_2822/master/3995.jpg?width=980&quality=45&auto=format&fit=max&dpr=2&s=a7016d9432090b0ecfe0258d641abdea","width":1960},{"src":"https://i.guim.co.uk/img/media/62994d5ad8401b77f64589cfdab67d5f06856399/0_0_3995_2822/master/3995.jpg?width=740&quality=85&auto=format&fit=max&s=a5a5b2446d2476895df03913ac663bf6″,"width":740},{"src":"https://i.guim.co.uk/img/media/62994d5ad8401b77f64589cfdab67d5f06856399/0_0_3995_2822/master/3995.jpg?width=740&quality=45&auto=format&fit=max&dpr=2&s=fa373e49f7a394f0adb6548a664cfb26″,"width":1480},{"src":"https://i.guim.co.uk/img/media/62994d5ad8401b77f64589cfdab67d5f06856399/0_0_3995_2822/master/3995.jpg?width=660&quality=85&auto=format&fit=max&s=3c60d1cc272237cf8c953499a9ec17d7″,"width":660},{"src":"https://i.guim.co.uk/img/media/62994d5ad8401b77f64589cfdab67d5f06856399/0_0_3995_2822/master/3995.jpg?width=660&quality=45&auto=format&fit=max&dpr=2&s=1539e60bcba36c329d9a87b74eec2758″,"width":1320},{"src":"https://i.guim.co.uk/img/media/62994d5ad8401b77f64589cfdab67d5f06856399/0_0_3995_2822/master/3995.jpg?width=480&quality=85&auto=format&fit=max&s=cff714d1d693fbf581b225ddc52a7ea7″,"width":480},{"src":"https://i.guim.co.uk/img/media/62994d5ad8401b77f64589cfdab67d5f06856399/0_0_3995_2822/master/3995.jpg?width=480&quality=45&auto=format&fit=max&dpr=2&s=3a706c32ac72164b4877f1297097e524″,"width":960}]}],"elementId":"95ee5a22-9e6b-45b3-bfca-25cb6147f0f1″}],"attributes":{"pinned":false,"keyEvent":true,"summary":false},"blockCreatedOn":1662611237000 ,"blockCreatedOnDisplay":"05.27 BST","blockLastUpdated":1662611618000,"blockLastUpdatedDisplay":"05.33 BST","blockFirstPublished":1662611453000,"blockFirstPublishedDisplay":"05.30 BST","FirstblockPublishedDisplayNoTimezone":"05.30″,"title ":"WICKET! Finch c Williamson b Henry 0 (Australia 0-1)","contributors":[],"primaryDateLine":"Thu 8 Sep 2022 06.02 BST","secondaryDateLine":"First published on Thu 8 Sep 2022 05.07 BST"},{"id":"63196af48f08aab4f5b4d43c","elements":[{"_type":"model.dotcomrendering.pageElements.TextBlockElement","html":"

They are going to bowl first up, if they start in similar fashion to the first game then you'll not want to miss the first few overs.

","elementId":"594065d6-86f2-4d11-b78d-3905f36cb1d4″},{"_type":"model.dotcomrendering.pageElements.TextBlockElement","html":"

There's also the somewhat mouthwatering prospect (for the neutral) of Aaron Finch v Trent Boult as the Aussie skipper battles to save his place in the side and maybe his captaincy tenure with it.

","elementId":"838824c9-8efd-40e4-b503-fb2ce52a26ed"}],"attributes":{"pinned":false,"keyEvent":true,"summary":false},"blockCreatedOn":1662610164000,"blockCreatedOnDisplay":"05.09 BST","blockLastUpdated":1662610428000,"blockLastUpdatedDisplay": "05.13 BST","blockFirstPublished":1662610429000,"blockFirstPublishedDisplay":"05.13 BST","blockFirstPublishedDisplayNoTimezone":"05.13″,"title":"New Zealand win the toss…","contributors":[]","primaryDateLine":"Thu 8 Sep 2022 06.02 BST","secondaryDateLine":"First published on Thu 8 Sep 2022 05.07 BST"},{"id":"631837c78f089d9d4e3f0c6c","elements":[{"_type":"model.dotcomrendering.pageElements.TextBlockElement","html":"

Hello and welcome to the OBO of the second match of the Chappell-Hadlee series in Cairns.

","elementId":"aaca3525-df8f-49ac-9aed-12398cd6039b"},{"_type":"model.dotcomrendering.pageElements.TextBlockElement","html":"

Australia survived the wobbliest of wobbles in their top order in the first match to eventually prosper by two wickets. They had mature knocks by Cam Green and Alex Carey to thank for helping them squeak a win after being reduced to 44-5 under lights.

","elementId":"627d7cea-542b-419d-8869-43c014efe2fa"},{"_type":"model.dotcomrendering.pageElements.TextBlockElement","html":"

Can New Zealand level the series or will the home side secure it, let's find out shall we?

","elementId":"25bc41df-721f-4d5d-8155-a89da94e3e20″},{"_type":"model.dotcomrendering.pageElements.TextBlockElement","html":"

Jim here with the call first up before Daniel Gallan, a 'specialist finisher' in the mould of Michael Bevan, tags in later to steer the chase.

","elementId":"eabd7dbd-5a75-454b-aee2-13084935b51b"},{"_type":"model.dotcomrendering.pageElements.TextBlockElement","html":"

Back in a tickle with the toss and teams.

","elementId":"3101e0d4-32d4-4570-841c-26a34a6c92ce"}],"attributes":{"pinned":false,"keyEvent":true,"summary":false},"blockCreatedOn":1662610067000,"blockCreatedOnDisplay":"05.07 BST","blockLastUpdated":1662610015000,"blockLastUpdatedDisplay": "05.06 BST","blockFirstPublished":1662610067000,"blockFirstPublishedDisplay":"05.07 BST","blockFirstPublishedDisplayNoTimezone":"05.07″,"title":"Preamble","contributors":[{"name":"James Wallace","imageUrl":"https://i.guim.co.uk/img/uploads/2022/08/30/James_Wallace.jpg?width=300&quality=85&auto=format&fit=max&s=aa7d18847f4d269f8eed30ab90428ddb","largeImageUrl":"https://i.guim.co.uk/img/uploads/2022/08/30/James_Wallace.png?width=300&quality=85&auto=format&fit=max&s=eb73166c6ed34247a3a7d2df4036a3b6″}],"primaryDateLine":"Thu 8 Sep 2022 06.02 BST","secondaryDateLine":"First published on Thu 8 Sep 2022 05.07 BST"}],"filterKeyEvents":false,"format":{"display":0," theme":2,"design":10},"id":"key-events-carousel-mobile"}">

Key events
8th over: Australia 22-3 (Smith 15, Stoinis 0) Ian Smith comes onto the tv commentary and the big man is positively purring at this start from his countrymen. The tv footage also pulls up a split screen of both Marnus's dismissals to Boult in this series and it is fair to say you wouldn't be able to tell them apart in an identity parade. Australia needs a partnership here… but they aren't gonna get one… (ellipsis of doom)
WICKET! Labuschagne lbw b Boult 5 (Australia 22-3)
Another one gone, another gone… Boult pins Marnus in front and hollers loudly at Rod Tucker who duly raises his digit. This looks dead. Dead I tell already. Labuschagne reviews in vain, DRS shows the ball scudding into leg stump and he is on his way back to the hutch.
Boult then shows his swing bowling chops by greeting Marcus Stoinis with an out-swinger first up. Too good Trent.
7th over: Australia 22-3 (Smith 12, Stoinis 0)
6th over: Australia 19-2 (Smith 11, Labuschagne 3) Smith pounces on a short ball from Henry and pulls it through mid-wicket for four. He then picks up a single with a clip off his pads.
5th over: Australia 14-2 (Smith 6, Labuschagne 3) Boult sends down a maiden. He's so good. Probing, perfect line to keep Marnus honest. Plenty of 'No run!' in that over.
4th over: Australia 14-2 (Smith 6, Labuschagne 3) Marnus joins his mentor at the crease with green and gold backs against the wall. He's away straight off with a pretty on-drive for three. Smith then repeats the shot bit gets a bit more oomph on it and it goes to the rope.
I've not had time to slurp my Kenco with this rapid start, it's now tepid at best. Tough gig huh. It's creeping up to 6am here in London, if you are out there then do drop me a line with your thoughts and/or theories.
WICKET! Warner c Williamson b Henry 5 (Australia 7-2)
Carbon copy dismissal and it is Warner who is on his way this time! Plinking a drive on the up straight to a gleeful Kiwi skipper. Australia in all sorts!
3rd over: Australia 7-1 (Warner 5, Smith 2) Davey Warner biffs Boult down the ground for a lofted four. To counterpunch. Smith is away too with a nudge. Help from Smudge.
2nd over: Australia 0-1 (Warner 0, Smith 0) Steve Smith is the new man and he pats back a maiden, a wicket maiden to boot. Strong start for the Kiwis. The ball was there for Finch to hit but he just didn't commit fully to the stroke, the bat twisting in his hand as he tried to take the ball on the up. Penny for 'em Aaron?
WICKET! Finch c Williamson b Henry 0 (Australia 0-1)
It's a plump slice of duck for Aaron Finch! He plinks a length ball from Matt Henry tamely to Kane Williamson at mid-off. Finch hangs his head and drags himself from the field, might that be the end?
1st over: Australia 0-0 (Warner 0, Finch 0) Boult is right on it from the get go, there's a hint of movement and the left-armer reels off dot after dot after dot… you get the picture – a maiden first up.
Trent Boult has the ball under slightly cloudy Cairns skies. Warner and Finch are out there with willow in hand. Let's play!
Here's the teams:
One change to each side. According to Finch at the toss Cam Green has not quite recovered from his heroics the other night so Sean Abbot takes the all-rounder spot for the Aussies.
Wily old veteran Tim Southee is back in for the Kiwis, replacing Lockie Ferguson. Southee needs just three more scalps to get to 200 ODI wickets, a mighty fine career he's had.
new zealand: Guptill, Conway, Williamson (capt), Latham (wk), Mitchell, Bracewell, Neesham, Santner, Henry, Southee, Boult
Australia: Finch (capt), Warner, Smith, Labuschange, Stoinis, Carey (wk), Maxwell, Abbott, Starc, Zampa, Hazlewood
New Zealand win the toss…
They are going to bowl first up, if they start in similar fashion to the first game then you'll not want to miss the first few overs.
There's also the somewhat mouthwatering prospect (for the neutral) of Aaron Finch v Trent Boult as the Aussie skipper battles to save his place in the side and maybe his captaincy tenure with it.
Preamble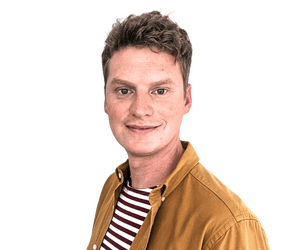 james wallace
Hello and welcome to the OBO of the second match of the Chappell-Hadlee series in Cairns.
Australia survived the wobbliest of wobbles in their top order in the first match to eventually prosper by two wickets. They had mature knocks by Cam Green and Alex Carey to thank for helping them squeak a win after being reduced to 44-5 under lights.
Can New Zealand level the series or will the home side secure it, let's find out shall we?
Jim here with the call first up before Daniel Gallan, a 'specialist finisher' in the mold of Michael Bevan, tags in later to steer the chase.
Back in a tickle with the toss and teams.

www.theguardian.com
George is Digismak's reported cum editor with 13 years of experience in Journalism