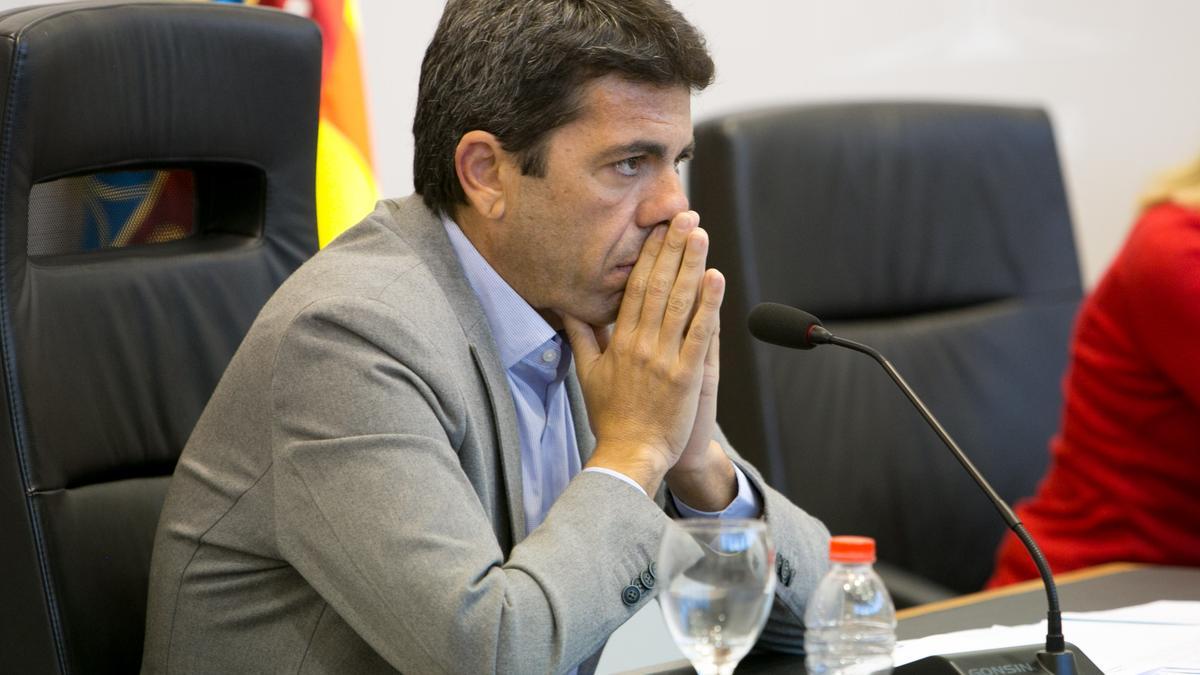 Autonomous deputies of PP and Citizens (Cs) in the Valencian Community rule out that the motion of censure presented by Cs and PSOE in Murcia to remove the Popular Party from the government could affect their coalition in the Alicante Provincial Council. "In no case is there a dangerous situation", has stressed the popular, Eva Ortiz, while the orange deputy Ruth Merino has agreed that this government of Cs with the PP" has no problem. "
This has been affirmed by the two deputy spokespersons in statements before the plenary session of Les Corts after learning that Cs and the socialists are promoting this motion in the Regional Assembly and the Murcia City Council that would put an end to the coalition government that Ciudadanos maintains with the PP in both institutions
The also general secretariat of the PPCV yes it has disfigured Cs and its national leader, Inés Arrimadas, who have breached their "promise" that the government would last four years, in addition to accusing him of harming all Murcians and "thinking only about changing seats and permanent anger", which he sees as irresponsible that will lead to "more chaos in Murcia." Statements by Eva Ortiz that, however, have occurred shortly before the president of the Community of Madrid, Isabel Diaz Ayuso, has decided to call early elections in the region; a fact to which the Madrid vice president, Ignacio Aguado (Cs), has reacted by ensuring that this maneuver responds precisely to a "personal whim" of Ayuso.
Due to his personal proximity to the Murcian region, Ortiz has warned that the motion of censure will take a heavy toll on Murcians, in addition to the PSOE and "especially Citizens": In any case, he has denied that it could complicate the coalition in Alicante because "is being very positive"and managed to unlock 24 million in aid for the hospitality industry.
"It does not have why", he stressed, "the relationship with Cs in all instances of the Valencian Community is in perfect tune"What's more, he assured that the president of the Provincial Council, the popular Carlos Mazón, does not have" any kind of problem "with his partners," a perfectly greased team. "
Of Ciudadanos, its spokesperson has agreed that it is independent and "it does not have to be a previous step of what may happen in Alicante nor in any other place in Spain. "" We are in the center and these circumstances sometimes occur, but always with a cause and thinking of the good of the citizens, "he asserted.
Also from the opposition, the Vox trustee, Ana Vega, has supported the position of its national leader, Santiago Abascal, to demand elections "in all municipalities and autonomies that are at risk of being assaulted by socialism." "Cs is a partner who is giving these ups and downs and does not know where he is," he criticized, something that he sees as very serious in the current situation.
BOTANICAL
Among the members of the Botanist, the Socialist Manolo Mata has celebrated that "it is good news that Cs begins to realize the decisions it made in 2019" to support PP governments in places such as Murcia, Castilla y León, Madrid or Alicante, in addition to stating that the resignation of the Murcian counselor of Health "required a very strong response."
He has assured that the Generalitat will maintain a good relationship with the Murcian government, "whoever it is", due to its proximity and common interests such as the Mediterranean Corridor. And he has emphasized that "there is no conversation" to carry out a similar movement in Alicante: "They (Cs) will play with doubt, for me it would be a wish."
De Compromís, its deputy spokesman Monica Alvaro he has limited himself to stating that "not even the Citizens themselves can clarify this supposed motion of censure and it has caught them by surprise." "We will see if it is favorable or unfavorable to the interests of Murcia", has settled.
And of Unides Podem, its trustee, Pilar Lima, has argued that "any alliance" is possible in politics, given the possibility of replication in the Community, and has reiterated that "Cs is part of the ultra-right bloc"and its policies are incompatible with the 'dwellings', with the example of health." The PSOE is free to decide with whom to ally and with whom not. We will stand firm, "he guaranteed.

www.informacion.es
Eddie is an Australian news reporter with over 9 years in the industry and has published on Forbes and tech crunch.