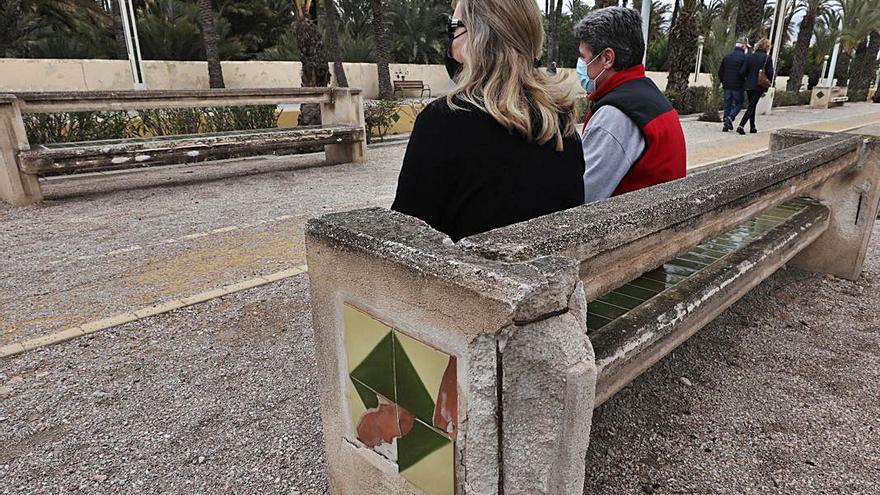 The truth is that there is a contrast between the good intentions that were had with the enclave and what it has really become. While in the extreme north, where the avenue took the name of Universidad Miguel Hernández because it is next to the campus, a monumental locomotive stands out so that no one forgets the past, just by walking a few meters the decadence begins.
The traditional white stone benches with green tiles have been blackened over the decades. Some have broken tiles and others are covered in graffiti.
José Luis Sola, president of the Altabix working-class neighborhood association, reports that in a meeting at the City Council they have made proposals for improvement for this walk. "We understand that just below the train passes and it is more difficult to place plants but that at least there is some green, it is an area that can be used by trying to garden to reduce the use of water with native plants." Walking along the boulevard, you can see some empty tree pits where there were trees for years, without these ditches having been replaced or removed. Then there is the last provisional area that was developed with dirt floors and concrete benches "quite uncomfortable", some residents emphasize.
This neighborhood representative also considers that the avenue should be considered "the gateway to the city" and understands that it could be exploited much better with a recreation area to gain green areas for the neighborhood. "Children play areas and new sports could be set up. It is a very passing area for athletes who are going to run to the university, there could be stretching areas, calisthenics, or ramps for scooters ».
Despite these proposals, he recognizes that there is still a pending issue with traffic, an issue that has been able to influence this boulevard to be relegated and many people choose to go to places further away from cars to spend some time outdoors .
"There are four traffic lights along the entire avenue, vehicles reach high speeds and a kind of speedometer should be put on so that drivers are aware," says Sola.
Héctor Díez, mayor of Parks, acknowledges that there are degraded areas and points out that in the medium or long term the avenue as a whole "needs a radical change." He suggests that in due course some ideas competition may be launched for architects or landscapers to participate in this remodeling, although it is already advancing that changing the concept of avenue could cost more than 20 million euros, putting a figure in the air estimated by the mayor. He understands that the central promenades no longer fulfill the role of yesteryear and that there is a tendency to adopt other measures such as widening sidewalks, which is why it has been losing uses until in some cases it has become the "pipican" of the neighborhood, the mayor agrees.
To give a facelift and patch more damaged areas, the cleaning brigades are renovating the vegetation and tests are being carried out on Avenida de la Libertad to repaint the benches with a material that does not trap pollution. According to Díez, they are cleaned with pressure water but the stains are integrated, so the councilor indicates that there is likely to be a budget item to clean up the banks.
Apart from this maintenance commitment, there are groups that believe that there are other priorities before transforming this avenue. From the neighborhood association May 1 of Carrús they assert that before they should carry out modernization works such as the Congress Center, improvements in urban transport, repair of asphalt in certain streets "or an improvement of cleaning and citizen security" in Carrús, according to Salvador Mateo, president of the neighborhood entity.

www.informacion.es
Eddie is an Australian news reporter with over 9 years in the industry and has published on Forbes and tech crunch.