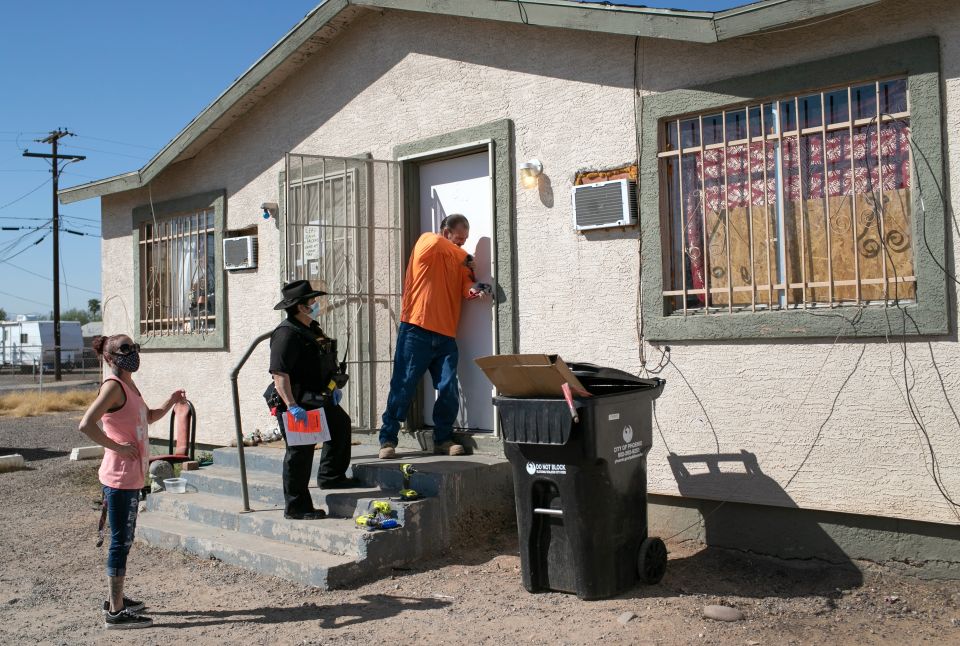 Tenants can get help for up to 12 months of back rent.
Foto:
John Moore / Getty Images
The Treasury Department launched a rental assistance program for $ 25,000 million with funding from the coronavirus stimulus package from $ 900,000 million enacted at the end of December.
State and local governments covering more than 200,000 people are now eligible to apply for the assigned aid for struggling Americans to cover rent and prevent renters from accumulating debt with landlords during the coldest months of the year.
That money will help support many of the 14 million Americans who are behind in paying their rent, according to a report from the Center on Budget and Policy Priorities Still, housing advocates mention that more money is needed.
After 10 months of unprecedented job losses and business closures, an estimate, according to a report by Bloomberg, notes that the arrears in the payment of rents in the United States could be close to $ 70 billion dollars.
Here's what you need to know about how to access the $ 25 billion fund:
According to information from the Department of the Treasury, eligible entities may request funds to cover up to 15 months of household rental expenses. Qualifying households at least one household member must be eligible for the unemployment benefits or attest in writing that you have lost income or incurred significant expenses due to the pandemic.
You will also have to show that you're at risk of homelessness which may include an overdue rent or a public service notice.
Another requirement is that your income level for 2020 cannot exceed 80 percent of the median income in the area where you live, though states have been ordered to prioritize applicants who drop by 50 percent or less, as well as those who have been out of work for 90 days or more.
When will the funds be available?
The states will have the funds available as of January 20.
How can I request them?
The request varies in each city, many areas have rental assistance funds and it will be through each office where help can be requested.
Tenants should contact the local offices or their representatives to identify the programs and apply for them.
The owner could request the support as well but will need to obtain your signature and provide a copy of the request.
Funds will go directly to utility companies unless a homeowner refuses to participate in the program.
Evictions for most citizens have been banned by the Centers for Disease Control and Prevention (CDC) since September. That moratorium was extended by Congress and President Trump until the end of January.
Related: The IRS has already sent nearly 70% of stimulus checks, but many won't receive them until they file 2020 taxes.
How much money could I get?
Tenants can get help with up to 12 months of back rent and utility bills, plus another three months of support if money is still available. In some cases, you may be able to get funds to cover future rent payments, but only if there is a plan to take care of debts first.
Funds are paid directly to the owner or utility company.
In case you are facing an eviction you must request the funds immediately.
It is important to understand the rights of tenants as they should be able to stay in your home at least until the end of january thanks to the extension of an order announced by the Center for Disease Control and Prevention in September that made the eviction illegal for non-payment.
To request protection you must testify on a declaration form that you meet some requirements, as well as wait earn less than $ 99,000 during 2020 to 2021.
Related: What are the states that started paying the extra $ 300 a week in unemployment benefits?
In addition to the CDC ban, some states have issued their own eviction protections, so it's important to educate yourself on any of those protections that may apply.
Finally, if the property owner ignores any of these rules, as some are doing, you should be advised by a lawyer. You can find free or low-cost legal help for an eviction in your state at Lawhelp.org.
A study of the Jane Place Neighborhood Sustainability Initiative in New Orleans found that more than 65% of tenants without legal representation were evicted, compared to less than 15% of those who did have a lawyer.
You may be interested:

eldiariony.com
Eddie is an Australian news reporter with over 9 years in the industry and has published on Forbes and tech crunch.