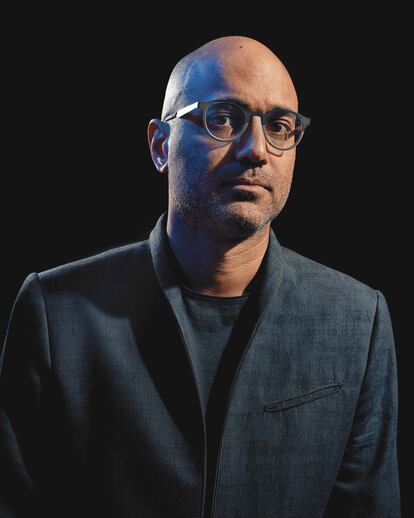 The November 2020 presidential election was still two months away when it was published in the United States. Elegies to the homeland, the acclaimed novel by Ayad Akhtar, one of the books of the year according to the lists of the main media, which Roca now publishes in Spanish translated by Elia Maqueda. The author says that Trump was the muse of this story. In the book, the former president does not appear disguised in any way, but his irruption on the political scene and the earthquake it causes are central in this story whose narrator fails to understand the irrepressible attraction that his father feels for his figure.
Born in New York in 1970, the son of a Pakistani medical couple and raised in Wisconsin, Akhtar gives voice to the American Muslim community in the pages of his book, reviewing the contradictions, ambivalences and tensions of the experience of immigrants and their children taking up a theme that he has already covered in his plays, for which he has won a Pulitzer Prize and several Tony nominations. Formed with two greats of the scene, Jerzy Grotowski and André Gregory, Akhtar has been said to be as brilliant a chronicler as Bellow was for Jewish immigrants, only in his case for Muslims, someone with an accurate eye. and an excellent ear, capable of acutely portraying the lives of those who struggle to get ahead and reformulate their dreams.
On Elegies to the homeland Akhtar plays with self-fiction, with a playwright protagonist, son of doctors, who goes by the same name and who reflects starkly on the morality and greed of the American creed, and the fatal and sentimental attraction behind jihad. From a house in upstate New York, where he has spent the last few months, the writer answers the video call.

Cultural guide to understanding a broken society
Question. Why did you decide to mix in Elegies to the homeland essay, reflections, a lot of dialogue and a plot with recent US political history in the background?
Answer. I found a voice and began to write. I did not want to mark the distances and insist on proving that I was not the narrator. I saw that I could reflect the various aspects of my own consciousness, be they philosophical, controversial, historical or dramatic. I love writing dialogues and I used things from my life when I felt like it, feeling free.
P. To confuse fact and fiction?
B. Well, it's very contemporary, it's what the news does, the fake news, Instagram, social networks. What happens when you place yourself on a stage in full view of everyone? In a self portrait on Instagram, do you present something that is only partially real? All these questions about epistemology and the decay of truth are there. And in an organic way they were fitting together with the other concerns. The novel was the platform that united information, analysis, history, dialogue, drama.
P. This idea of ​​the novel in which everything fits has a long tradition.
R. Yes, the great paradigm of modernism is to try to reflect the heterogeneous nature of the world in a novel. Today that very thing is a central element on Twitter or Instagram, because the discourse there is heterogeneous, and the element that unifies it, something terrifying, is the corporate.
P. It begins with a forceful definition of the United States as a predatory nation based on pillage and self-aggrandizement.
R. I was at the American Academy in Rome, my mother had died, my father was in absolute decline, and Trump was president. The country they came to was very different from the place where, half a century later, they died. Telling the story of his life and of his immigrant colleagues and of his children and what happened was a way of narrating from the outside an experience from within the US It is difficult to understand the creative genesis of something, but I think it was the grief, a feeling of loss, some shame, shock. And I had also thought about the monetization of life in America and the rise of individualism, a subject that I covered in plays. He saw how the country was being destroyed because everyone was trying to get rich.
You can only believe that you are special or different if you have the power to impose that idea.
P. In these years has there been a review of American myths and dreams?
R. The great myth is that the country is morally superior. America has simply been a very wealthy superpower that has projected the best of its morale across the planet for a few years in an engaging, exciting, and vivid way. I would not say that America is worse than other empires, but I do not think it is that different or that it has been.
P. The narrator recalls a trip to Pakistan after 9/11 and says that people there felt things similar to what many in the United States felt when Trump arrived at the White House.
R. There is something quite beautiful and funny about the American exceptionality until you recognize that, on the one hand, it is not so true and, on the other, that it is quite dangerous to feel that you are different. You can only believe that you are special or different if you have the power to impose that idea. What it's all about, in the end, is having power.
Trump turned out to be a very good story, he had everyone hooked, he knew how to star in the story every day
P. He also writes about coded and commercialized private life, and about surveillance capitalism.
R. Many people talk about the moment of singularity in which artificial intelligence will surpass human, and they think it will be a robot. But that singularity has already passed, and those vast interconnected networks of artificial intelligence are already determining human behavior. It is something very alarming that is related to the rise of the autocracies, and that will continue. Trump was the canary in the mine.
P. Is it easier to write about American Muslims today, after all that has happened and the other protest movements that have been there?
R. What is happening with all these movements is important, but everything focuses on the difference. In the end, the great theme of great books is unity; a reader does not want to feel that he sees something from the outside.
P. Write that stories are made of movement, not morals.
R. In Hollywood, conversations between screenwriters often revolve around the idea of ​​whether a character will like or not, but I think that the public does not care, what hooks them is what is going to happen. That move matters more than whether it is good or bad. Trump turned out to be a very good story, which had everyone hooked, he knew how to star in the story every day and create a new episode of his series; he had that instinct.

elpais.com
Eddie is an Australian news reporter with over 9 years in the industry and has published on Forbes and tech crunch.