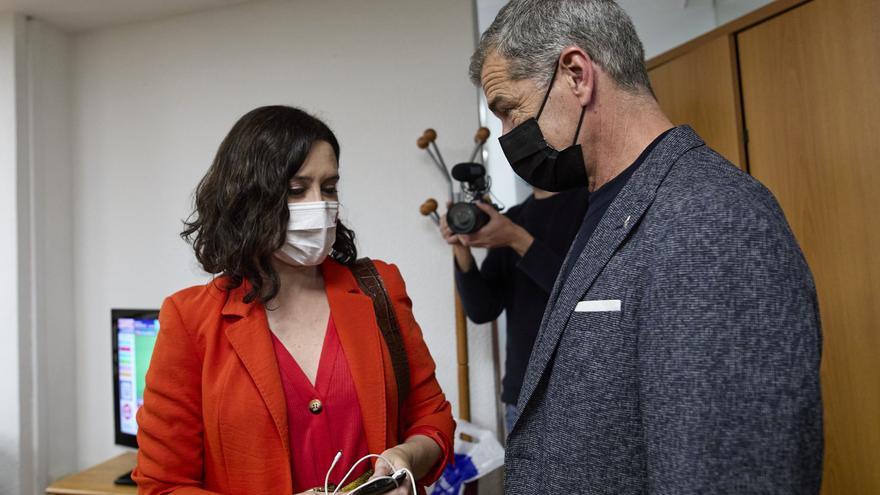 The president of the Community of Madrid, Isabel Díaz Ayuso, presented this Friday the Office of Spanish, directed by Toni Cantó, a body that does not pretend that Madrid is the "cradle" of Spanish or "dispute" with the Royal Spanish Academy or the Instituto Cervantes.
In the presentation of this office that will premiere with the first festival Hispanidad 2021Ayuso has assured that with this organ Madrid does not dispute any historical title, such as being the "cradle of Spanish", but rather pretends to be the European capital of Spanish.
"It is not born from arrogance", has assured the president, who has remarked that if it competes "with someone" it is with other large capitals.
After projecting a video in which several people with different accents ensure that "all accents fit in Madrid", Ayuso has indicated that the Community intends to attract students "in Spanish" not "in Spanish" so that university students from all over the world "seek academic excellence in Spanish."
He has said that he intends to dispute with the United States to be the center of musical production in Spanish and will also try to involve schools, campuses, companies, institutions, investors, promoters, etc.
"While there populist, nationalist, identity governments who are denying the citizen the best cultural legacy and the right to know and master Spanish, the Community continues to add for the benefit of all, "he added.
In statements to the media in the act prior to the presentation of the Office of Spanish, Ayuso assured that he does not care about the criticism received for the creation of this body, because every time he takes "a step forward in something that is different, that transform " receives criticism and is "used".
After another promotional video in which writers, filmmakers and producers such as Yotuel, Mario Vargas Llosa, Carmen Posadas, Ara Malikian, or María Pagés, the director of the Spanish Office, Toni Cantó, has also presented this body.
Cantó has highlighted the growth potential of the teaching of Spanish that Madrid has, which far from put "barriers" to the language By "limiting the freedoms of citizens and impoverishing them" the Community gives freedom and the possibility of enriching the language.
It has also announced three agreements that this office will sign with the College of Architects, the Federation of Associations of Spanish schools in Spain, LOYAL, and a three-way agreement with the RAE and the Madrid Ministry of Education.
He has said that he will try to internationalize the educational offer in Madrid, counting on teachers' associations from all over the world, and that the region has greater presence in educational fairs.
It will also try to boost the digitization and science in Spanish, as well as teaching and promoting business tourism in this language.

www.informacion.es
Eddie is an Australian news reporter with over 9 years in the industry and has published on Forbes and tech crunch.