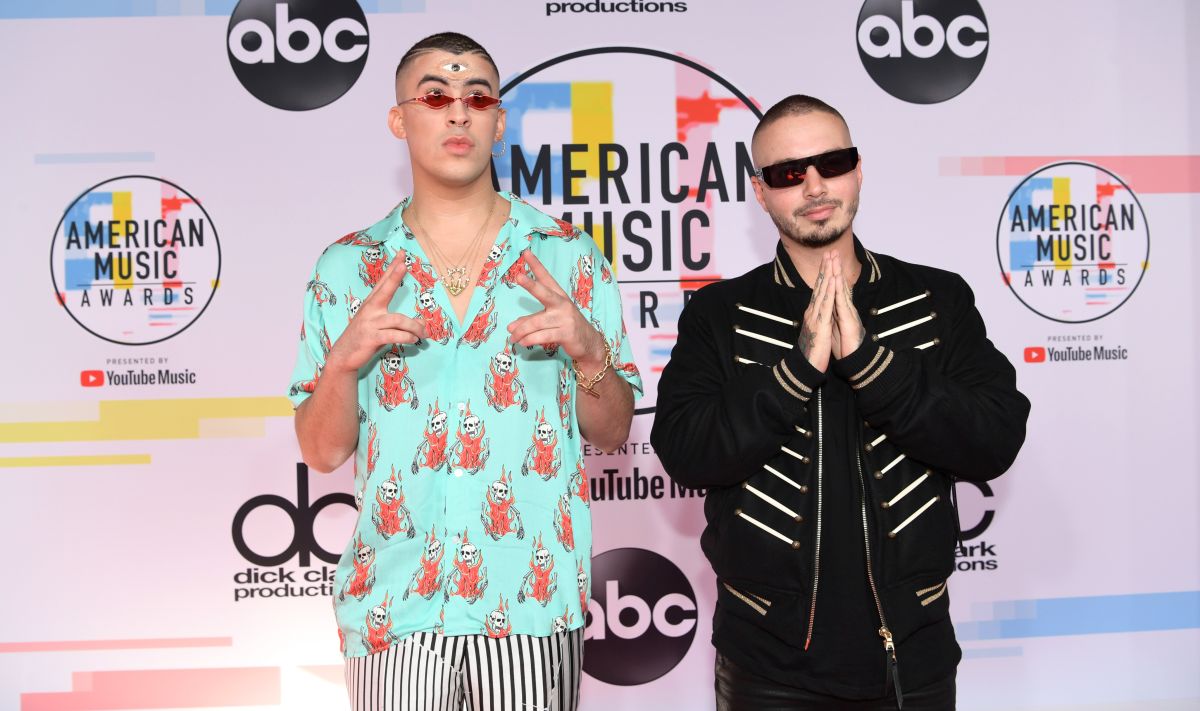 Foto:
Emma McIntyre / Getty Images
The controversy ahead of the Latin Grammy 2021 is getting worse every time. The Puerto Rican singer Bad Bunny expressed in an interview to the program 'Alofoke radio show' his opinion about the entire dispute between J Balvin and Residente for the Grammy nominations, expressing that the Colombian artist should not have have complained to the Latin Academy of Music, much less have confronted the Puerto Rican rapper.
Bad Bunny's statement went from less to more and on one occasion he expressed that J Balvin's song 'Agua', which was inspired by SpongeBob, did not deserve to be nominated for the Latin Grammy because it considers that this production it hadn't even taken place at the Nickelodeon event; however, it was recognized. "I received four nominations with The Last World Tour. I think I should have received a little more nominations. Balvin was nominated 'Water', he was upset and they nominated him 'Water'. I, if I were a Grammy judge, I would not nominate him or the Nickelodeons and they took him into consideration", Bad Bunny commented to the program 'Alofoke radio show'.
Later, Bad Bunny continued throwing fire at J Balvin's song and expressed the following: "The bastard thing about 'Water' is the track Tainy did. I do not consider that it is a subject that deserves a Grammy". Likewise, the Puerto Rican singer declared that Maluma's song 'Hawaii' and Sech's latest album did deserve to be nominated for the 2021 Latin Grammy Awards. "Hawaii (by Maluma) is a song that I say, hell, that is a Maluma reggaeton that despite being the most pop reggaeton can have is a good song. But for example, Sech's album for me is a good reggaeton album that I don't know if he signed it up or entered the season but it was to receive like two or three nominations"He added.
In another vein, Bad Bunny concluded the interview with a comment in his favor where he freely expressed the controversy that has engulfed the Latin Grammy in recent months. "It's a weird fight, but at the last minute, kind of grateful for the awards that the Latin Grammy awards give me, with which they give me here and there, I don't make music for awards and if they give them to me well. I am not going to make a lawsuit, I am calm with mine", He finished.
KEEP READING:
– Resident compares J Balvin's music to a hot dog cart
– J Balvin publishes his phone number on Instagram amid the controversy with Residente for the Latin Grammy
– "Dedicate yourselves to making music and now": Pepe Aguilar on the controversy of J Balvin against the Latin Grammy 2021
– Resident says that J Balvin called him crying and also accuses him of having stolen a text dedicated to Colombia

eldiariony.com
Eddie is an Australian news reporter with over 9 years in the industry and has published on Forbes and tech crunch.