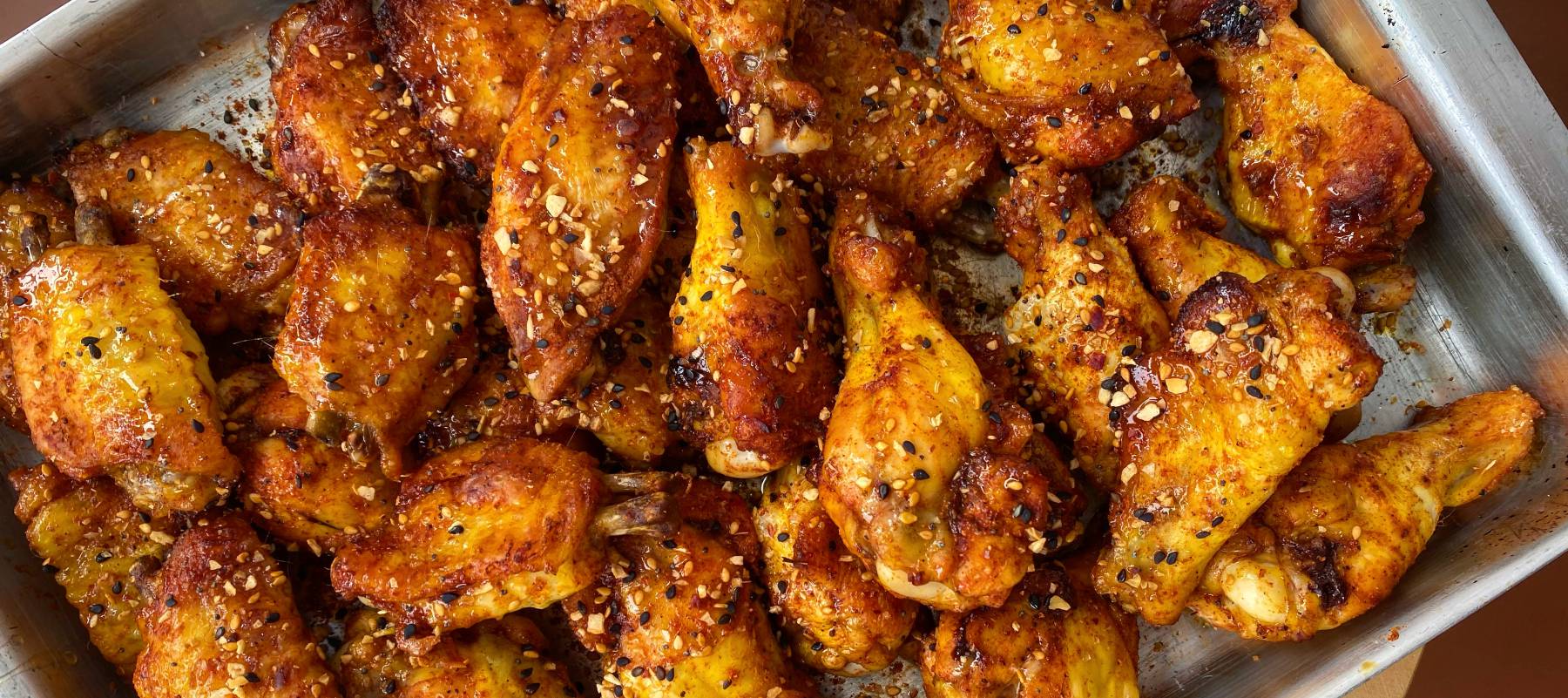 Chicken wings are one of the most versatile and cheap snacks we can find (something that I can't help thinking about every time a bar or restaurant sells them for eight euros a portion). You just have to give them a little love in the form of a marinade and apply a suitable cooking so that they are not dried, raw or boiled and we will get a delicious bite, with the perfect balance between chicha and some fat and that can be eaten as if they were pipes.
If you buy the wings whole, cut them yourself and have the tip part left over, don't even think about throwing it away: not only does it serve to give flavor and substance to any broth, but they can also be eaten. I learned it from Umami Madrid and I highly recommend it: after cooking them for about 30 minutes in a pressure cooker or three hours in a normal pot, you just have to brown them in a pan over low heat so that they are very crispy on the outside, spice them to taste and devour them as if there were no tomorrow . Iñigo recommends boiling the wings before giving them a heat stroke so that the skin is crunchy, but after trying both techniques I prefer to cook them twice in the oven; I think they are tastier and just as tender as boiled.
I confess that my favorite part of wings is not the stain -the mini version of the thigh, which is always more sought after- but the blanqueta, which has two bones: with this preparation they are so tender that you can remove them easily, and convert with little effort the remaining chicha in a säam wrapping it in a leaf of bud, with some pickles and coriander, putting them on top of a rice "del senyoret" poultry version or including them in a sandwich. The possibilities are endless, and all delicious.
To lacquer the wings and add a crisp and spicy point I used the spicy honey and the Crunchy sesame mix of Espicy, a couple of ingredients that I have subscribed to for a few months and that can brighten up all kinds of meals. Normal honey -which in addition to giving a sweet spot will help the other ingredients stick together- and a mixture of sesame with dehydrated onion, a little garlic powder, chili flakes and any dry aromatic herb that you want to add can make perfectly the same function: to give the dish an extra flavor and a crunchy texture, a combination capable of brightening up any meal.
Difficulty
The one of not eating the ration of the others.
Ingredients
For 4 people (as a snack or part of a second course)
16 chicken wings, cut in half and trimmed
The juice of one lemon (or a little more)
Harissa to taste (or a mix of sweet and hot paprika)
Shall
Pepper
2 tablespoons of honey
Sesame, dehydrated onion, chili flakes, garlic powder and / or some dry aromatic herb to taste
Preparation
Mix the lemon juice with the harissa, salt and pepper (all quite generous, it is a marinade). Massage the chicken wings with the marinade, refrigerate for 24 or 48 hours, stirring from time to time.
Turn the oven to 100 degrees with heat up and down and arrange the wings on a tray, with the part with the most skin facing down. Cook for an hour, remove the tray and turn the oven to full power (if you have one, with the grill function).
Turn the wings over so that the part with the most skin is on top. When the oven is very hot, return them for two or three minutes, until the skin is crispy (but not burned).
Brush the wings quickly with the honey, spread the crunchy sesame mixture on top and serve immediately.
If you make this recipe, share the result on your social networks with the hashtag #RecetasComidista. And if it goes wrong, complain to the Chef's Ombudsman by sending an email to [email protected]

elcomidista.elpais.com
Eddie is an Australian news reporter with over 9 years in the industry and has published on Forbes and tech crunch.