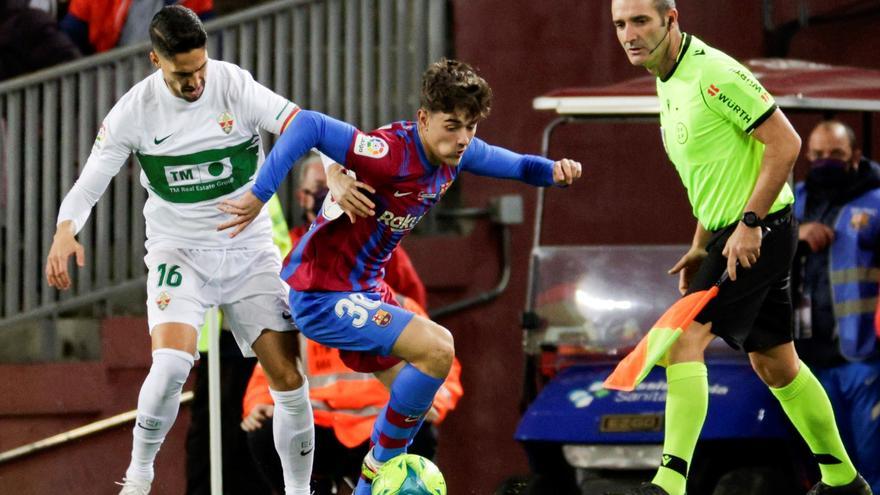 If Elche did not win at Fútbol Club Barcelona yesterday, one does not know when they will be able to do so. You just had to review the starting eleven of the azulgrana team to realize the reality that Xavi Hernández has decided to face by taking over a bench that looks sweet, but with too much bitterness around him. At the conclusion of the clash, the name and age of the culés scorers says it all. One more slab for the franjiverde story. Losing to an almost youthful team is painful. Doing so by falling into childish mistakes is even more so. No one doubts that these kids who first Koeman and now Xavi have released into the ring can be great players. The reality is that, today, any professional team can get their hands on them. Elche almost does it on a bad day.
That is why defeat must hurt more. It seems to me a mistake to go to the name of the rival to justify a game lost at the Camp Nou. Neither the past nor the future of Barça should serve as a band aid for an Elche who missed the points twice. The first, in another calamitous first half, in which a simple tactical variant (Jordi Alba on the inside) undressed Francisco's approach. And the second, after 2-2. Against a team in diapers, Elche lacked tusk. He got scared, went back and was unable to get out, especially after Mojica's injury. In a schoolyard game, the boys' team beat.
Bart gana and Skinner
Xavi explained it well in the post-match press conference. Gavi thrills. To companions and rivals. It's reality. You see him at the age of 17, leading a Barça in crisis and he gets emotional. Before we saw him boldly in the senior team, against rivals like Italy and France, with a title in between. And we were also excited. Take a look back and remember what you were doing at that age. The word emotion, used by the Barça coach, seems to me the most appropriate to describe what this kid awakens. Even if I play against you.
When Gavi was born, Bart Simpson had already done more than a trick on Seymour Skinner on "The Simpsons." Yesterday, the often Andalusian midfielder only needed a skateboard to look like the son of the most popular family on the planet. Opposite, Francisco suffered as the principal of the Springfield elementary school has been putting up with his most blatant student for three decades. The bad thing for Skinner is that, despite the passage of real time, he cannot rid himself of his nightmare. The bad thing for the "Skinners" of Spanish football is that they are going to have to suffer this boy for a long time. The coach who has him at his command will be a privileged one. Playing like this at high school age is scary to think about what he might do when he is of voting age.
Doctor Rodríguez and Mister Francisco
Francisco's Elche still doesn't give him 90 minutes to play at a regular level. Against Barça a double face was seen again, a la Doctor Jekyll and Mister Hyde. The first half was even worse than in Valencia, giving a feeling of drift more than worrying. Seeing that first half against the worst Barcelona in recent history, Elche seriously presented its candidacy for relegation.
This time it was not necessary to abuse forwards to react. Francisco again found a way to center his people and, from the first minute of the second act, the image was already another. The fledgling of this Barça was demonstrated with the two goals in two blinks that the people of Elche were able to score, while the Catalans collected errors in their definitions. But, as happened in Mestalla, Elche showed its tusk but did not devour its prey, it only wounded it. Mojica's injury put him back and he was no longer able to come back. In that final stretch, the franjiverdes returned to water in defense, like so many times this course. An endemic evil that worries. Let's see if Christmas can solve it.
The designated
The change of coach has served to "rescue" some footballers. There is the step forward that Tete Morente or Pere Milla have taken, for example. However, in addition to the lack of defensive reliability, there are players who have not improved their «version Escribá» and others who have made it worse.
The captain general of the first group is Marcone. One wonders how long we will have to wait for him. Bragarnik will know. Lucas Pérez, with Francisco, is not exploding. And to Pastore, between our own injuries and those of others, we are losing track in the League. Omar Mascarell has entered the second group, perhaps because of this double pivot that the new coach has implanted and that squeaks too much, as it could be seen at the Camp Nou. Rest will be good for everyone. Elche does not come to Christmas in the best way, a classic in the First Years. May the new year bring health, human and football.

www.informacion.es
Eddie is an Australian news reporter with over 9 years in the industry and has published on Forbes and tech crunch.