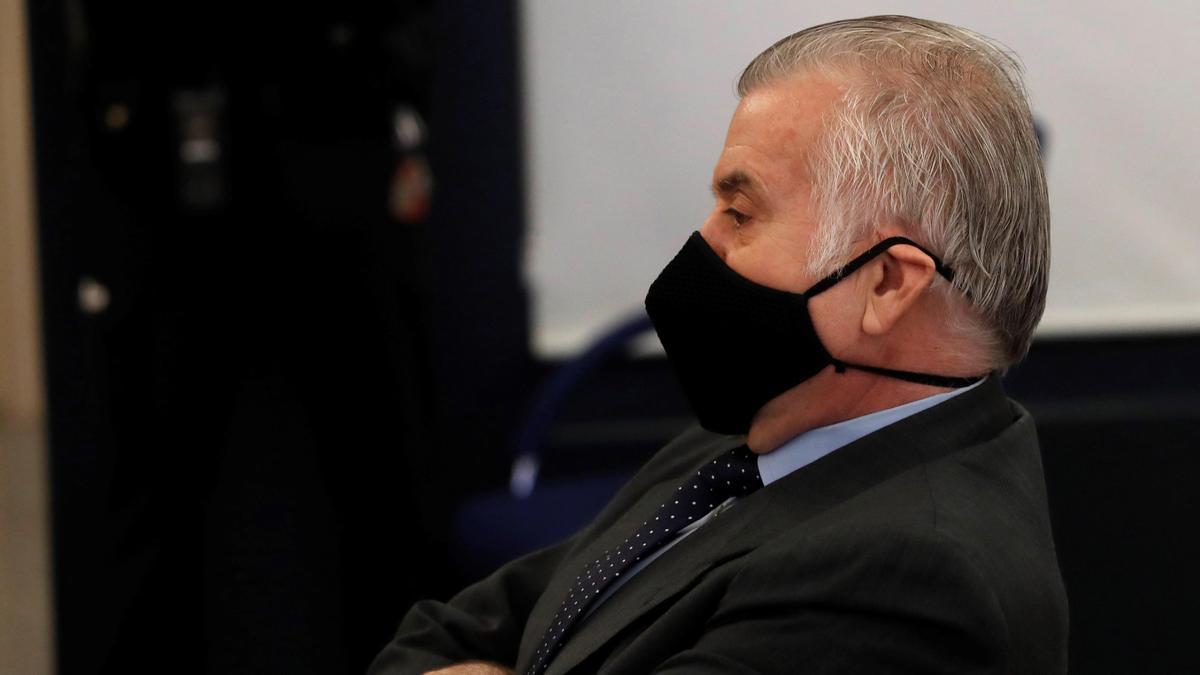 The ex-treasurer of the PP Luis Barcenas believes that when he was in provisional prison in 2013 there were collaborators of the National Intelligence Center who watched him in jail and, "taking into account that this was the operation 'protect comrade Rajoy' ", said he was "convinced" that the former vice president of the Government Soraya Sáenz de Santamaría, which was also responsible for the CNI, "put his part there."
This was stated in one of the statements, to which Efe has had access, that the former treasurer lent under secret and as injured before the judge of the Kitchen case, Manuel Garcia Castellon, which investigates the alleged illegal espionage on him and his family allegedly sponsored from the Interior as of 2013.
In the framework of this investigation, he related to the judge his suspicions that someone from the CNI He entered the penitentiary in which he was imprisoned to follow him and take notes of everything he did and who he had a relationship with.
One of them, identified him in the interrogation as "the false Dominican", and pointed out that the suspicions towards him arose when, through the NIF number that is registered in the purchase receipt of the commissary, and to which he managed to have access, he was able to verify that the photo that would correspond to that number had nothing to do with it. do with that of the new intern.
"The false Dominican must have been a month and a half" in his moduleBárcenas continued to relate how after that time he disappeared without anyone knowing the reason.
He also spoke of his suspicions about his involvement with the CNI of a prisoner of Mexican origin with whom he shared a cell shortly after his former partner, the former president of Caja Madrid Miguel Blesa, left prison.
Nor did it seem casual to him that this Mexican prisoner was released shortly after he was released from prison, and whom he invited to eat at his house, as he said, "to my wife's great annoyance because she believed he was confusing things and is that you leave jail as you leave ".
All this, and although "it may sound strange," he warned, he linked it to a sequence of events that he now finds a relationship with and that occurred after his entry into prison.
One of them is the illegal entry, in October 2013, in the study of his wife, Rosalia Iglesias, where you documents and a "pendrive" intervened supposedly in the framework of the Kitchen operation.
The following month, he continued, there was the incident of the false priest at his home and shortly afterwards he suffered, for the first time in his life, a "brutal" allergic reaction of unknown origin; in December he again suffered a similar episode that took him to the hospital.
"It is a coincidence in time but it is surprising because I have never had an allergy nor have I had it again," said the former treasurer, who considered that the only way someone could have thrown "one thing" was in the commissary when buying a coffee or something, he explained.
Theory to which he added that even then he had "the feeling" that someone from the commissary could be giving information.
During the months that he was in provisional prison, he also said he had felt a "persecution" by the Ministry of the Interior and commented on a series of circumstances that, he assured, have not been repeated in this second entry into the penitentiary.
In his opinion, the former Minister of the Interior Jorge Fernandez Diaz, accused in Kitchen, transferred to the then head of Prisons, Ángel Yuste, "certain types of actions" with respect to him.
"There were instructions to make my life miserable"
He explained as an example that when his lawyer went to visit him, a specific room was always determined for him when now he can choose the one he wants, which he considered that that first time they did so in order to record their conversations.
He also reported that when he made the call to which he was entitled each day, an official stayed by his side, to whom I had to tell him the number he had called, and he complained about it when he found out that he was the only prisoner who did this.
He also filed a complaint about the leak of the photo of his admission to prison to a newspaper and a complaint for having been subjected four times to a comprehensive search after the vis-a-vis with his wife, which he described as unusual. "There were instructions to make my life impossible," he said a prison official told him about it.

www.informacion.es
Eddie is an Australian news reporter with over 9 years in the industry and has published on Forbes and tech crunch.