Game over. The delusions of grandeur can now finally end. The festive years are over and the famine years are drawing near. Barcelona are now a Europa League team and in many ways this beating in the snow in Munich just confirmed what we've already known for a long time about them.
Whatever Barcelona once knew, they have forgotten; Whatever they once had, they've lost. The enormous debt of this club can be measured not only in cash, but in experience, in talent, in pure soccer instinct.
The house was already collapsing. We knew that too. And yet each month that passes brings new indignities. Barcelona has already experienced flash sales, half-empty stadiums, 8-2 against Bayern, losing the best player of all time for free and replacing him with Luuk de Jong.
In terms of LaLiga points, he is closer to Levante in 20th place than Real Madrid in first. But elimination from the Champions League group stage, for the first time in 21 years, felt like another critical milestone: a second-tier competition for a second-tier club.
There will be tangible consequences in the short term. Barcelona's finances, already around £ 1.2bn in the red, will take another monstrous blow. Their chances of attracting new players in January have also decreased. But perhaps the biggest blow is to their sense of self.
"Today is the beginning of a new chapter for us," admitted Xavi. "We have to start demanding a lot more of ourselves. We must use this as a turning point to change many things. We are going to face this reality with all the dignity in the world and work so that Barça returns to where we deserve to be, which is not the Europa League. It really bothers me to face our reality. I'm angry. Barça doesn't deserve it ".
And yet, entering this game, they still had a faint hope. A win here, or anything other than a Benfica win against Dynamo Kiev, would be enough.
And yet both of their lottery tickets were effectively shredded in the space of 45 minutes, as Benfica took a 2-0 lead in Lisbon and Bayern managed a two-goal lead despite never appearing to come out of the third. March. .
Already qualified, Bayern had promised to be ruthless. And in the absence of Leon Goretzka and Joshua Kimmich, this was very close to Julian Nagelsmann's strongest starting eleven. It took them about 20 minutes to resolve Barcelona's lopsided 4-3-3, and in no time their celebrated four forwards reveled in the open spaces behind the wings, rushing towards defenders who seemed not only outmatched but downright scared. .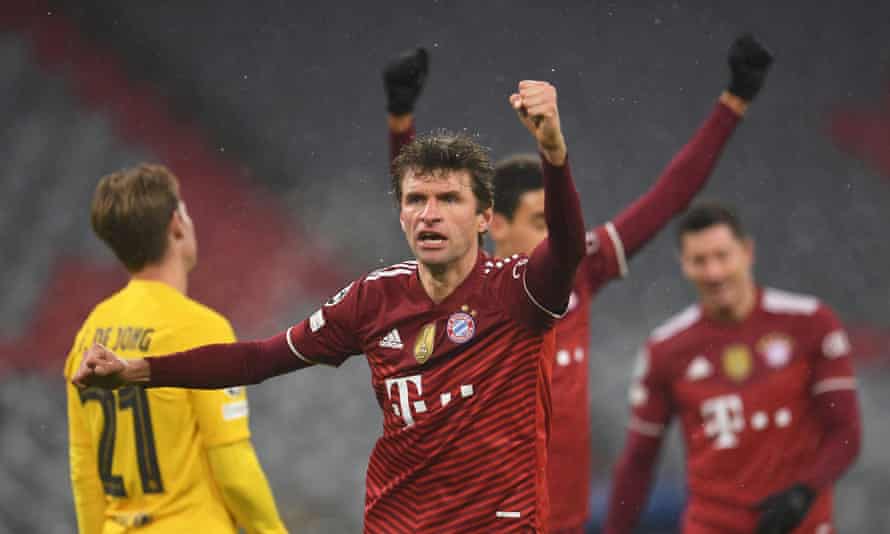 This was the pattern of the first goal: a simple ball behind Leroy Sané, Robert Lewandowski playing the crisp Gerard Piqué before the cross for Thomas Müller to score with a looped header. Lewandowski and Bayern have done this with much better teams than Barcelona, ​​of course, but there was a kind of sadism about them here, highlighted by Barcelona's lack of ambition.
This was evident at the end of the first half, when Ousmane Dembélé sadly ran towards the Bayern defense, pursued by four red jerseys and none of his own teammates, who had been left behind to catch their breath before the inevitable next wave.
Barcelona came with the sole aim of limiting the damage caused by their opponents, and they couldn't even do it.
By then Barcelona were 2-0 down, Sané crashing the ball from 25 yards after a good job from Kingsley Coman down the right. Jordi Alba had succumbed to an early injury, the ethereal Sergiño Dest was withdrawn at half-time and Xavi's plan to open Bayern up the wings was in tatters.
This was only his fifth game in charge, a game he described beforehand as "a final." Certainly, as Barcelona kept trying to play champagne soccer with Lidl grapes, it felt like the end of something. The sumptuous Jamal Musiala made it 3-0 after a diagonal ball from Lewandowski and a clean cross from Alphonso Davies.
It could also be the start of something for Barcelona, ​​if Xavi has the vision to look beyond the nostalgia of the Guardiola era and its empty and comforting tropes and really think about what works in elite football in 2021 His midfield has cunning but lacks sharpness. ; his attack is sharp but lacks cunning; his defense is downright shameful, and often any relationship between the three is purely coincidental.
You could see them trying to figure things out as the game leaked: making their triangles, pushing with purpose, desperately trying to create something out of nothing. But really, there are no quick fixes here. For Barcelona the way back will be ugly and brutal, and it will not be short.

www.theguardian.com
George is Digismak's reported cum editor with 13 years of experience in Journalism