Armed with tripods, telescopes, binoculars, mobiles, cameras … about 30 people were distributed among the wet grass in a meadow in Gúa (Asturias), set up as an observatory in the Somiedo Natural Park, early Thursday of the week past waiting to get lucky and see the brown bear (Ursus arctos) in freedom, in their natural environment. This 290-square-kilometer protected area brings together a third of the 324 plantigrades that are estimated to live in the Cantabrian Mountains – in the Pyrenees there is another nucleus with 64 individuals – and is considered one of the best places to contemplate the elusive mammal . The early rise was worth it: while a specimen with light fur ate hazelnuts without flinching, about 300 meters from the observers, a bear came and went followed by her two inseparable cubs on another nearby slope. To finish off, a pair of wolves broke into the same scene, something completely unusual, until the mother threw them out when she detected one of them a few meters away. "I still have goose bumps"; "It is incredible to see a bear interacting with wolves", the comments followed one another in the meadow amid smiles of satisfaction.

Photogallery I Tourists to meet the bear in Asturias
An unthinkable situation 30 years ago. In 1993 and 1994, the bear population hit rock bottom with between 50 and 60 specimens. Since then, there has been a 10% annual increase in the number of females with young. One of the strongholds of the species in bad times was Somiedo, who now sees how the bear has become his main tourist attraction. Last year 40,000 people visited the interpretation center of the natural park, despite the pandemic.
However, not all are congratulations. The rise of the species, still in danger of extinction, increases the suspicions of neighbors who complain about the damage to hives and fruit trees. The other leg to control is the possible interference of tourism in the conservation of the species. The biologist Jorge Jaúregui, from the nature tourism company Somiedo Experience, specialized in observing the species, explains: "If a mother is harassed with young, she can leave the area she has chosen because she feels safe there, and if a male appears in these movements, he can kill the cubs so that the female returns to heat ".
Juan Díaz, agent of the Bear Patrol of the Government of Asturias for 25 years, sums up the current scenario: "In the last decade, the growth has been spectacular, before you had to wait 10 times to see a specimen, and now you see eight." Even so, encounters with the plantigrade are not very common, because it is an elusive species with humans. But there may be a fortuitous encounter, as happened to a woman in Cangas de Narcea this summer who was seriously injured, or to Díaz a few days ago. A specimen was advancing towards him without seeing him as it lowered its head. "When I was 30 meters away, I decided to call his attention with an 'eh!', But without yelling, so as not to scare him." It was enough to make the plantigrade turn around. In the case of bears that come to the villages to eat attracted by garbage, fruits or hives, an attempt is made to persuade the specimens, which are normally young, with firecrackers, and when these are not effective, they fire rubber bullets of the caliber 12. "They are not hurt," says Díaz.
There is no established distance to observe wild fauna, but in 35% of the Somiedo Natural Park the passage is only allowed to ranchers. The 10 viewpoints enabled to observe nature, such as Gúa and La Peral, are another system to "avoid nuisance to fauna, dangers to people and, at the same time, the riot of cars parked on the roads," explains Belarmino Fernández, mayor of the municipality of Somiedo (1,200 inhabitants distributed in 38 towns), with capital in Pola de Somiedo. Parts of the protected area are also closed if any specimen decides to leave the restricted areas, as has happened this year with a climbing area, explains Luis Fernando Alonso, director of the natural park.
The fame of the place has attracted international visitors for years. Karl Seynse works for a Belgian nature tourism company and is in Pola de Somiedo with six fans. "20 years ago we walked kilometers to glimpse them, now it has changed," he recalls. Phillipe Wyckaert, one of his clients, adds that the advantage of this place is that the species is contemplated "without any human interaction, it is completely natural." "Maybe in other countries like Finland or Slovenia you can see them closer, but you have to wait in a hiding place because the forest is more closed, and they put food for them to come closer," he adds. They are sitting on the terrace of the Miño restaurant, in the center of Pola de Somiedo. Its owner, Herminio Cano, who also works with English, German and "increasingly local" groups, has witnessed the transformation. "There was a bear, but it was unthinkable to see it, and we couldn't imagine that it would attract so many people."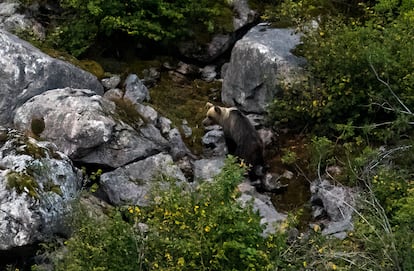 Marcos Simón, from the Oso Pardo Foundation (FOP) in Somiedo, thinks: "Being regulated and controlled with specific observation areas, there should be no problems with visitors." He comments it while scrutinizing one of the slopes of the Saliencia valley (one of the four that make up the Somiedo park) in search of the plantigrade from the edge of the road. After a while waiting, because "you have to be patient, many times it is hours and you do not see each other," he remembers, the bear appears accompanied by her two young, about 50 meters from the cows that continue to do their thing, grazing quietly in The meadow. Between 2009 and 2018, 60.2% of claims for damages caused by plantigrade in the Cantabrian Mountains correspond to beehives, 22.7% to fruit trees and 12.9% to livestock, indicates the FOP.
"It is a repentant carnivore, sometimes it eats carrion or kills a chamois baby, but it does so out of sheer necessity, it prefers vegetable proteins", Simón clarifies. Now, at the end of summer and close to autumn, it is a good time to see bears because they begin to move to accumulate reserves and spend the winter: they look for hazelnuts, goats, apples, acorns, chestnuts, beechnuts … In spring, another During the busiest times, when the females leave the shelters with the esbardos and the males are in heat, they eat mostly herbaceous plants. The biologist Alfonso Polvorinos, who is dedicated to nature tourism and is in Somiedo with a group of five people, details that "they love the tender shoots of grasses", to end up feeding in summer on fleshy fruits (blueberries, strawberry trees, schoolgirls , blackberries…). In late June and July they add wild cherries to their diet. And the not so wild ones.
Neighbors complaints
"They didn't leave a single cherry here," says José Manuel Menéndez in Las Viñas, a tiny town perched on the mountain that is reached by a narrow and steep road. Now, the specimen that visits them, and that has become "one more neighbor", has undertaken it with the fig trees in which the broken branches can be seen to reach the figs. "I saw it two days ago, and my grandparents never saw it," he says. Another neighbor, José Manuel Barbosa, is careful when it gets dark. "I make noise by hitting with the cane," he explains. He considers that there is very little knowledge of the bear, "people are not afraid of it and it is a wild animal." He saw him just 20 meters from his house at ten o'clock at night. "He left, he did not even come." Alba Fidalgo is "delighted" with his presence, "when we see him he runs away," she points out a hole in a wall. Corsino García, a neighbor of Santiago del Hermo, a nearby town, brings another point of view: "There are plenty of bears now." He has 45 cows, and although the plantigrade has not killed any animals, he does not like to be prowled nearby, "the cows are not afraid of the wild boar or the deer, but they are afraid of the bear."
In Pineda, another town more remote if possible than Las Viñas, with impressive views, Argimiro Fernández, 86, looks out the window of his house, to which he returns seasonally from Gijón, where he usually lives. Three to four people reside in the town all year round. He has hives and assures that they are "forgotten". The abundance of bears goes "against my interests, 15 days ago it came [el oso] and he ate two hives, that they keep it apart so that it doesn't bother ", he adds. Not only that, they also undertake it with "apple trees, plum trees … they destroy everything."
"Does it benefit whom?" Asks Cano López, 76, one of the neighbors who lives in the town with his wife and son. "To the hoteliers, to tourists, to people who have nothing to lose," he complains. A few steps from the house you can see the beehives, surrounded by an electric shepherd (electrified cable) and below, several calves in a fence because his son is a rancher. "I was very environmentalist and I educated my children to respect nature, I do not want to go against the bear because we know that we have to live together, but that it stays in the mountains as before and that they pay for the damage at what they cost" , says Olga Cabezas, Cano's wife. She is afraid of him and tries not to go out when it gets dark. "He is smarter, it is as if he were a very shameless person, he climbs into the granary, breaks the fences, the trees, and if I plant an apple tree I don't want him to destroy it, it is for us to eat", he adds. Both ask that, at least, these peoples be helped in some way, that they invest something because everything is abandoned.
You can follow CLIMA AND ENVIRONMENT at Facebook and Twitter, or sign up here to receive our weekly newsletter



elpais.com
Eddie is an Australian news reporter with over 9 years in the industry and has published on Forbes and tech crunch.