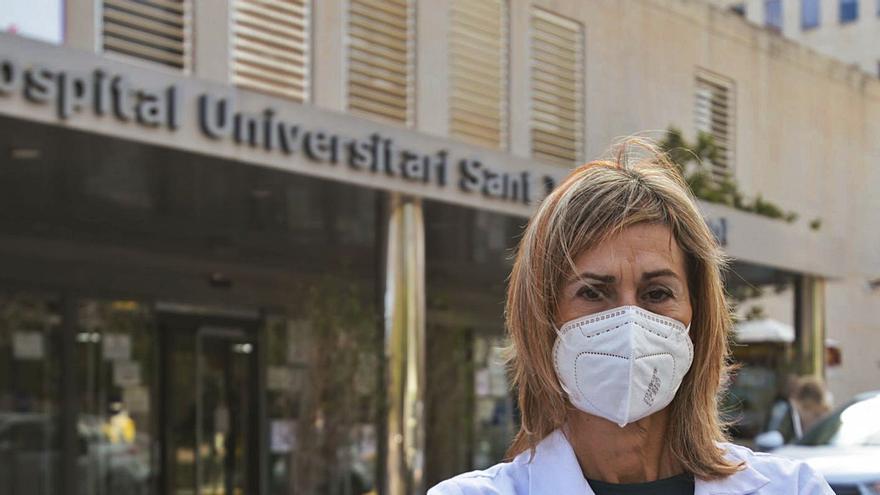 How is Sant Joan Hospital at the moment?
We have 31 patients admitted to the ward and we have another half floor to admit patients with suspicion. We have been able to recover the waiting rooms, the skylight, the assembly hall and other spaces that we had to prepare to accommodate more patients. In the Intensive Care Unit the situation is more complicated, and we still have 17 hospitalized patients.
Was a third wave like the one that hit us? They were prepared?
We were prepared, but we didn't want to believe it. We were confident that our expectations were not met. In June we made a strategic plan with seven lines, ranging from the collection of material, to the organization of services in hospitalization and critical care, prioritizing which portfolio of services had to be maintained until the end …
We are already beginning to talk about a fourth waveCan we face a stronger onslaught than January?
Always chewing gum, to use unorthodox jargon, can be stretched. But when the gum is stretched, the quality it brings is not the same as if the gum is in its normal situation. We could admit more patients in hospitalization and critics, but the personnel trained and prepared to give a quality according to the needs is what we have, because the bags are exhausted. Can? Yes, but bearing in mind that this would be to the detriment of other patients. The care is probably not the same as a professional trained to care for a critical patient or an infectious patient than when a professional whose basic training is not that is done. It would be done? Yes. With dedication, effort and affection, but knowing everything we have at hand.
How to avoid successive waves?
The vaccination campaign has to function in a leading way. It requires planning, from many steps in society. Research in other respects is also essential. In other infectious diseases, treatments have been found that, although they are not curative, have turned acute diseases, such as hepatitis or AIDS, into chronic ones. And that in the case of covid is also important. On the other hand, we must appeal to the responsibility of not questioning the scientific evidence that we have. We cannot argue with things that are already established within how difficult it has been to generate evidence in a new disease. Much progress has been made in a short time and the things that are proven must be respected and believed.
This pandemic is also showing us that it is necessary to react in time.
We all have to take our share of responsibility. If we start to take measures when the incidence is 500 we know for sure that the personal cost -in deaths and infections- the health cost -in hospitalizations and in stopping attending other processes- and the social and cultural cost we will pay for sure.
How does your body get when you hear about saving the Easter week?
It puts you in a state that is undesirable. We all want to have fun, to see the family, but first we have to recover what the third wave has forced us to cancel. And I am not only referring to operations, but also to consultations, diagnostic tests … Now it is time to be exquisite and prudent and to talk about the fun that Easter entails raises an ethical debate that everyone will have to deal with themselves.
When will hospitals be able to catch up with everything that has been stopped?
That is a good question. When the second wave arrived in October, we had not managed to recover the traffic jam that the first wave caused, both in the surgical waiting list and in diagnostic tests. It is going to take a huge effort.
And how do you recover? Are the self-concert and the crash plan enough or will we have to be "imaginative"?
Imagination is a noun that I have appealed to from the beginning to my people. To solve a chronic and embedded problem in Health, we are going to need imaginative and collaborative resources.
How are your hospital workers doing after a year of pandemic?
They are improving, trying to get out of a very complicated tunnel. Everyone has been through it and is having a really bad time. They need to try to see the light and they need help from everyone to see that light, from the media, from the attitudes on the street … They are trying to get out, but it will be a long process. Each one will have to manage their experience, their experience, their anger, their sadness … When all this calms down we will have to face our reality.

www.informacion.es
Eddie is an Australian news reporter with over 9 years in the industry and has published on Forbes and tech crunch.