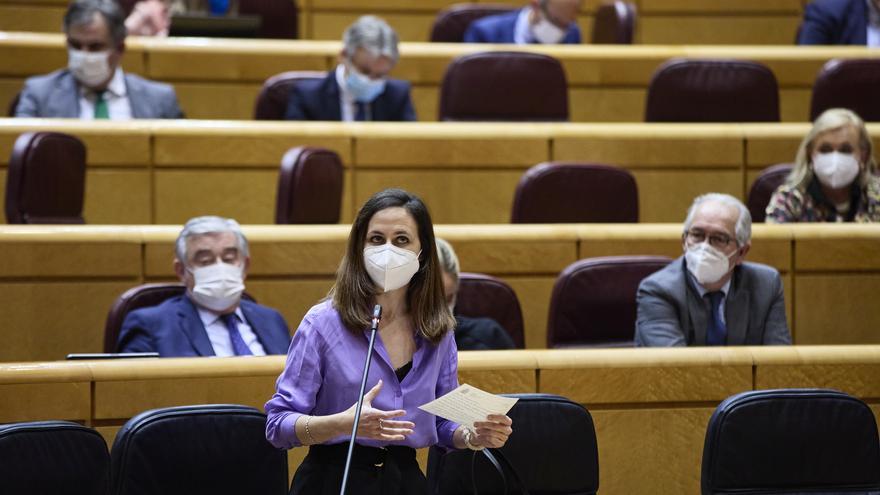 The Ministry of Social Rights that leads Ione Belarra has started a round of contacts with social groups to make a common front and defend the "more ambitious" aspects of the future Housing Law.
These meetings, which start this Monday, occur after the proposal for a report by the General Council of the Judiciary (CGPJ) critical of this regulatory project, considering that regional powers in housing matters are invaded.
Sources of this department do not hide their "concern" about the possibility that their government partner, the PSOE, can "back off" in the most ambitious aspects of the law, before a predictable "hard" opinion of the judicial body.
Given the situation generated by the pronouncement of the CGPJ, the Ministry opens this round of contacts to show society the "urgency of the Housing Law" and the "broad support" it would have a text "truly ambitious in regulating rental prices and prohibiting evictions without a housing alternative."
In this way, these meetings will open this Tuesday, which will include the Madrid Housing Coordinator, the DESC Observatory (Economic, Social and Cultural Rights) and the CCOO and UGT unions, among others.
"There is no legal obligation to assume"
In this sense, from the Ministry of Social Rights they influence the "exceptional" situation of CGPJ, with a mandate "expired" for three years. They also delve into the fact that the governing body of the judges should only pronounce on the modification of three articles of the law of civil procedure, to reproach that "in no case" is it up to him to evaluate the constitutionality of the norm.
They also indicate that this report is "mandatory but not binding". In other words, the Executive "has no legal obligation to assume" its content.
This Monday, the state co-spokesperson for Podemos, Isa Serra, accused the CGPJ of lead the "anti-democratic reaction" against the coalition government with its position before this law, agreed between the confederal space and the PSOE. Last week the confederal space warned that it would not accept changes in the regulations and reproached the judicial body for having exceeded its functions.
This Tuesday, the Minister of the Presidency, Relations with the Courts and Democratic Memory, Félix Bolaños, stated that the Government "does not close" to improve the Housing Law after receiving the CGPJ report. Of course, he has defended that the text is "especially careful" with regional powers.
Last week, the head of Transport, Raquel Sánchez, expressed her "full confidence" that this regulation "will soon be a reality" and will be approved by the Council of Ministers once the CGPJ report is known and assessed, which she recalled that it is "mandatory, but not binding".

www.informacion.es
Eddie is an Australian news reporter with over 9 years in the industry and has published on Forbes and tech crunch.