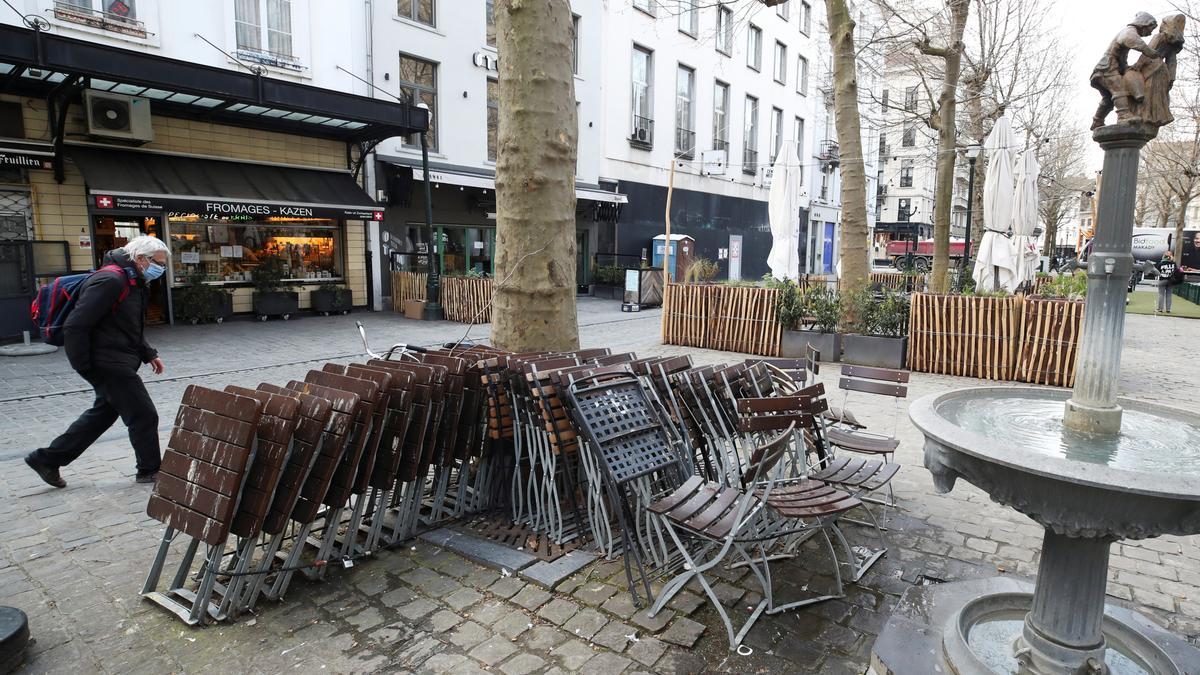 Belgium takes another step this Wednesday in its de-escalation and almost borders on normality: the use of masks in the street is no longer mandatory in Brussels, bars and restaurants extend hours and open their indoor areas, you can go to the office once a week and vaccinated people can travel with less restrictions.
The vaccination plan is progressing at a good pace and the numbers of hospitalized patients improve, which allows a glimpse of (almost) normality since this Wednesday in Belgium, where the first phase of the Summer Plan came into force.
So, starting this Wednesday, Belgian cafes and restaurants can serve their customers also inside their premises, after opening their terraces on May 8, and they can do so from 5:00 a.m. to 11:30 p.m.
A novelty that, despite the good weather this Wednesday, takes Bart, a musician and client of the famous Belgian cafeteria, to have breakfast inside, instead of on the terrace of the premises.
"Because I missed it. It's a lovely bar and I came often before work. It's been a long time and I've decided to get inside to feel like the old days again," Bart, who feels safe being there, told EFE. the doors open and there is a lot of separation between customers.
Gyms are also open, although with reduced capacity and with closed changing rooms and showers.
"We enjoy the moment and hope that the covid is a thing of the past (…) when a gym closes it is difficult to know if customers will return," says Federic Dése, manager of the B2M Sport gym, who was able to keep his staff of 13 workers thanks to the fact that it is also a medical center and offers physiotherapy and rehabilitation services.
Green light upon reopening also have cinemas, bowling alleys, sports halls, markets and saunas, under the condition that they meet certain ventilation criteria.
Shows, exhibitions or sports competitions may receive up to 200 people inside, with the public seated, and up to 400 outside, with masks and a safety distance of 1.5 meters.
To the office once a week
Returning to the office in person will be possible one day a week for all workers, although teleworking will continue to be mandatory until July, when it will be recommended.
The maximum capacity allowed at work is 20% of employees, a figure that rises to 50% in the case of SMEs, which can accommodate a maximum of ten people.
People who have the covid digital certificate will be able to travel between Member States without, a priori, restrictions: those who return to Belgium from red zones should not be quarantined or present a negative PCR test as long as they are fully vaccinated two weeks before the flight .
A ten-day quarantine will remain mandatory for passengers from high-risk countries of the new variants of covid-19.
Children and young people from 6 to 17 years old and adults who have not yet had the opportunity to be fully vaccinated will be reimbursed for the cost of the PCR, with a maximum limit of 55 euros.
Brussels takes off the mask
The use of the mask in the street is no longer mandatory this Wednesday in Brussels, except in very crowded areas such as markets or shopping centers, and each commune will be responsible for determining which are those highly frequented areas.
The lifting of the restrictions was conditioned to the evolution of the health crisis, set at the threshold of 500 beds occupied in intensive care in hospitals by covid.
More than 53% of the adult population of the country -4.8 million citizens- has already received at least the first dose of the vaccine and eight out of ten people at risk already received their first dose two weeks ago.

www.informacion.es
Eddie is an Australian news reporter with over 9 years in the industry and has published on Forbes and tech crunch.