Lioman Lima – @liomanlima
BBC News World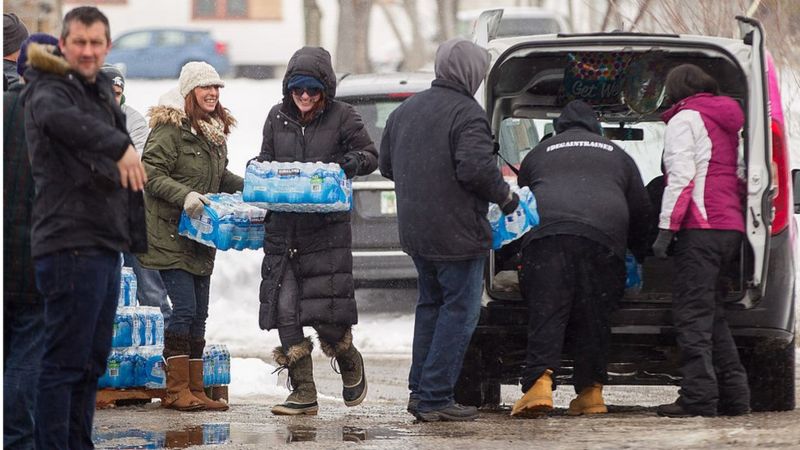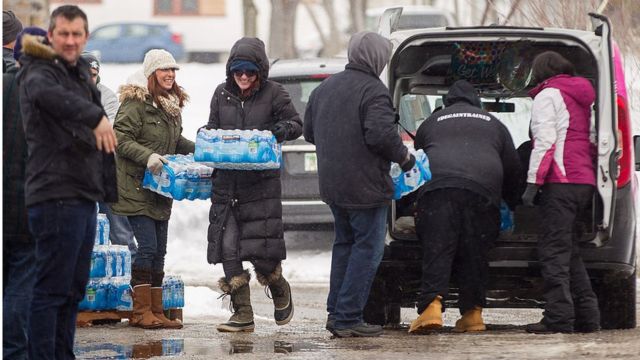 A new drinking water crisis affects the richest country in the world.
In Benton Harbor, a city a few hours from Chicago, in the United States, residents have been warned of something that, for many, should have been done years ago.
Michigan authorities issued a couple of weeks ago an emergency declaration to ask residents, as a "precautionary measure" not to consume the water that reaches their homes through pipes, not even for cooking, washing vegetables or brushing their teeth.
And it is that for at least 3 years, opening a water tap in many homes in the city of almost 10,000 inhabitants may imply opening a door to the disease.
This is due to the amount of lead used to make the pipes that carry the water.
"Since 2018, it was found that lead levels in Benton Harbor water were at higher levels than what is allowed for human consumption and yet it was not until now that it was recommended not to use it," he tells BBC World the Reverend Edward Pinkney, Chairman of the Benton Harbor Community Water Council.
According to data published by the city, in 2018, there was lead contamination in the water of 22 parts per billion and between January and June 2021 there were already 24.
However, records ranging from 400 to 889 ppb were found in several houses, in a country where authorities consider 15 as the limit level for federal action.
"Today it is known that no amount of lead is healthy for human consumption, so it could be said without hesitation that the levels in Benton Harbor are very worrying," says Elin Warn Betanzo, an expert in drinking water from Michigan. .
The numbers they are taller even than those reported between 2014 and 2015 in neighboring Flint, three hours away by road, where in the worst of the lead crisis that made headlines in the world's media, the levels only reached 20 ppb.
"This is really something to think about: we are one of the richest countries in the world and there are places where we do not have clean drinking water. We do not have running water to drink, to brush our teeth, not even to prepare formula for the babies. It's like we live in a third world country", thinks Pinkney.
The lead problem
According to the US Centers for Disease Control and Prevention, high levels of this metal in water can be highly harmful to pregnant women and children (which can affect brain development) and cause problems short-term and long-term health in the rest of the adults.
However, here, although the authorities have sent notifications to neighbors, distributed filters and improved the treatment of the liquid in recent years, it was not until recently that bottled water began to be delivered to residents and a state of emergency was declared. .
And this, after the authorities themselves They will doubt if the filters they have delivered are really useful to contain lead.
This has led politicians, local media, activists and experts to believe that the state failed to warn residents that their water was unsafe for a long period while testing so far failed treatments to reduce lead levels.
"We have had six consecutive monitoring periods with very high excess lead levels, yet we have had an extremely weak response to provide education and to tell people that this water is not safe to drink," says Betanzo, who was one of the first to identify the Flint crisis.
From the Michigan Department of Health and Human Services they explain to BBC Mundo that the state authorities carry out "a long-term effort to remove excess lead levels, educate communities about the effects of lead in drinking water, and remove lead pipes. "
"These actions are part of an accelerated overall effort to reduce the risk of lead exposure in drinking water as the city replaces all lead service lines," he says.
Although the government initially estimated the process to change the pipes in five years, a new project hope to do it in two, if the necessary funds are approved.
A widespread problem
Environmental experts and organizations fear that the situation in Benton Harbor, as it happened in Flint before, is just the announcement of a ticking bomb across the United States.
According to calculations by the NGO Natural Resources Defense Council, more than 12.8 million lead pipes and service lines still serve to bring water to homes in the 50 states of the Union.
In some cities, such as Benton Harbor, the situation is more critical, since it is estimated that only 2% of service lines do not contain lead, a metal that since Roman times has been known to be harmful to humans .
According to Betanzo, one of the main reasons for the presence of this metal throughout the United States was an aggressive campaign by the lead industry.
"To many communities really thes they imposed have lead pipes to get water service. Flint is an example. They had a 1998 city ordinance that says if they wanted to have water service, they should have a lead pipe, "he recalls.
However, the expert points out that metal also became an alternative for other reasons.
"In the Northeast and Midwest of the US we have a cold climate with freeze-thaw cycles where soil is displaced. Lead pipes are flexible, so they move with the ground, so it's less likely to break and split, "he says.
But they are also an "advantage" for water service managers, at least "at first glance".
"Lead in water cannot be seen, has no taste or odor. So if there is corrosive water in a lead pipe, it won't generate frequent customer complaints. If instead you have an iron service line, the water turns reddish brown when corrosive, which can lead to tons of complaints, "he says.
Although it was initially believed that large amounts were needed to be harmful, research over the years showed that any level of lead in the water it can be highly harmful to humans.
For this reason, in 1986, the United States banned the use of these pipes, although then some cities, such as Chicago, rushed to use all that they had in their warehouses before the regulation went into effect.
However, the directive never included a requirement to remove lead pipes that were already in operation.
"Even this year a revision of the lead and copper rule was published, which remains on hold. That revision in 2021 still did not include a path to eliminate the more than 10 million lead service lines that remain in service in the United States, "says Betanzo.
For many, hope for change appeared when President Joe Biden included about $ 45 billion in his infrastructure plan to replace aging lead pipes, but the project has been sitting on Capitol Hill for months and with no hope of approval.
In Benton Harbor, it is also unclear how the Democratic government's project to replace the pipes in two years will be financed.
Meanwhile, local authorities have started distributing bottled water for free, although residents say that is not enough and that there are still obstacles for many neighbors to access them, mainly those who do not have cars to go looking for it.
Until last Wednesday and since September 30, more than 71,000 boxes of water had been distributed to residents, according to official data sent to BBC Mundo.
A bigger problem
But for many in the city, the problems in solving the Benton Harbor water crisis go beyond debates around funding and have to do with demographics.
"I believe that at the base of the lack of answers is that our community is made up of mostly black and poor people" dice Pinkney.
The activist gives as an example several cities near Benton Harbor, such as Saint Joseph, which have an 85% white population and the poverty rate is only 7%. There, although it is within walking distance, the water is not contaminated by lead.
"That's why the issue of environmental racism here is so important because they are used to doing this to blacks," says Pinkney.
The Benton Harbor authorities did not respond directly to the allegations that it is a problem of racism, although they have denied it on other occasions.
Betanzo, who has studied water systems in Michigan and the United States for years, says there are "definitely" disproportionate impacts of this situation on black communities.
"Especially because these lead pipes are in older cities where a lot of white people have left and black people have stayed or moved. So there is a disproportionate impact on those communities, which makes it more important to get these out. lead pipes because it is an issue of environmental justice, "he says.
Now you can receive notifications from BBC Mundo. Download our app and activate them so you don't miss our best content.

www.bbc.com
Eddie is an Australian news reporter with over 9 years in the industry and has published on Forbes and tech crunch.