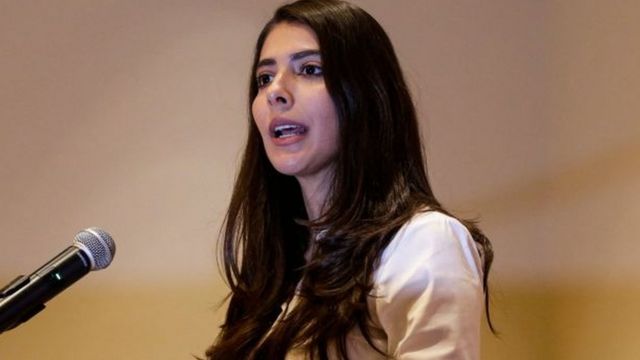 The wave of arrests in Nicaragua against opposition leaders continues.
The opposition Alianza Ciudadanos por la Libertad (CxL) denounced on Tuesday that Nicaraguan authorities imposed house arrest on its candidate for vice president in the presidential elections of November 7, Berenice Quezada, and they disqualified her from running for popular voting positions.
CxL had registered on Monday Quezada, a former beauty queen elected Miss Nicaragua in 2017, as a running mate of Oscar Sobalvarro, businessman and veteran, to compete with Daniel Ortega, who in November seeks a fourth consecutive term for which he will have almost no opposition due to the wave of arrests and disqualifications.
Cristiana Chamorro Barrios, Arturo Cruz, Félix Maradiaga, Juan Sebastián Chamorro, Miguel Mora, Medardo Mairena and Noel Vidaurre, who are being investigated for alleged treason.
"We denounce that today [martes] at 9:30 pm Berenice Quezada (…) was notified at her home by judicial authorities and the Public Ministry accompanied by the Police, who from that moment was being held in residence, "the party said on its Twitter account. Tuesday night.
According to CxL, his 27-year-old candidate for vice president was "without access to telephone communication, with immigration restrictions and inhibited from running for public office of popular election and is currently at home with police custody."
According to local media, the Prosecutor's Office processed on Tuesday a complaint filed against the opposition candidate for hate crimes and incitement to violence for asking his followers to go out to vote and to the street as in 2018, when the worst protests against Ortega were registered since which is mandatory.
Recent measures by the Nicaraguan authorities against the opposition have led the European Union (EU), the United States and Canada to decree sanctions against Ortega's close circle, including his wife and vice president, RosarioMurillo.
"We don't want more dictatorships"
On Tuesday, a group of citizens who identify themselves as "victims and relatives of the 2018 coup terrorism" requested to disqualify Quezada's candidacy for alleged apology for crime and incitement to hatred before the Human Rights Ombudsman (PDDH).
According to the complaint, reported by official media, the former beauty queen incited hatred after her alliance registered its candidates for president and vice president, deputies before the National Assembly and before the Central American Parliament (Parlacen).
Quezada told reporters that "in Nicaragua the (electoral) conditions have never been" and that "the conditions are set by the people. And how do they set them? Going out to vote."
He also called for a vote on November 7 to show that Nicaragua does not want "more dictatorships," alluding to the Ortega government.
"From 2018 to here Nicaragua drew a line, each one decided where they want to be," he added.
The executive describes these 2018 riots, which left at least 328 dead, according to humanitarian organizations such as the Inter-American Commission on Human Rights (IACHR), as an attempted coup.
32 arrests
Quezada becomes the first candidate registered for a popularly elected position to be arrested by the authorities, which since the end of May has detained 32 people, including seven opposition candidates for the presidency, while two others left the country to avoid being caught.
The National Police, led by Francisco Díaz, a brother-in-law of Ortega, has also apprehended a former foreign minister, two former vice chancellors, two former dissident Sandinista ex-guerrillas, a business leader, a banker, a former first lady and five opposition leaders, the EFE news agency noted. .
In addition, two student leaders, two peasant leaders, a lawyer and human rights defender, a political scientist and specialist in political and electoral systems, a journalist, a commentator, two former NGO workers and a driver from Cristiana Chamorro.
Two other presidential hopefuls, María Asunción Moreno and Luis Fley, left Nicaragua for security reasons.
Ortega, who returned to power in 2007, will seek his fifth term, fourth in a row, and second with his wife, Vice President Rosario Murillo.
Remember that you can receive notifications from BBC News Mundo. Download the new version of our app and activate them so you don't miss out on our best content.

www.bbc.com
Eddie is an Australian news reporter with over 9 years in the industry and has published on Forbes and tech crunch.