If you have trouble falling asleep, there are plenty of gadgets that can replace the classic counting sheep so you can relax, close your eyes and finally fall asleep. One of the most popular are headphones for sleeping, some wearables specially designed to help us fall asleep and rest. It is not only a matter of isolating ourselves from the outside, but they also have functions to relax us: in this sleeping headphones buying guide We help you choose the perfect model for you and we propose a careful selection of the best candidates.
What sleep headphones to buy
Although good wireless headphones that are so comfortable that you forget you're wearing them, good grip so that they don't fall out while you're walking around and with enough battery life to last all night, there are a series of headphones designed for sleeping that take care especially comfort and also implement extra functions such as relaxing sounds or white noise. We have already advanced some important features, but at this point you will discover what are good headphones for sleeping.
Comfortable regardless of your posture, the goal is to make you forget you're wearing them. Of course, a person who moves a lot in bed is not the same as another who does not, or one who usually sleeps on his side compared to another who sleeps on his back. Also keep in mind that they should fit a wide variety of head and ear sizes.

No lights or sounds to mislead us. It seems silly, but a beep or LED flashing of volume up or down or low battery warnings can bother us at night.

easy controlswhich will allow you to switch between music, audiobooks, white noise or meditation sounds without requiring concentration to change them.

easy to cleantaking into account its intensive use and that there are formats such as the band that are susceptible to rubbing or impregnated with sweat, so it is important that the textile part can be washed.

A sufficient autonomy for a restful sleep. The ideal is about 10 hours, enough for you to sleep the hours you need and the extra to fall asleep. Think that even if you are not going to listen to music all the time, if you have noise cancellation activated (if you have this function) or white noise, they need battery for the whole night.

Moderately good sound and minimal latency, two extras that you will appreciate if you go to listen to music or watch an episode of your favorite Netflix series before bed. The fact that the lip movement and the audio are out of step is quite annoying.
headset type
As you will see in our recommended models, there is no type of headphone that is clearly the best for sleeping, but it will depend on your tastes and needs to find the ideal format. However, they are included in three:
band. Its design moves between a sleep mask and the sweatband worn by athletes. It is made of a padded fabric and inside it houses the headphones, achieving a combo that It is moderately comfortable and with good fixation, allowing us to even sleep on our side. Of course, the insulation from outside noise is not the best.

In-ear like so many other headphones, such as the popular Sony WF-1000XM4 that are embedded inside the ear canal, although with care that they do not protrude too much so that they are not uncomfortable. In its favor, noise insulation from the interior is quite good.

Circumaural: They are a minority, but there are some interesting models for sleeping like the Kokoon. The best thing is its potential to isolate noise from the outside but in return, if they do not have a good design, they can be uncomfortable due to friction with the headband.
Recommended models
The Fulext (30 euros) is a band to sleep that stands out for its good quality price. And it is that for a fairly tight price this model with a soft elastic headband is comfortable. It integrates headphones with a microphone and Bluetooth 5.0 connectivity so you can connect your mobile and listen to whatever helps you fall asleep, whether it's an audiobook, relaxing music or a podcast.
Fulext Sports Sleeping Headphones Sports Headband Headphones with HD Stereo Speakers for Sports Side Sleeping and Relaxation
Available in various sizes and various colours, the popular AcousticSheep SleepPhones v.6 (44 euros) is a simple fluffy and soft band that hides a pair of wired headphones with a jack socket so you can connect to your phone, tablet or mp3 player so you can listen relaxing music, audiobooks or whatever you want. What do you have to sleep? Its comfortable design.
AcousticSheep SleepPhones v.6 Classic Fleece Headband Headphones – Black, Medium (This Size Fits Most)
The HoomBand (from 55 euros) is a band available in two sizes and in a connected or wireless version via Bluetooth, and can also be used for music, series, podcasts, where you will take advantage of its HD audio quality.
It is made of a flexible and comfortable fabric with thermoformed foam where adjustable ultra-flat earphones are hidden. This sleep band offers 100+ hours of guided meditations and other unreleased content created by sleep specialists. Its autonomy is 10 hours.
Hoom Band Sleeps You Plus Vite – Innovative Tape and Hypnotic Stories Created by Sleep Experts (S (Bluetooth))
The 1More Sleepbuds Z (56 euros) are TWS headphones that stand out for their versatilitysince they serve both to use them as a standard model (although without answering calls, as they lack a microphone) and to help you fall asleep.
Among its benefits for sleeping, its compact design with good fit, good isolation from ambient noise and an app with relaxing sounds and timer so that they turn off automatically.
1MORE ComfoBuds Z, Wireless Noise Canceling Sleep Headphones, Built-in 30 Relaxing Sounds, Bluetooth Earbuds for Better Sleep, White
If you are looking for versatility at an adjusted priceTake a look at the Omidyi Sleepbuds (60 euros), TWS in-ear headphones with Bluetooth that stand out for their ultra-compact design and soft, curved finishes.
With Bluetooth 5.0 and integrated microphone, they serve both to listen to music or answer calls and to sleepthanks to its design and good acoustic insulation, although its benefits for sleep are rather basic.
Omidyi Sleep Headphones,Bluetooth Sleepbuds,High Sound Isolation Mini Sleeping Headphones,Built-in Mic Wireless Earbuds,Helps Fall Asleep Faster and Sleep Better
Don't let their design fool you because they are not ordinary TWS, these QuietOn (219 euros) lack Bluetooth connectivity to listen to mobile music or an app to customize what you listen to and its features.
In fact, its noise cancellation technology serves to neutralize ambient sound, for example snoring. Its autonomy is up to 20 hours. Another of its notable features is its design, minimalist and comfortable so that it does not bother you sleeping on your side as it does not protrude from the ear.
QuietOn – Smallest Active Noise Canceling Headphones for Sleep – Reduce Snoring, Ambient Noise – Great for Travelers – 20 Hour Battery Life
The most traditional brand of this selection and probably of the sleeping segment is Bosé and his Sleepbuds II (228 euros). Be careful because you do not have Bluetooth so they are not used to listen to music or podcasts, but their function is to play relaxing sounds and block out ambient noise so you can sleep.
In the app you will find 50 specially designed tracks with sounds of nature or medication, as well as extra functions such as an alarm. Its autonomy is 10 hours, enough to sleep soundly all night.
Bose Sleepbuds II: Clinically proven sleep technology to help you fall asleep faster. Sleep Better with Relaxing Sounds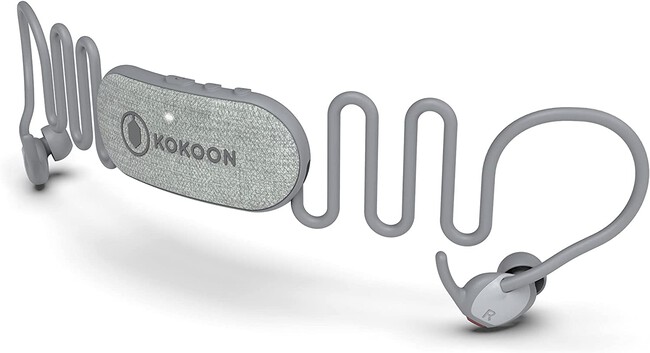 The Kokoon Nightbuds (291 euros) have a original design with in-ear format with a band to improve support, resulting comfortable and versatile.
They are not a cheap device, but in return they are quite complete and advanced to help you sleep– With noise masking technology so you won't be disturbed by ambient noise, sleep detection to turn off when it senses you're asleep, and an app library of calming and meditative sounds.
Kokoon Nightbuds Sleeping Headphones – In-Ear Headphones – Sleep Aid for Adults – Earplugs for Sleeping – Mask Noise – Bluetooth – Gray
More offers
If you become Amazon Prime, you have a 30-day free trial (after 36 euros per year) to enjoy free fast shipping, priority access to offers, services such as Prime Video, Prime Music and unlimited photo storage. Also, if you are a student, becoming a Prime Student costs half and you have a 90-day trial. You can also try services like Kindle Unlimited or Audible for free for 30 days.
You can be up to date and at all times informed of the main offers and news of Xataka Selección on our Telegram channel or on our profiles. TwitterFacebook and Flipboard magazine.
At Xataka Selección we publish the best offers in technology, computing and electronics from the main internet businesses. Prices and availability may change after publication.
Some of the links in this article are affiliated and can bring a benefit to Xataka
George is Digismak's reported cum editor with 13 years of experience in Journalism