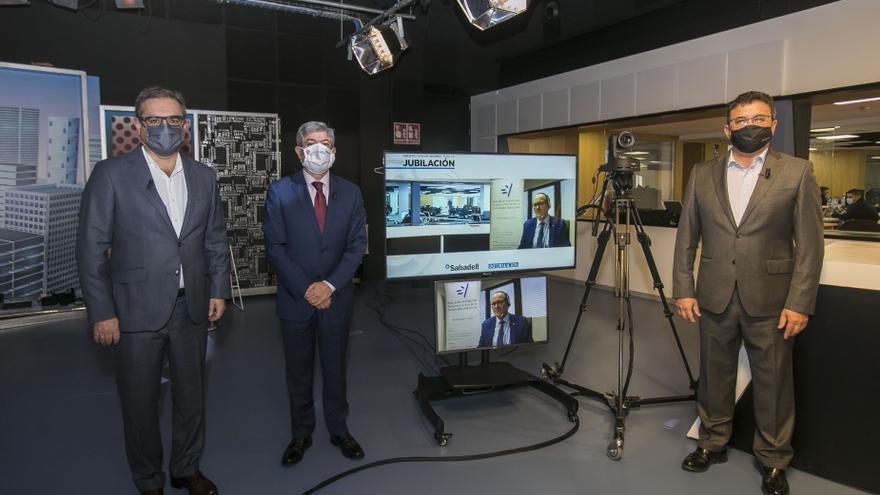 Pensions have returned to the news in the last month as a result of the agreement of the Toledo Pact and the agreement of the general budget project that, in principle, will modify the taxation of some of the social security products. With the idea of ​​making the pension system sustainable, political representatives want introduce a series of changes that encourage citizens to save which, according to different estimates, will see its purchasing power reduced to 50% in the coming years compared to its working period if it depends only on public pensions and lacks additional savings.
To discuss these issues and offer sustainable solutions to workers, INFORMACIÓN TV hosted this week the meeting entitled "Outlook for Retirement Savings" where Juan Jesús Gómez, director of social security at Banco Sabadell; Francisco Menargues, dean of the College of Economists of Alicante; Y Luis Chinchilla Hurtado, president of the Professional Association of Tax Advisors of the Valencian CommunityThey have addressed the issue of pensions and have proposed some solutions so that workers can have complementary savings that allow them to maintain their purchasing power during retirement.
For Juan Jesús Gómez saving for retirement is an issue that should be considered as strategic by the population, for which he advised all citizens to make an effort "as soon as possible" to have an economic complement with which to live retirement. «Unlike other countries around us, especially the Nordic ones, people in Spain don't see the need to save because he thinks that Social Security is going to cover pensions that, nowadays, represent a coverage of almost 78% with respect to our salary ", pointed out the director of welfare of Banco Sabadell, who warned that, however," estimates foresee a drop to almost 50% ".
Faced with this situation, Juan Jesús Gómez insisted on the need to change mindset, start saving as soon as possible and start to match the existing culture in other countries. "In Spain, the complementary saving is 10% while in other countries it is 100%, which means that private saving is even higher than the public pension," he stressed.
At present, the expert continued, what Spaniards quote "gives to live between 12 and 13 years in retirement, when really we are going to live and earn between 20 and 23 more years thanks to the greater life expectancy». Given these data, the expert stressed that the population has to be informed and trained in this regard to become aware of the situation it will face in the future and focus on "long-term savings."
Regarding the different forms of retirement savings, the Banco Sabadell representative explained that the most popular and well-known is the Pension plan, although he considered that there are other valid options and that the Government should take into account when encouraging them. Thus, in addition to talking about individual pension plans, the best known and used by some 8 million people, he also named the insured pension plans, the investment funds o go occupational pension plans (PPE).
On this last point, he explained that they are social security systems complementary to the provision of Social Security in the face of retirement – they also include disability and death – and are promoted by a company or public institution for the benefit of its employees. At this point, the dean of the Alicante College of Economists regretted that in Spain «These business plans, except in very important companies, are a product that is not extended»And defended that we must tend towards that model more typical of Nordic countries. "It is the only solution and it would be a system that would have to be implemented little by little," he stressed.
In this regard, the president of the Professional Association of Tax Advisors of the Valencian Community noted that in Spain 95% of companies have less than 9 workers and 99% less than 50 workers, which is one of the reasons why "these occupational pension plans do not reach them and it is something that is not being promoted. Companies believe that they will have to do more paperwork, it will entail an added cost, … And it is necessary to report on its benefits, since these plans are only in large companies that represent 1% of the business park »
Francisco Menargues also highlighted the so-called "Reverse mortgage" as an alternative to have money during retirement by remembering that 89% of those over 65 in Spain have their own home and "we could get used to this home being able to supplement our pension, either by selling or 'renting' it with the called a reverse mortgage. '
The Toledo Pact
On the agreements related to pensions in the Toledo Pact of the month of November, the three experts showed its lights and shadows. In the opinion of Juan Jesús Gómez, the objective that the contributions of the self-employed are close to the real prices is a good measure and he also welcomed the creation of a single business provident fund, although he regretted that "it is only an idea", for which he defended "establishing a mandatory or quasi-mandatory principle that, in the end, is what will motivate the development of this savings model."
Among the positive measures of the Toledo Pact, Menargues highlighted the one consisting in that the structural costs of Social Security pass to the General Budgets «I think it is positive and, although it does not solve anything, it gives a more realistic vision of what the cost really is of pension provision systems in Spain ", argued
Finally, Luis Chinchilla summarized the importance of saving for retirement and the need for the population to know what pension they are going to keep. «Our life expectancy increases, the replacement rate will decrease and Citizens are going to collect a pension that will drop from 78% of what we received during working life to 50%, so if we are going to live longer and we want to live in a similar way to our working life, we must save. To make good decisions, citizens need information, legal certainty and good advice ".
Promote financial education from youth
Juan Jesús Gómez, forecast director of Sabadell Bank, stated during the meeting "Perspectives of saving for retirement" moderated by Toni Cabot, director of the INFORMATION Club, thate in Spain there is no culture of savings. "In Spain we have not found ourselves in the situation of saving because pensions supplied this private saving. However, it is essential to start save from a young age and introduce the concept of planning into our lives: Save as soon as possible and periodically ", explained the expert, who also estimated that the desired savings is" between 5% and 10% of the first salary. "
In addition, he continued, thanks to the different savings products that exist "we can choose and not always bet on savings in fixed income, since it is possible that at certain times it is preferable some risk with investment in equities. To make the best investment and savings strategy, you have to be patient, invest in a diversified way and be well informed and advised, "he argued.
For his part, Francisco Menargues also regretted the lack of financial culture in Spain and recalled that economists «are determined that there is a Financial Education subject in Secondary or Baccalaureateas this lack of training has influenced past financial crises. '
Luis Chinchilla also accused the lack of awareness on this issue among citizens and put the focus on young self-employed workers. «In the case of autonomous, when they are young, we advise them that the first years of life may have a low contribution but as they reach 42 years of age and the business improves, they should increase their contribution base and make an effort to improve the public pension of tomorrow, "he said. , while remembering that most freelancers contribute at least and many "contribute less than their workers."

www.informacion.es
Digsmak is a news publisher with over 12 years of reporting experiance; and have published in many industry leading publications and news sites.