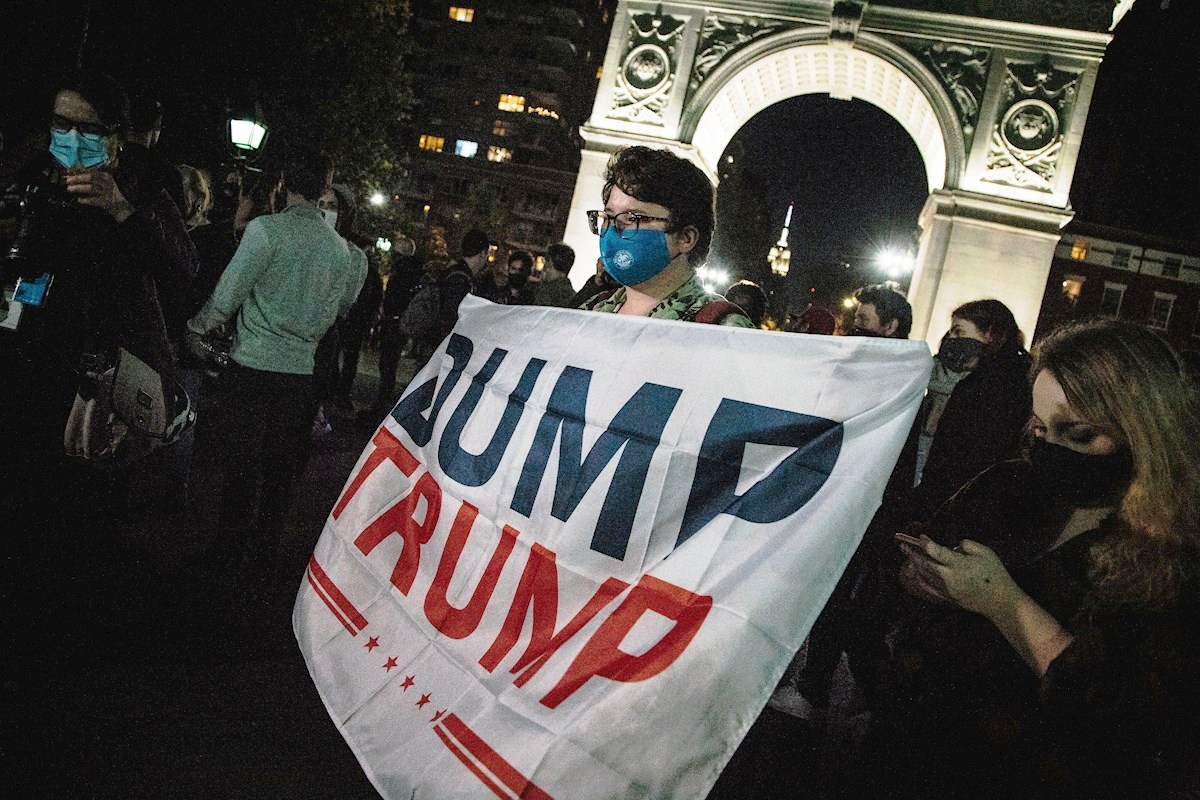 Festejos en Washington Square, Manhattan
Photo: Alba Vigaray / EPA / EFE
Joe Biden (264) yesterday advanced his advantage in key states such as Pennsylvania and Georgia, and heightened the tone of his speech about his eventual electoral victory, but President Donald Trump (214) remains iron in his allegations of alleged fraud.
"We don't have a final victory declaration yet, but the numbers tell us it's clear," Biden said, addressing the nation from Delaware last night.
Trump this morning ratified on your Twitter account allegations of fraud. "This too would change the outcome of elections in many states, including Pennsylvania, which everyone thought was easily won on election night, just to see a massive advantage disappear, without anyone being able to OBSERVE, for long periods of time, what happened ".
The most conservative electoral maps place former Vice President Biden in 253 electoral votes and have not made official his triumphs in Arizona (11) and Nevada (6), although they recognize a tendency in favor in Georgia (16) and Pennsylvania (20), which would elevate him towards the 270 needed to return to the White House. In that calculation, Wisconsin (10) and Michigan (16) remain undefined, while Trump still leads in North Carolina (15).
In absolute terms, Biden continues to beat the all-time popular vote record with 74.3 million and Trump accumulates so far more than 70.2 million throughout the country.
To follow the current trend, Biden would be the oldest president in history (he will turn 78 this month) and Trump the first to lose reelection since 1980, when Jimmy Carter (D) was overwhelmingly defeated by former actor Ronald Reagan (R), with a score of 489-49. But the reality in 2020 is totally different: the distance between the two candidates is much shorter, in a country sharply divided and affected by the pandemic.
In another milestone, the virtual vice president, the senator Kamala Harris, would be the woman who reaches the highest office in US history.
While in New York, Trump's hometown, but who has never supported him electorally, many gathered in the streets to celebrate their eventual defeat and others maintained the tone of demand from previous days that the vote count continues, especially those sent by mail that have not yet been processed.
Hundreds gathered last night in the central square Washington Square Park, in the West Village, singing and screaming with euphoria.
"In the colorful celebration there were luminous posters with the name of Biden, messages against the current president such as" Dump Trump "(Trump to the trash) or slogans in favor of democracy such as" Democracy is sexy "(Democracy is sexy) , in addition to numerous multi-colored flags "representing the diverse community and the Black Lives Matter movement, he reviewed EFE.
"Collectively we have overthrown a tyrant," one of the event organizers said with a megaphone in hand in Washington Square Park. "I want you to know that tonight we are celebrating, but tomorrow we will continue fighting ".
"The congregation then turned into a march through the streets of Manhattan, and although the hundreds of young people were flanked by a significant police presence, just over three hours after it began, the demonstration dispersed without any incident with the protests. security forces, unlike what happened the last two nights ".
Several demonstrations were held this week in NYC and other rallies are scheduled for today.
Yesterday, New York Mayor Bill de Blasio, a staunch critic of Trump, defended the action of the police after she was again accused of using excessive force. "There is evidence that a small number of people were not there for peaceful purposes, and they have generally been the people arrested. It is not acceptable for someone to want to cause violence, either to people or property, "he said.
Most celebrating in New York last night said they felt anxious and "Cautiously optimistic" on the election results. "I think the first and foremost thing for Biden is to really bring this country together," said one of those present to CBS2.
We may be opponents — but we are not enemies.

We are Americans.

— Joe Biden (@JoeBiden) November 7, 2020
….Bad things took place during those hours where LEGAL TRANSPARENCY was viciously & crudely not allowed. Tractors blocked doors & windows were covered with thick cardboard so that observers could not see into the count rooms. BAD THINGS HAPPENED INSIDE. BIG CHANGES TOOK PLACE!

— Donald J. Trump (@realDonaldTrump) November 7, 2020



eldiariony.com

Digsmak is a news publisher with over 12 years of reporting experiance; and have published in many industry leading publications and news sites.