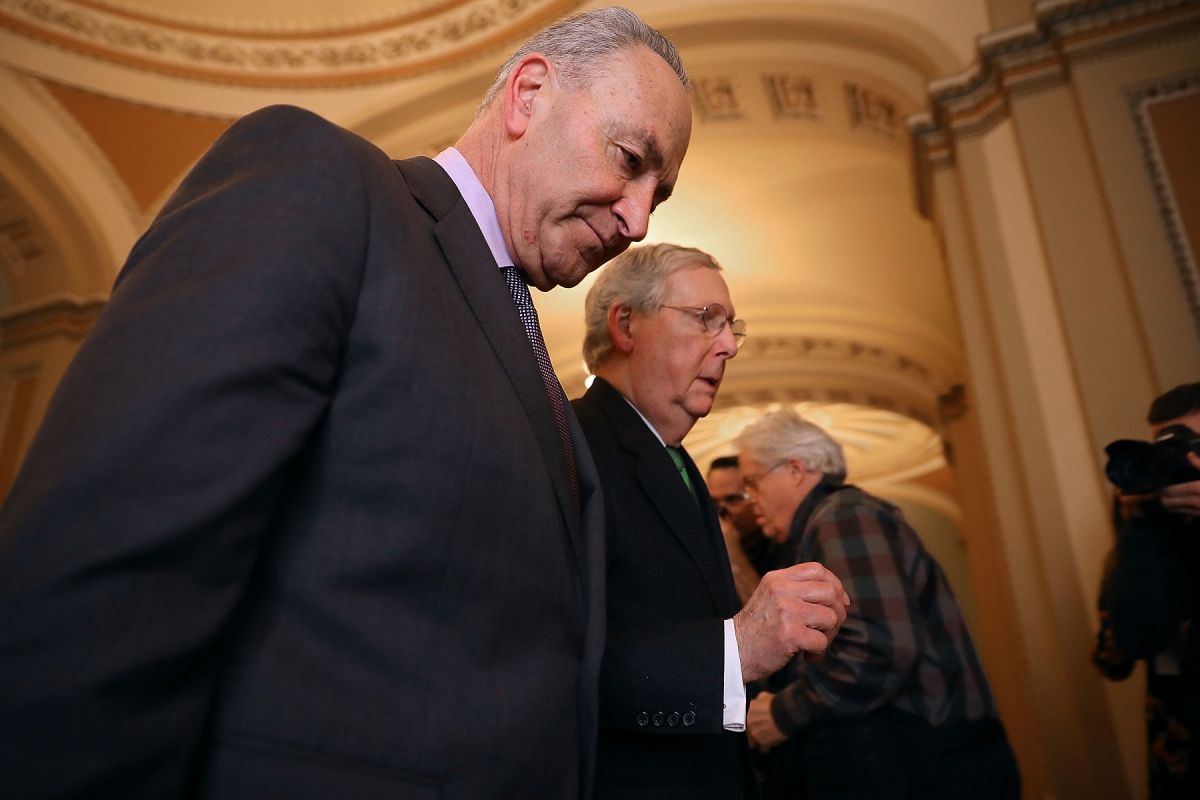 Senate Majority Leader Chuck Schumer and Minority Leader Mitch McConnell.
Foto:
Chip Somodevilla / Getty Images
President Joe Biden and Democratic senators are on the same page about the $ 1.9 billion financial aid plan that includes the $ 1,400 per person check.
The Secretary of the Treasury was also present at the meeting, Janet Yellen, who agreed that the $ 600,000 million plan proposed by the Republicans is "very low" for the economic and health challenges facing the country in the face of the coronavirus pandemic.
Majority Leader in the Senate, Chuck Schumer (New York), said at a press conference that they will continue with the Budget Reconciliation plan, which they presented together on Monday with the president of the House of Representatives, Nancy Pelosi (California).
"President Biden spoke about the need for Congress to respond broadly and quickly … He emphasized the need for a great package," Schumer said. "(The president) said that the Republican package of $ 600 billion was very small. I think it is".
The committees of both houses are reviewing the bill to unify it and advance with your vote in both plenary sessions.
Schumer noted that both Biden and Yellen emphasized that if progress was made with the republicans plan, the country would face greater problems due to the pandemic.
"Secretary Yellen said the Republicans' plan does not help low-income families"said the senator.
He added that the president told Republicans, led by Susan Collins (Maine), who was willing to make modifications to his $ 1.9 trillion plan, but considered it barely enough in the face of the pandemic.
Schumer defended that the project is "bipartisan", since several republicans support it and will continue with the process.
"The majority in the Senate is ready to achieve the goal", he pointed. He added that they will not allow further approval delays, although there is no specific date yet.
Republican criticism
Although Schumer defends the strategy as a bipartisan project, the minority leader in the Senate, Mitch McConnell (Kentucky), affirms that it is a "partisan" decision.
"The majority will have their motion to proceed … they have chosen a fully partisan path … We are off to a fully partisan beginning"McConnell stated.
He referred to the Republican group's meeting with President Biden, but that was unsuccessful, as Democrats will have their motion to proceed with the budget bill.
He criticized that it was defended as a bipartisan plan, when his bench is not on board, in addition to defending the reduced project to give President Biden "an early victory".
Democrats will move forward with the process and if they get the vote of their entire caucus, plus the vote of the vice president Kamala Harris, the aid project could be approved.

eldiariony.com
Eddie is an Australian news reporter with over 9 years in the industry and has published on Forbes and tech crunch.