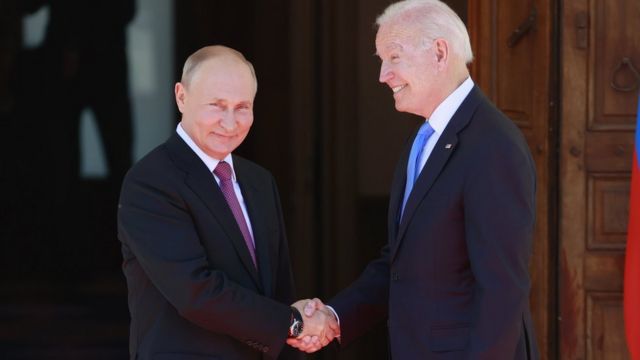 It was a meeting that generated great expectation and ended without the anticipated animosity, although with marked differences.
Presidents Vladimir Putin of Russia and Joe Biden of the United States described how "constructive" and "positive", the first face-to-face meeting they held this Wednesday in Geneva.
However, and despite the favorable balance that both gave in separate press conferences, concrete progress was scarce.
Disagreements were expressed on both sides, President Biden said, but "not in a hyperbolic atmosphere," adding that the thing Putin wants the least is "a new Cold War".
Putin, for his part, referred to Biden as a "experienced statesman" and assured that both "spoke the same language."
The conversations lasted four hours and the direct dialogue between the two only two, less than the scheduled time.
Biden clarified that there was no need to spend more time talking and that there was a genuine will to improve relations with Russia.
However, he insisted that time will tell if both nations advance in important strategic dialogues.
What exactly was achieved with this meeting and at what points did the two leaders collide?
Meeting points
1. Ambassadors and prisoners
Before the meeting, both Washington and Moscow had indicated that their diplomatic relations were at an all-time low.
Russia had in fact just put the United States on its official list of "hostile countries."
But as a result of the face-to-face meeting between the presidents, it was agreed restore ambassadors in the respective capitals of both nations.
The diplomats had been called for consultation last March, after the US accused Russia of interfering in the 2020 presidential elections.
President Putin also spoke of reaching a possible agreement to exchange prisoners, assuring that he believed both sides could give in.
It was agreed that the foreign ministers of both countries analyze the possible release of high-profile prisoners and meet as well to discuss joint security strategies.
2. Nuclear weapons and cybersecurity
Both parties agreed to initiate a dialogue on the control of nuclear weapons.
Biden said Putin had been open to "helping" the United States so that Iran would not acquire more nuclear weaponsAs well as being open to help fight the "resurgence of terrorism" in Afghanistan.
"In return, we said what we wanted to do to provide security for the people of Syria and Libya," added Biden, who insisted on the need to establish human corridors in Syrian territory because "people are starving."
One of the most contentious topics at the summit, however, was cybersecurity. And a sort of agreement was reached on this, although not without tension.
Both leaders reported the formation of a working group to develop a specific understanding of the cyber attacks and address the problem according to each case.
"We believe that the sphere of cybersecurity is extremely important for the world in general, including the United States and Russia on the same level, "Putin said.
The United States maintains that Russia has carried out a aggressive cyber espionage and that it has covered up criminals who have attacked American infrastructure and collected ransoms.
However, President Putin suggested that most attacks in cyberspace come from the US and other countries.
Biden, for his part, indicated that he had achieved his goal, which was to show Putin a list of 16 sectors of essential infrastructure in the US that should be "off limits" to cyber attacks.
3. Personal relationship
There was expectation about how the leaders would be treated and whether personal attacks would be directed, especially after Biden called Putin a "murderer" last March.
But the reality was the opposite and the leaders expressed mutual respect after the closing of the summit.
Putin called his relationship with Biden as "pragmatics" Y complimented the president's values.
"If you ask me what kind of ally … Biden is, I'd say he's very constructive," he said.
"He is very balanced, just as I expected. He has a lot of experience, you realize at first glance," he continued and concluded that "it is very different from its predecessor", el expresidente Donald Trump.
President Biden presented his counterpart with a glass sculpture of an American bison, "one of our most majestic mammals and a symbol of strength, unity and resilience," he said in a statement.
He also presented him with a custom-made pair of aviator glasses, a model that Biden himself wears frequently.
When Biden was asked if he could trust Putin, he angrily replied that "It's not about trust."
Discrepancies
1. "Ridiculous"
When Putin was asked about restrictions on political freedoms in Russia, the Russian president addressed the assault on the US Capitol on January 6, saying he didn't want that kind of chaos to break out in Russia.
He thus suggested that the US was silencing dissidents, referring to the arrests of suspects after the attack on the Congress building.
"If we talk about who is killing whom or incarcerating, people came to the US Congress with political demands," he said.
"More than 400 people were charged with criminal charges. They face prison sentences of up to 28 years. They are being called domestic terrorists."
Biden replied from his own press conference to these statements and said that it was a "ridiculous comparison".
On the one hand, he assured, that "there were criminals" trying to take the Capitol of his country. "In Russia, there are people trying to demonstrate peacefully who are not allowed to speak freely," he said.
2. Navalny
There were no signs of agreement regarding the fate of the Russian opposition leader Alexei Navalny, who is serving a two-and-a-half-year prison term, after a court ruled that he had violated the conditions of a previous suspended jail sentence.
President Biden stressed that there would be "devastating consequences" for Russia if Navalny died in jail.
The activist recently completed a 24-day hunger strike.
During Putin's press conference, the president refused to refer to Navalny by name and blamed him for his own arrest, stating that he had returned to Russia from Germany despite knowing there was an arrest warrant against him.
Navalny maintains that it was poisoned with a nerve agent on Putin's orders, an accusation he denies.
Biden said he addressed Navalny's case as well as that of two other Americans "improperly imprisoned" in Russia.
"The point is, I told President Putin that we need to have ground rules that we can all obey," he said.
At the end of the press conference, a CNN correspondent asked him why he was confident that Putin would change his behavior.
"I don't feel confident," he said as he approached the journalist. "What I have said is that his behavior will change if the rest of the world reacts to his actions and this hurts your place in the world"he said in an angry tone.
3. Ukraine
Ukraine was another of the friction issues between Biden and Putin.
The Russian leader showed Unwilling to make concessions on Russia's growing military presence near Ukraine's eastern border, the agency reports Reuters.
In addition, he accused Kiev of breaking the terms of the ceasefire agreement with pro-Russian rebels in eastern Ukraine.
Biden, for his part, told Putin that the United States will maintain its "unwavering commitment to sovereignty and territorial integrity of Ukraine"reported the newspaper The Washington Post.
Relations between Washington and Moscow have been deteriorating for years, especially after the Russian annexation of Crimea in defiance of Ukraine in 2014, the Russian intervention in Syria in 2015 or the allegations of interference in the 2016 elections that brought Trump to power in the US. USA
However, both leaders reached an agreement on the Ukrainian issue: to revive the diplomatic channel, although Russia said that what it seeks in that country is "stability."
Remember that you can receive notifications from BBC News Mundo. Download the latest version of our app and activate them so you don't miss out on our best content.

www.bbc.com
Eddie is an Australian news reporter with over 9 years in the industry and has published on Forbes and tech crunch.